Esports Ecosystem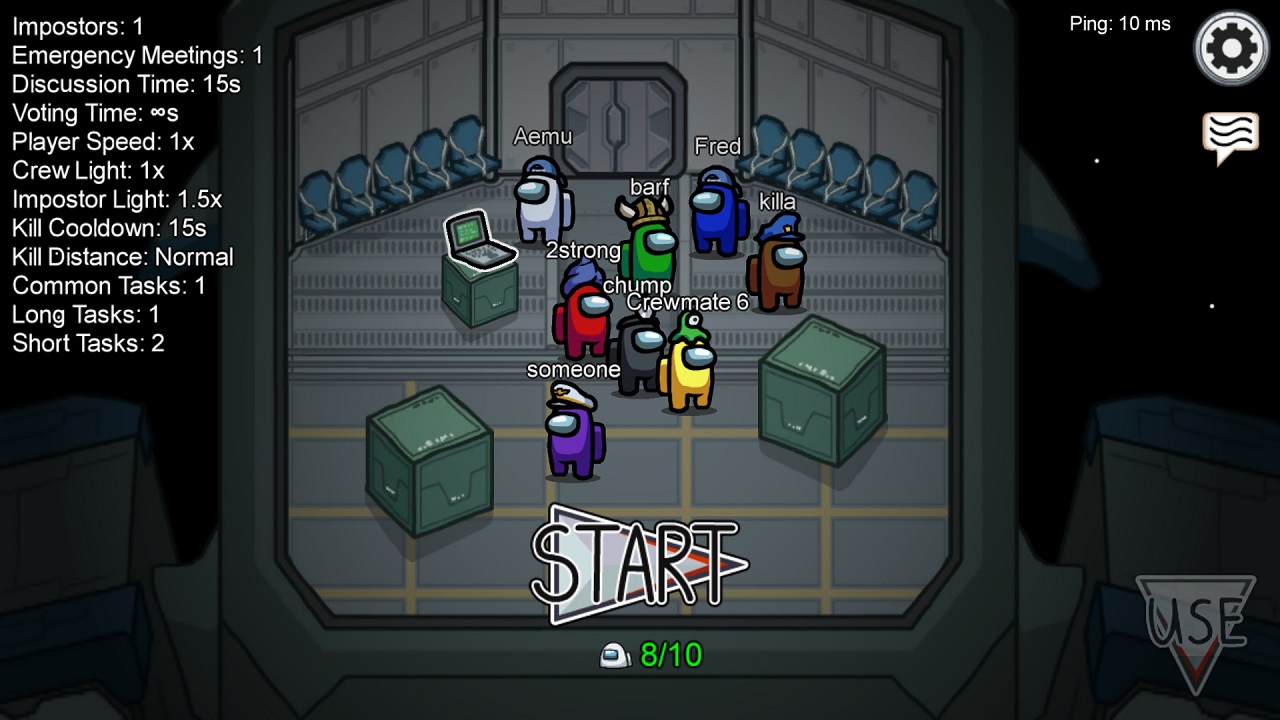 Pada Agustus 2020, total hours watched Among Us di Twitch naik 650%
Among Us diluncurkan pada 2018. Meskipun begitu, game tersebut baru mulai populer dalam 2 bulan belakangan. Selama bulan Agustus dan 2 minggu September 2020, total download dari game buatan InnerSloth itu melonjak naik. Tak hanya itu, Among Us juga ternyata sangat populer di Twitch.
Menurut laporan bulanan dari StreamElements dan Arsenal.gg, Among US hampir masuk dalam 10 kategori paling populer di Twitch. Dengan jumlah hours watched mencapai 30 juta jam, Among Us duduk di peringkat 11. Pertumbuhan total hours watched dari Among Us memang fantastis. Jika dibandingkan dengan Juli 2020, total hours watched dari konten Among Us pada Agustus 2020 naik hingga 650%.
Pada Agustus 2020, Just Chatting masih menjadi kategori yang paling banyak ditonton di Twitch, walau total hours watched dari kategori tersebut mengalami sedikit penurunan jika dibandingkan dengan bulan sebelumnya. Sementara itu, gelar game favorit di Twitch msaih dipegang oleh League of Legends, dengan total hours watched naik 5% menjadi 135 juta jam. Fall Guys, yang diluncurkan pada Agustus 2020, duduk di posisi 3 dengan total durasi video ditonton mencapai 106 juta jam, lapor GamesIndustry.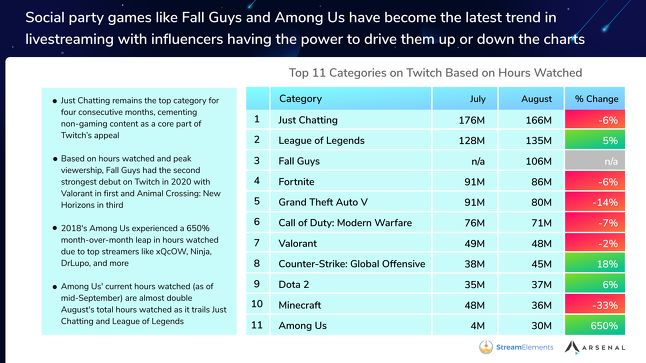 Secara total, hours watched di Twitch pada Agustus 2020 mencapai 1,47 miliar jam, naik dari 1,42 miliar jam pada Juli 2020. Kali ini adalah pertama kalinya jumlah hours watched di Twitch mengalami pertumbuhan month-over-month sejak lonjakan yang terjadi pada April 2020 karena pandemi COVID-19.
Twitch bukan satu-satunya platform streaming game yang mengalami pertumbuhan pada Agustus 2020. Facebook Gaming juga tumbuh. Total hours watched Facebook Gaming selama Agustus 2020 mencapai 346 juta jam, naik 179% dari tahun lalu. Memang, Facebook Gaming masih jauh tertinggal dari Twitch, tapi mereka mulai menyusul YouTube Gaming, yang memiliki hours watched mencapai 461 juta jam pada bulan lalu.
Saat ini, di Twitch, Félix "xQc" Lengyel merupakan streamer paling populer, diikuti oleh Alexandre "gAuLeS" Borba, Nick "NickMercs" Kolcheff, dan Timothy "TimTheTatman" Beta. Menariknya, popularitas konten memasak di Twitch tengah naik. Menurut laporan The Verge, total hours watched dari kategori Food & Drink di Twitch mengalami kenaikna sebesar 96% dari tahun lalu.
Sumber header: Steam
From Our Network