Esports Ecosystem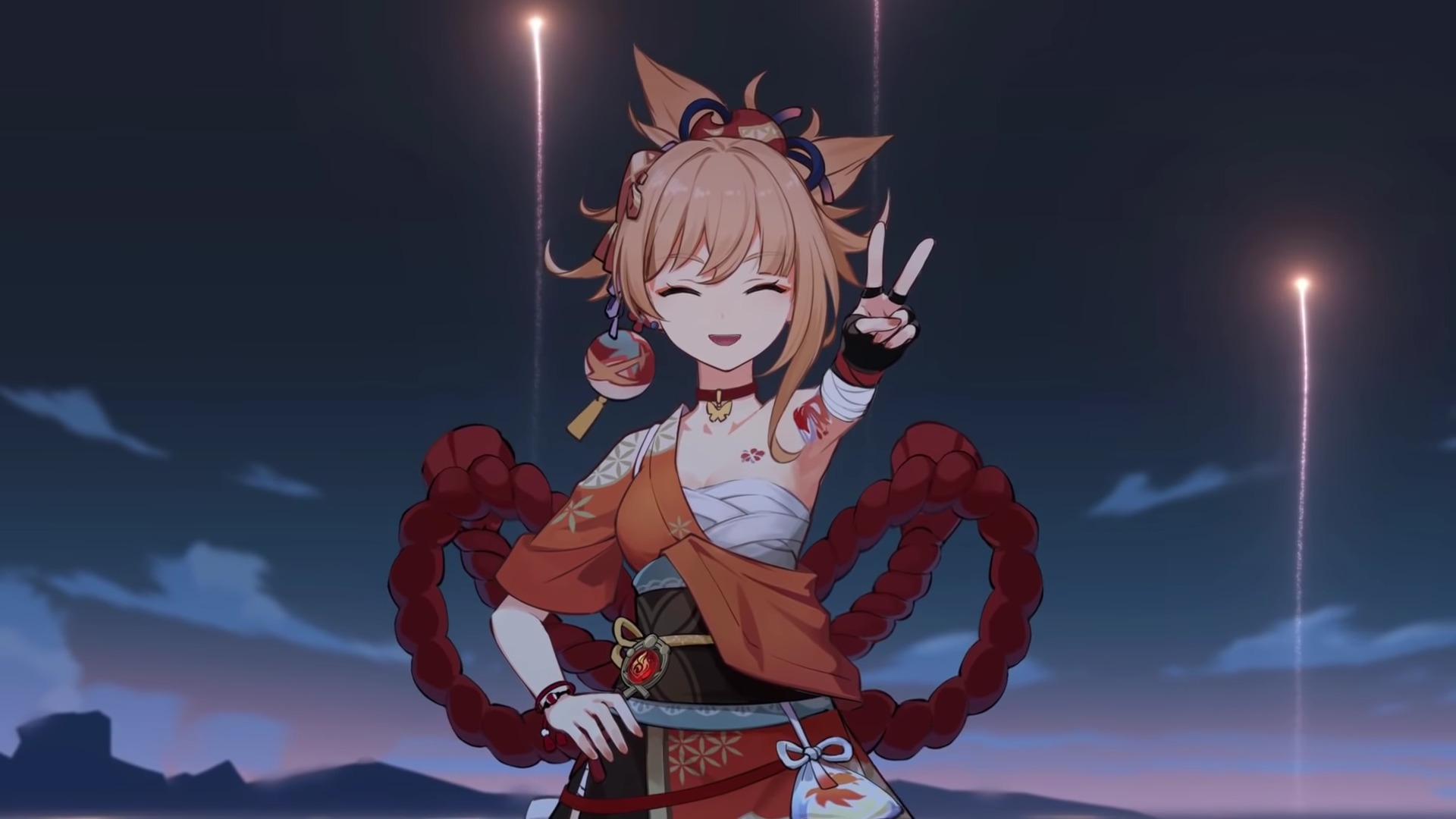 Karakter periang ini akan bergabung masuk ke deretan DPS Pyro di Genshin Impact.
Menjelang akhir dari banner Ayaka, Genshin Impact memperkenalkan karakter baru mereka selanjutnya, yaitu Yoimiya. Mereka merilis teaser karakter beserta dengan cerita latar & kemampuan Yoimiya.
Yoimiya merupakan pembuat kembang api sekaligus pemilik dari sanggar  kembang api "Naganohara". Sebagai pembuat kembang api paling mahir di Inazuma, ia dijuluki sebagai "Queen of the Summer Festival" atau ratu festival musim panas. Bersama ayahnya, Yoimiya selalu memberikan pengalaman terbaik bagi semua orang yang melihat pertunjukkan kembang apinya.
Yoimiya adalah karakter bintang 5 dengan senjata bow dan berelemen Pyro. Apabila Anda sudah sampai ke Inazuma, Anda akan bertemu dengannya saat menjalankan archon story. Pemain juga diberi kesempatan untuk mencoba Yoimiya langsung saat story quest-nya.
Genshin Impact menyatakan Yoimiya sebagai Burst Damage Dealer melalui website mereka. Dapat dikatakan, bahwa Yoimiya didesain sebagai karakter yang mampu memberikan damage besar melalui Elemental Burstnya. Contoh karakter lain yang dirilis dengan predikat serupa adalah Eula dan Hu Tao.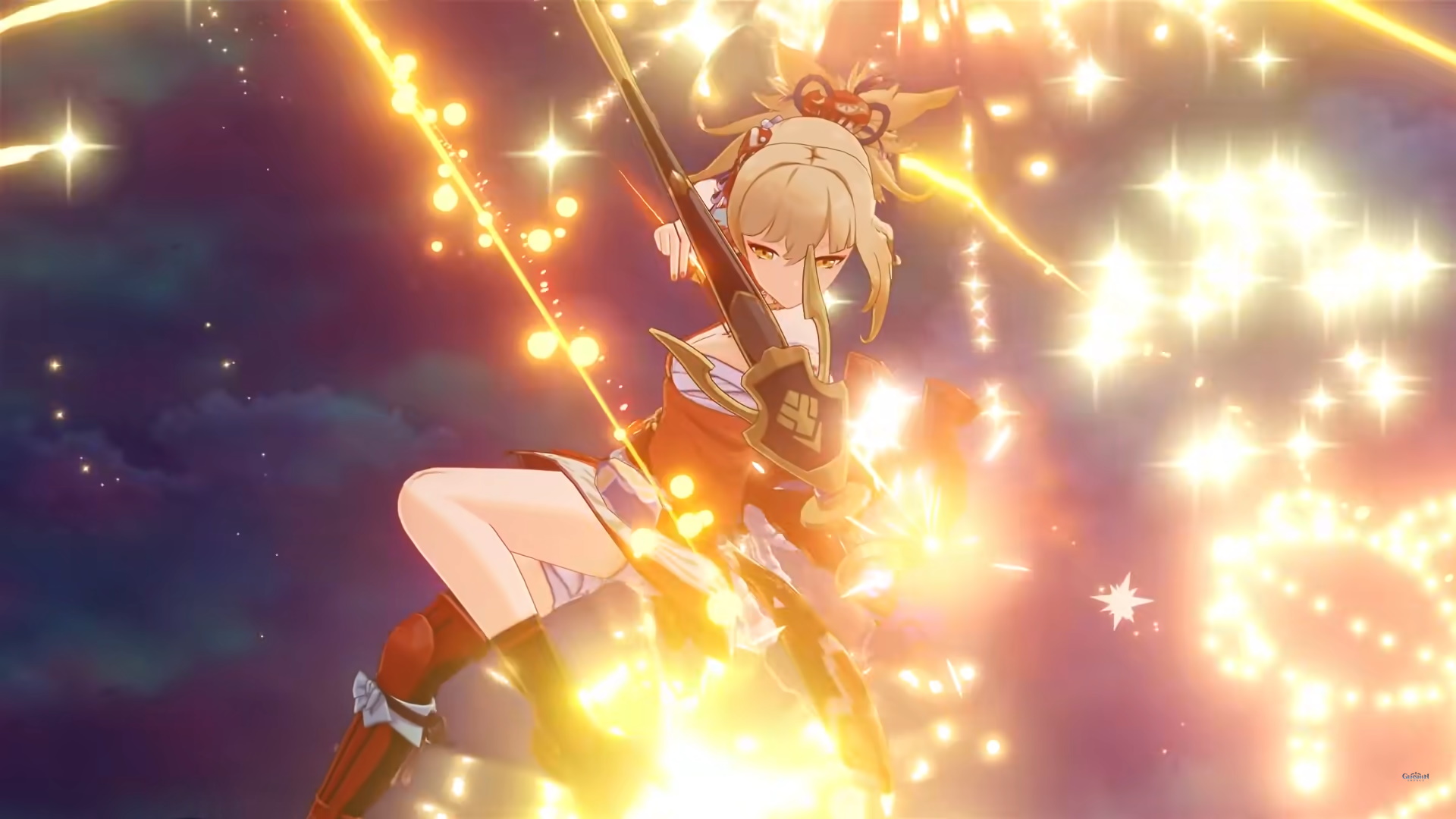 Sebagai pemanah, Yoimiya memiliki Charged Attack yang unik. Charged Attack-nya memiliki dua level dan saat level kedua, akan ada tiga kembang api di sekitar Yoimiya. Saat anak panah dilepaskan, akan ada tiga serangan tambahan yang akan mengejar sasaran terdekat.
Elemental Skill Yoimiya, Niwabi Enshou, akan mengubah semua serangan Yoimiya menjadi Pyro selama beberapa detik. Skill ini juga akan memberikan damage tambahan untuk Yoimiya. Skillnya akan hilang apabila Yoimiya meninggalkan field.
Elemental Burstnya, yaitu Ryuukin Saxifrage, akan memberikan damage kepada musuh di sekitarnya, lalu memberikan tanda kepada salah satu musuh yang terkena jurus tersebut. Tanda tersebut akan memberikan damage, apabila Yoimiya atau karakter lain memberikan serangan. Apabila musuh yang ditandai mati terlebih dahulu sebelum durasinya berakhir, maka tanda tersebut akan diwariskan ke musuh terdekat.
Yoimiya akan dirilis pada tanggal 11 Agustus 2021 dan akan ditemani oleh karakter baru lain, yakni Sayu. Selain itu, akan dirilis juga senjata bow bintang 5 terbaru yang bernama Thundering Pulse. Yoimiya akan menjadi karakter yang cocok bagi Anda yang membutuhkan karakter Pyro, atau bagi Anda yang menyukai karakter dari Yoimiya.
From Our Network