Esports Ecosystem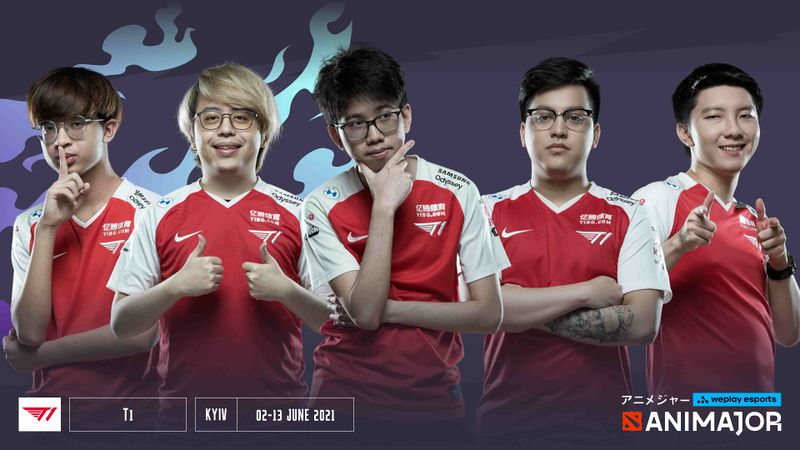 T1 mengamankan slot mereka setelah mengalahkan Aster dengan skor 2-0 di AniMajor.
Kabar gembira muncul bagi para fans Dota 2 di Indonesia. Dua pemain Dota 2 asal Indonesia, yaitu Kenny "Xepher" Deo dan Matthew "Whitemon" Filemon sudah dapat dipastikan akan berlaga di The International tahun ini. Mereka berdua tergabung dalam tim T1. T1 berhasil mengamankan slot mereka setelah mengalahkan Aster dengan skor 2-0. T1 beranggotakan 23savage, Karl, Kuku, Xepher, dan Whitemon.
.@T1 to TI! 🥳

After that huge 2-0 win against @TeamAsterCN they have landed themselves enough DPC points to get to the TI! ✈️

📺https://t.co/6o2PYyuRYO#WePlayAniMajor#AniMajorpic.twitter.com/547TpM0Axi

— WePlay Esports @ AniMajor (@WePlay_Esports) June 9, 2021
Saat berita ini ditulis, status T1 masih bertanding di AniMajor. Walaupun Major belum selesai namun salah satu target mereka sudah tercapai, yaitu lolos ke The International. Kemenangan mereka atas Aster dengan skor 2-0 juga cukup mengejutkan banyak pihak. Aster merupakan salah satu tim kuat asal Tiongkok. Aster menjadi perwakilan Tiongkok di AniMajor setelah mendapatkan peringkat pertama di Dota Pro Circuit 2021: Season 2 – China Upper Division. T1 menyelesaikan kedua pertandingan dengan durasi yang cukup singkat, yaitu masing-masing sekitar 30 menit.
Xepher dan Whitemon merupakan pemain support untuk tim T1. Playstyle Aggresif mereka berdua sangat kompatibel pada iterasi Roster T1 kali ini. Mereka berdua pernah bermain bersama untuk Geek Fam. Sayangnya Geek Fam melepas Roster Dota 2 mereka pada 4 September 2020. Lalu T1 mengundang Xepher ke dalam roster mereka di tahun itu. Setelah itu Whitemon dan Kuku di tahun 2021. Jadi keempat pemain T1 tercatat pernah bermain bersama di bawah nama Geek Fam, lalu dilengkapi oleh 23savage yang bergabung terakhir pada 4 Maret 2021.
The International tahun ini akan menjadi TI perdana bagi empat dari lima pemain T1. Pemain yang pernah berlaga pada TI sebelumnya hanyalah Kuku. TI kali ini akan menjadi TI kelimanya. Kesuksesan mereka juga tidak lepas dari peran Coach mereka, yaitu March. Ia tercatat bergabung dengan T1 sebagai Head Coach pada 26 Oktober 2020. Sebelumnya, March pernah menjadi Coach Fnatic pada saat The International 2019.
Yudi "Justincase" Anggi, salah satu shoutcaster Dota 2 senior yang masih eksis sampai hari ini memberikan komentarnya tentang masuknya dua pemain Indonesia ke TI10. "Mereka baru aja ngalahin peringkat satunya region Tiongkok. Team Aster kalah 2-0 langsung. T1 bakal jaya jaya jaya di TI."
The International 10 akan diadakan pada 5-15 Agustus 2021 mendatang. Turnamen tersebut akan diadakan di Stockholm, Swedia, tepatnya di Avicii Arena. Prizepool TI kali ini mencapai US$40 juta atau sekitar Rp570 miliar. Jumlah tim yang akan berlaga sebanyak 16 tim, dengan komposisi 12 tim dari kualifikasi DPC dan 6 tim dari Regional Qualifier.
From Our Network