Esports Ecosystem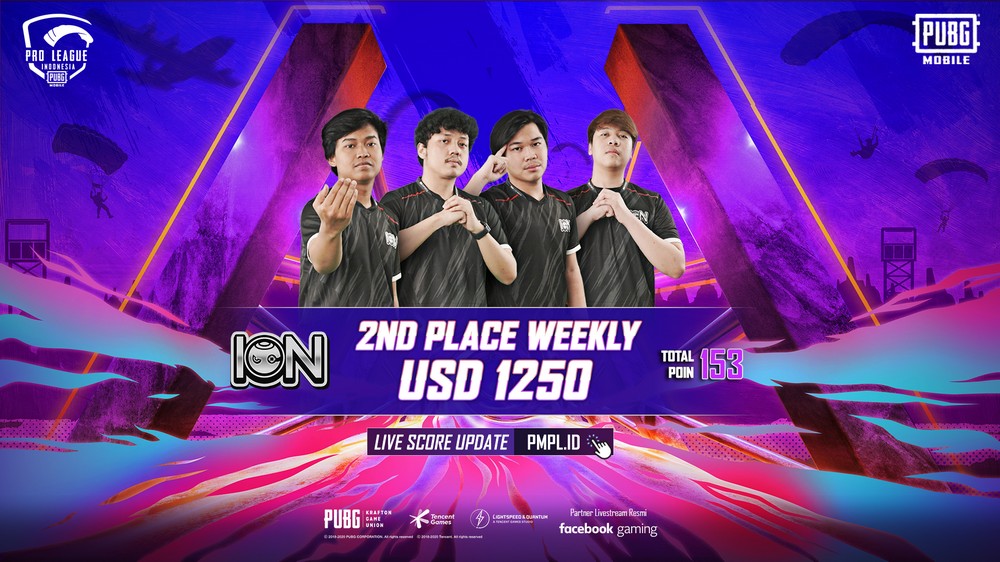 Walau masih dibayangi oleh Bigetron RA, namun ION Esports berhasil lakukan debut eksplosif di pekan perdana PMPL ID 2020 Season 2 dan mendapat peringkat 2.
PUBG Mobile Pro League Indonesia 2020 kini sudah memasuki musim kedua! Akhir pekan lalu, 14 sampai 16 Agustus 2020, menjadi pekan perdana dari liga PUBG Mobile kasta satu Indonesia. Liga ini mempertandingkan 24 tim terbaik di Indonesia. 16 tim terbaik dari PMPL ID 2020 Season 1 mendapat undangan langsung untuk bertanding di PMPL ID 2020 Season 2. Sementara 8 slot sisanya diperebutkan melalui kualifikasi yang dilakukan lewat gelaran PINC 2020 kemarin.
Beberapa tim yang datang dari kualifikasi sendiri merupakan nama-nama baru, seperti ION Esports (dulu Bigetron ION), Enam Sembilan Esports, VOIN 2K, Siren Esports, dan 21 Esports. Menariknya, tim yang datang dari kualifikasi justru bermain cenderung lebih galak dibanding yang lain. Salah satu penantang paling galak mungkin adalah ION Esports.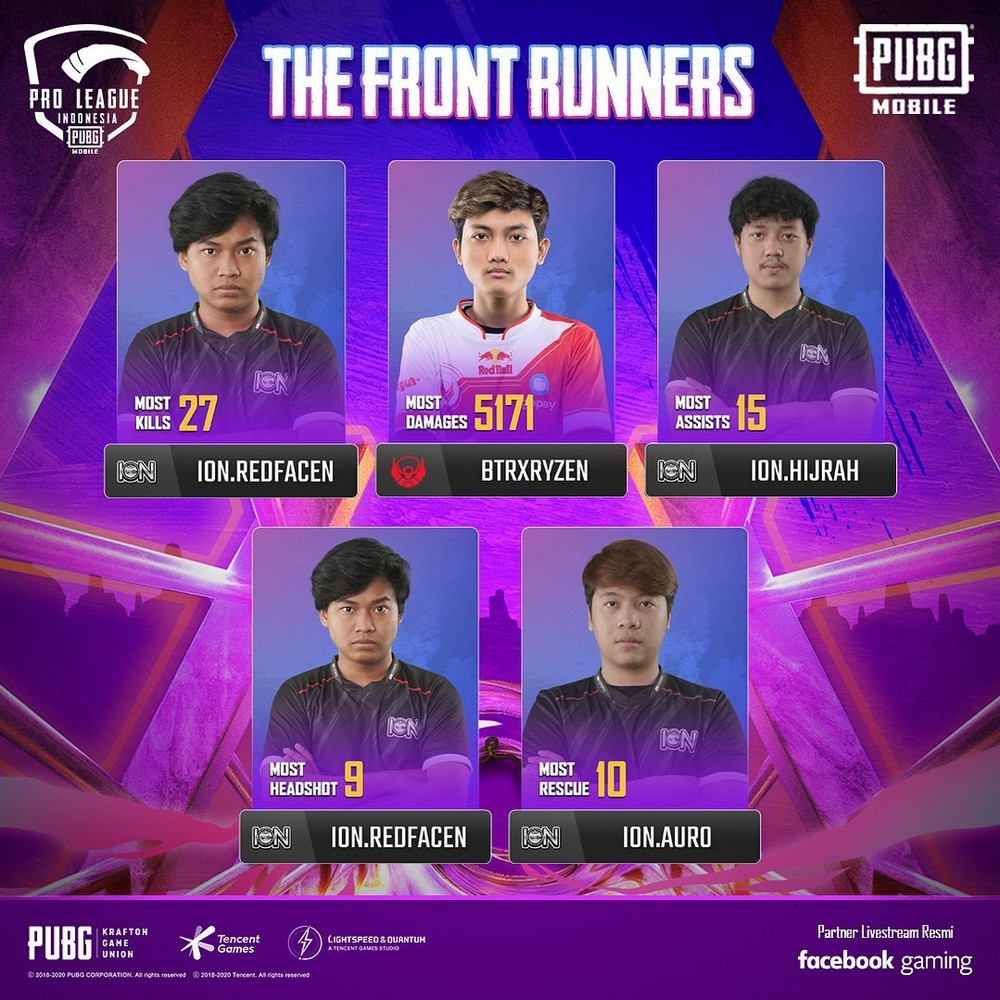 Format yang digunakan PMPL ID 2020 Season 2 masih cukup mirip dengan musim kemarin. 24 tim tersebut dibagi ke dalam 3 grup, yang nantinya akan saling bertemu dalam 3 hari Matchday. ION Esports sendiri berada di dalam grup B, bersama dengan beberapa nama seperti EVOS Esports dan Louvre Kings.
Pada pertandingan pekan perdananya, ION Esports segera melesat. Pada hari pertama, dalam pertandingan grup A vs grup B, ION Esports yang berisikan RedFaceN dan kawan-kawan, langsung mendapat peringkat 1. Memang pada hari itu mereka berhasil mendapatkan 75 poin setelah berhasil dua kali mendapatkan Chicken Dinner, dan satu kali peringkat 3, dari enam ronde pertarungan.
Lanjut pada hari kedua, ION Esports melorot jadi hanya mendapat peringkat kedua saja. Wajar saja, pada pertandingan grup B melawan grup C, ION Esports harus bertemu Bigetron RA, sang juara dunia. Secara peringkat, Bigetron RA mungkin bisa dibilang tidak sebegitu. Walau dapat dua kali Chicken Dinner, namun pada pertandingan sisanya mereka sempat harus tersungkur di awal-awal. Namun perolehan Kill yang mereka dapat memang cukup menakjubkan. Salah satunya ada pada ronde 1 pertandingan, ketika mereka finish di peringkat 6 namun berhasil mendapatkan 10 kill.
Sementara pada sisi lain, ION Esports terbilang terus berusaha menempel Bigetron RA. Hijrah dan kawan-kawan berhasil mengamankan satu kali Chicken Dinner saja di hari kedua, namun mereka berhasil mempertahankan peringkat mereka di posisi 4 besar pada ronde-ronde setelahnya.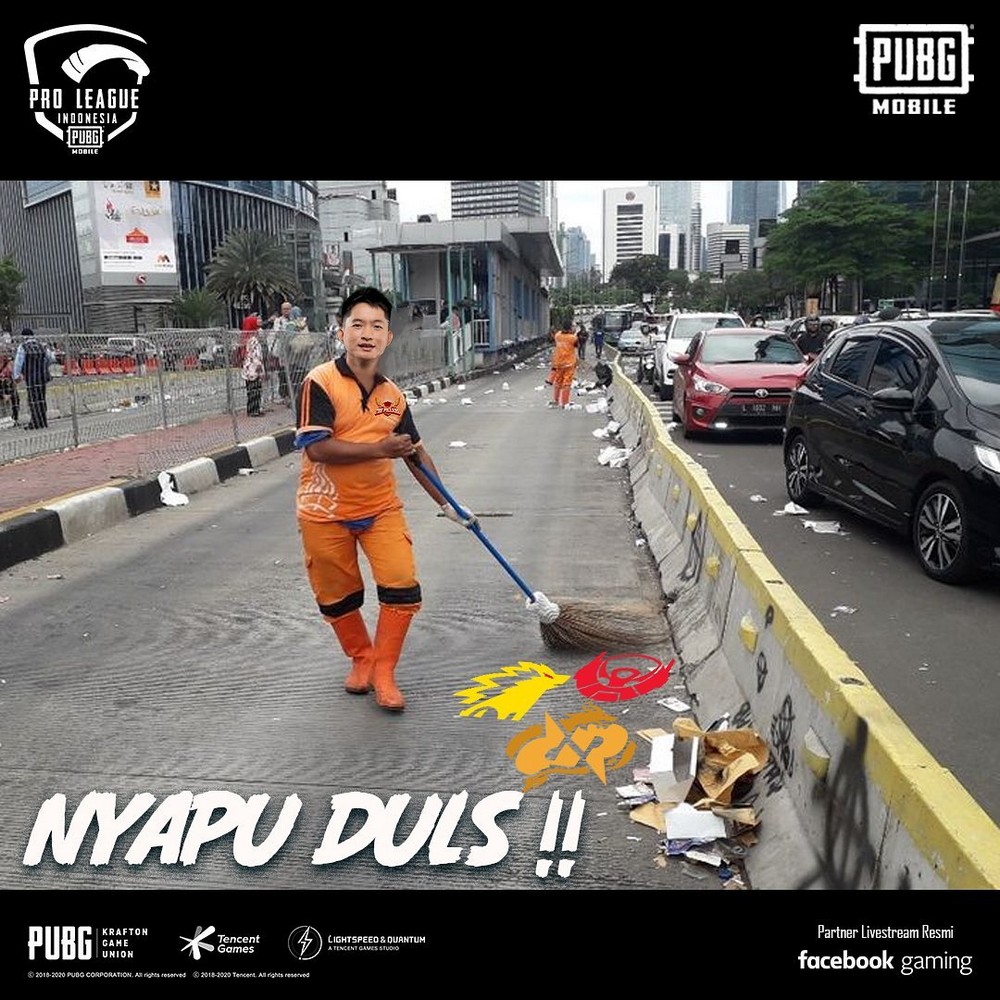 Hari terakhir, grup C melawan grup A, Bigetron RA kali ini didesak oleh The Pillars SLAYER. Berada di grup A, The Pillars SLAYER sebenarnya cukup underperform saat hari pertama. Namun entah kenapa, Boboho, Kental, dan kawan-kawan berhasil bangkit di hari ketiga. Memang mereka cuma dapat satu kali Chicken Dinner saja. Namun mereka mendapatkan Chicken Dinner yang begitu gemilang dengan total 22 Kill yang mereka dapatkan. Walau demikian, pertandingan hari ketiga tetap dirajai oleh Bigetron RA, dengan The Prime SLAYER menempel di peringkat kedua.
Dari pertandingan pekan perdana, Bigetron RA, ION Esports, AURA Esports, dan Geek Fam menjadi top 4 di PMPL Indonesia 2020 Season 2. Babak Regular Season PMPL ID 2020 Season 2 akan berlangsung selama 6 pekan ke depan, untuk mencari 16 tim terbaik yang akan berlaga di babak Final. Mengutip dari Liquidpedia, babak Final PMPL ID 2020 Season 2 sendiri akan dilaksanakan tanggal 25 hingga 27 September 2020 mendatang.
Kira-kira, siapakah tim Indonesia yang dapat menumbangkan dominasi Bigetron RA nantinya?
From Our Network