Esports Ecosystem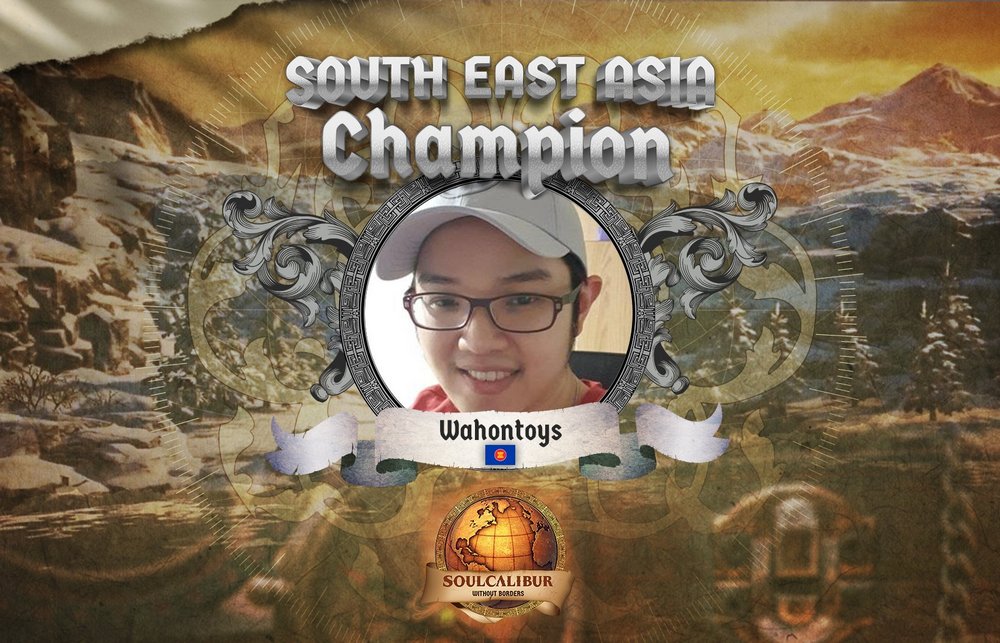 Merupakan kompetisi yang diinisiasi oleh komunitas internasional, Andrew Widjaja (Wahontoys) dari Indonesia berhasil jadi juara SoulCalibur Without Borders.
Tanggal 15 Agustus 2020 lalu, komunitas SoulCalibur Indonesia sedang berbahagia berkat pencapaian yang didapat oleh Andrew Widjaja (Wahontoys) di dalam gelaran turnamen SoulCalibur Without Borders. Turnamen tersebut merupakan hasil inisiatif komunitas SoulCalibur internasional karena absennya turnamen EVO selama situasi pandemi ini. Turnamen tersebut memiliki total hadiah sebesar 900 dollar AS, dengan separuh dari hadiah didonasikan ke organisasi Doctors Without Borders.
Turnamen ini sendiri mempertandingkan 8 orang yang diundang langsung, dengan komposisi berupa 3 pemain dari Singapura, 2 pemain dari Filipina, dan 1 pemain dari Indonesia, Malaysia, serta Thailand. "Kalau melihat jajaran pemain yang diundang, sepertinya kategorinya berdasarkan dari reputasi serta rekam jejak prestasi pemain. Saya merasa sebetulnya masih banyak yang bermain lebih baik daripada saya, namun terlepas dari itu, saya merasa terhormat dapat diundang dalam kompetisi ini." Cerita Wahontoys soal keikutsertaanya dalam kompetisi tersebut.
Attention Warriors!

Your #SCWB2020 Winner for the Southeast Asia Division…

Wahontoys @capedeci

Thanks to everyone who played and tuned in! pic.twitter.com/v7rfIb4YBp

— SoulCalibur Without Borders (@SoulCaliburWB) August 15, 2020
Lebih lanjut, Wahontoys lalu menceritakan perjuangannya di turnamen tersebut. "Saya merasa lawan di turnamen ini sebetulnya cukup berat. Lawan pertama saya SkyesT pemain Malaysia. Sebetulnya cukup menantang, tapi untungnya dia pakai karakter Tira, karakter yang biasa saya mainkan. Jadi sedikit banyak saya paham dengan gerakan-gerakan dia."
"Pertandingan kedua ini yang menurut saya yang paling berat. Lawan saya adalah Shen Yuan, pemain yang sudah dikenal secara internasional. Saya mengakui, Shen Yuan ini adalah pemain yang lebih baik dari saya. Untungnya di pertandingan tersebut saya bisa segera membungkam dia. Saya merasa sepertinya akan kalah, kalau permainan dipaksa sampai game ketiga, karena dia mungkin akan dapat beradaptasi." Wahontoys melanjutnya cerita pertandingannya.
"Terakhir lawan BladedSnake. Dia jagoan dari Filipina, dia juga bermain dengan jago banget! Tapi lagi-lagi saya dapat keuntungan karena dia pakai Siegfried. Karakter tersebut juga merupakan salah satu yang biasa saya gunakan, dan sering saya jadikan lawan sparring. Akhirnya kemenangan lawan BladedSnake berhasil membuahkan gelar juara kepada saya di turnamen ini."
Kemenangan ini tentu menjadi berita gembira bagi komunitas fighting game, terutama SoulCalibur di Indonesia. Terakhir kali, komunitas fighting game secara umum juga sempat berbahagia ketika Aron Manurung dari game Street Fighter V berhasil mengamankan 8 besar di turnamen CPT Online 2020: SEA Qualifier 1.
Menutup pembicaraan Wahontoys lalu menjelaskan apa yang ingin ia capai selanjutnya. "Saya main SoulCalibur sudah sejak lama. Jadi bisa menang di Invitational SEA ini sudah senang sekali. Ke depan, saya pasti akan mengusahakan ikut kalau ada turnamen, karena saya memang menyukai game SoulCalibur. Tapi kalau bicara prestasi, saya pribadi sudah sangat puas untuk bisa menang di turnamen kemarin. Jadi kalau untuk kompetisi yang lebih serius seperti EVO, sepertinya harus diserahkan kepada darah muda, karena saya sudah mulai tua nih… Haha."
Sekali lagi selamat untuk Wahontoys! Semoga kemenangan ini bisa menjadi penyemangat bagi komunitas SoulCalibur Indonesia (ISCC), untuk bisa mendapatkan prestasi yang lebih gemilang di masa depan.
From Our Network