Various Ways that Brands Can Do to Penetrate the Esports Market
Esports industry players share insights about ways for brands who want to try to enter the Indonesian esports ecosystem.
The phenomenon of esports has become mainstream in today's younger generations. We can see this in the large viewership in most esports events. The large audience for the esports game PUBG Mobile and Mobile Legends Bang Bang are just two examples that display the interest of Indonesian gamers in esports. This recent growth in esports has begged the question of how the industry can be a branding medium for many sponsors.
In this article, I will discuss various methods brands can follow to enter the esports ecosystem and analyze the pros and cons of each method. I will also include related sources to support my points.
Official Leagues or Tournaments
I have briefly discussed the methods of getting into the esports ecosystem in the esports ecosystem schema article. From that article, we can observe a couple of factors that induce brand collaboration. In this article, I will try to delve deeper into these topics and expand on them.
The first method that brands can use to enter the esports industry is official leagues or tournaments. I did put this option first because it is the most effective method to follow. Using the analogy of the football industry, sponsoring a major league in esports is like sponsoring the English Premier League or maybe La Liga in Spain.
Esports games usually have a main league that features a lot of competition between top players, which allows them to supersede all other tournaments. Fans and gamers are naturally inclined to watch major leagues more than other competitions because of the interesting competition they bring.
Furthermore, major leagues or tournaments in esports usually involve the game developers themselves. For example, Moonton handles the MLBB Professional League, Tencent handles the PUBG Mobile Professional League, and Garena Indonesia handles the Free Fire Master League. Knowing this, what opportunities are open for brands to cooperate with the major leagues in esports?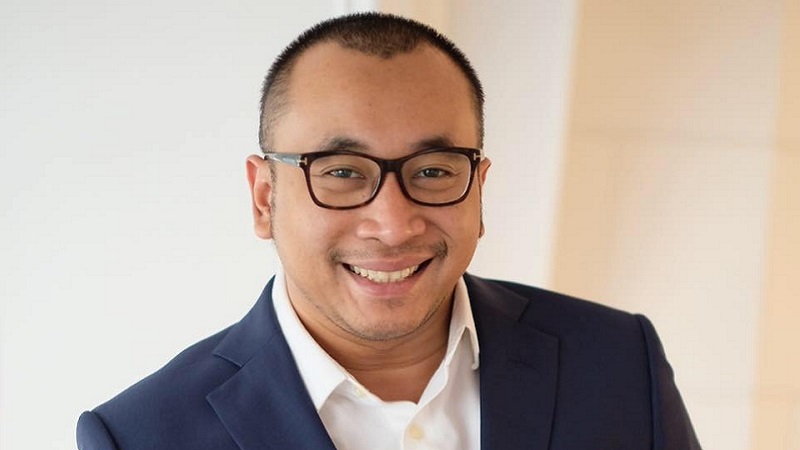 For our discussion on this matter, I use MPL as an example. Azwin Nugraha as PR Manager of Moonton Esports was my source in discussing the opportunities for collaborating with MPL Indonesia. "The MPL League opens several opportunities for cooperation. For example, we offer sponsorship deals on many levels. There is cooperation in the form of partnerships where deals are done through mutual agreements. There is cooperation in the form of barterings, such as bartering of physical goods or promotional media. " Azwin's mentioned.
With regards to sponsorship deals, Azwin explained that they have three levels of sponsorship at MPL Indonesia. "The first and highest level of sponsorship is called the Presenting Sponsor, exclusive for only one sponsor. The second level is Official Sponsor, which is available for 4 different sponsors. The third level is Partner in Esports, which can only be given to limited brands with specific conditions. "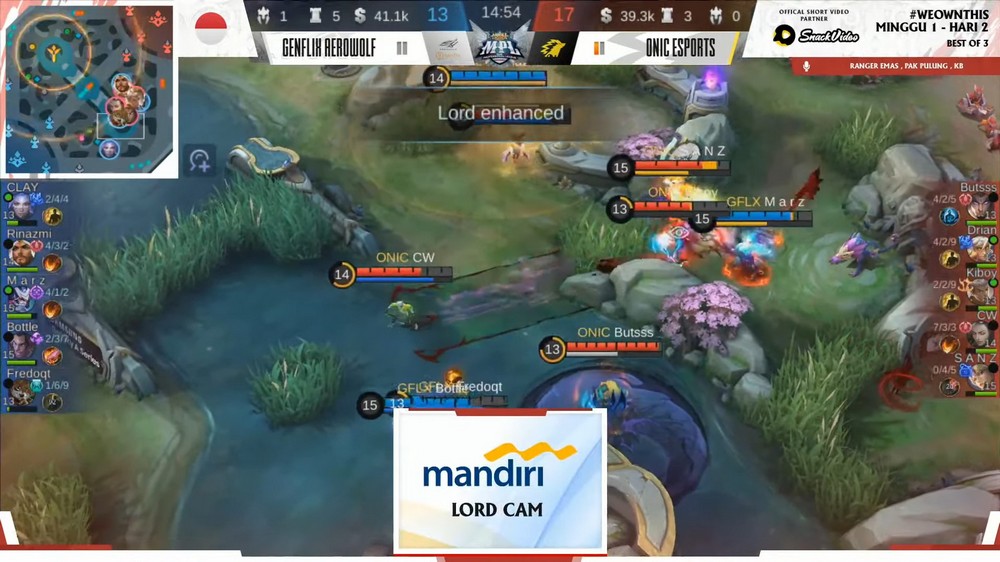 "Each of these levels has their own specifications. Of course, the standard price in each of the levels are different, the highest being the Presenting Sponsor level, followed by Official Sponsor, then Partner in Esports. The benefits that each level offers also differ. The last difference comes in the sponsorship value." Azwin continued.
Based on my observations, MPL Indonesia displays its sponsors in several media assets belonging to the league. For example, sponsors are often displayed in social media posts, official websites, decors in the venue (stage, player desk, caster desk, etc.), in-game elements, important moments of the match (Lord Cam, MVP, highlights player highlights, and so on), and in side-contents outside the match (MPL Quickie for example).
Brands with higher levels of sponsorship are usually displayed more often. Again, according to my observations, Bank Mandiri and the Samsung Galaxy A Series are two sponsors that are frequently displayed in MPL Indonesia. Apart from appearing on the official website, Bank Mandiri also presents Lord Cam moments, as well as Player Highlights on social media content. On the other hand, Samsung presents the MVPs in match broadcasts and social media content.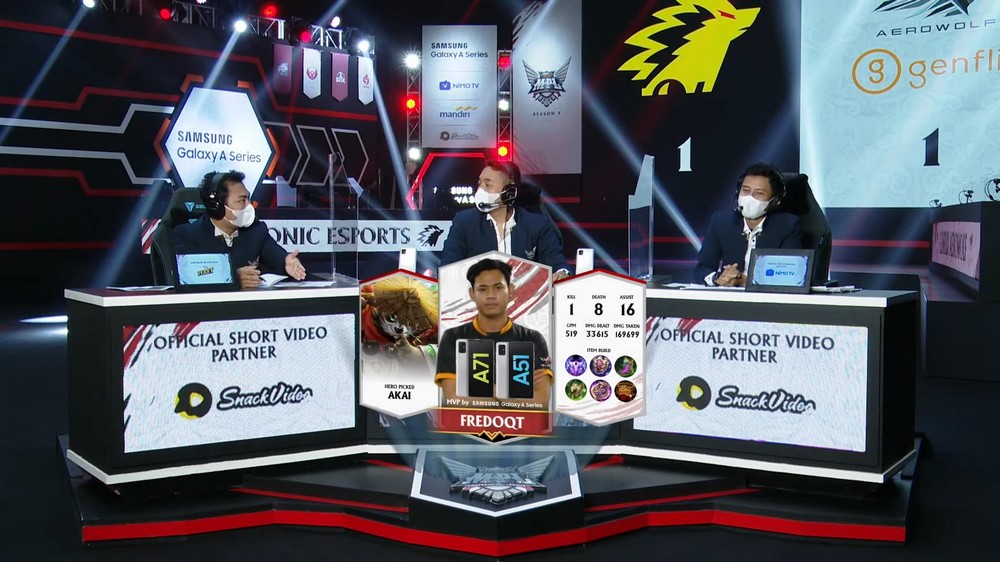 Finally, I also asked about the advantages of MPL as a medium for collaboration/cooperation/ sponsorship and other challenges. Azwin then explained, "Being the sponsor of MPL Indonesia brings many benefits because we have a diverse audience of gamers from a wide range of economic levels, gender, and social status. Essentially the target audience for MPL itself is Gen Z and Millennials."
As I mentioned earlier, major leagues are usually the most anticipated event in the esports ecosystem. Therefore, the viewership numbers of major leagues tend to be higher than most other forms of tournaments. In the case of MLBB, we already see how the MPL Invitational in July 2020 can overtake the view count of Korean LoL league matches.
"MPL tournaments also have a very far reach and exposure. So far, MPL broadcasts conducted through various digital platforms have gathered successful and improving results." Said Azwin, explaining the advantages of MPL Indonesia as a collaboration medium for brands.
However, major leagues or tournaments are just one of the many options brands can choose to collaborate with the esports industry. There are other collaboration mediums to engage with the gaming audience, such as hosting third-party tournaments.
Hosting 3rd-Party Tournaments
There are two ways brands can host third-party tournaments. Brands can either use the assistance of other organizers or fully organize the event under their own brand.
Let's take Telkomsel as an example. Telkomsel has created its own tournaments in the past and has frequently appeared in the esports world. Through the Dunia Games (DG) brand, we can probably consider that Telkomsel has its own esports ecosystem. Telkomsel its own esports team called DG Esports, the duniagames.co.id website - which is the center of gaming-related activities (news, digital esports tournament platforms, and digital payments for gaming) - and even hosted tournaments such as Indonesia Games Championship, DG League, and DG Indonesia Playing Time.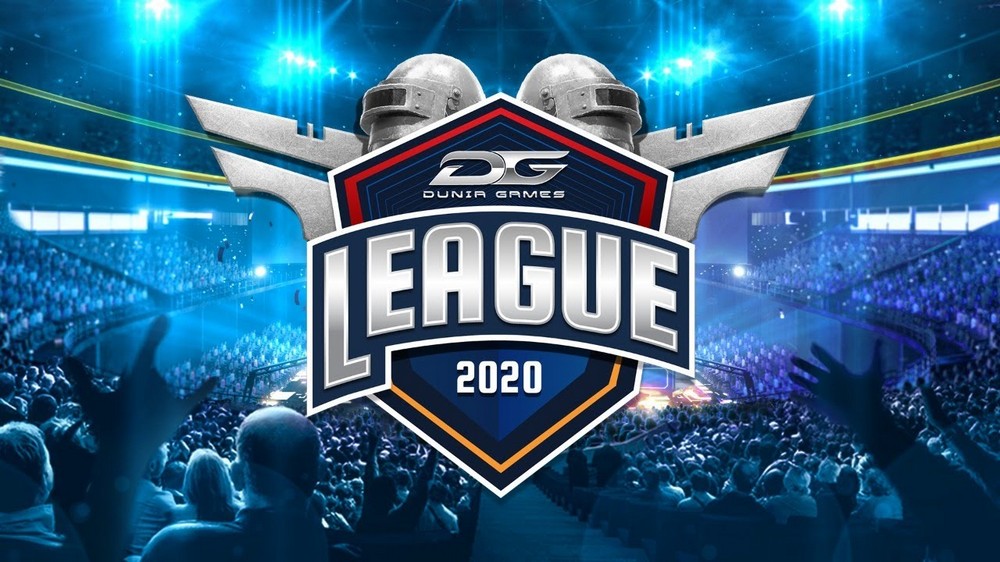 To investigate how and why Telkomsel created their own original DG brand instead of being a sponsor in other esports events, I conducted an interview with Rezaly Surya Afhany as Telkomsel's Esports Manager. Rezaly explained, "Actually, Telkomsel and Dunia Games also conduct sponsorship activities with other esports partners. However, we do admit these activities tend to be less popular than the brand activities that we do independently."
Furthermore, Rezaly then explained several reasons why Telkomsel prefer creating their own brand instead of doing sponsorship deals. "In my opinion, flexibility is the key reason we build our independent esports ecosystem outside of sponsorship. In the end, Telkomsel's goal is to market itself in the esports world. To achieve this goal, we will try our best to always be present in sponsorship deals, exhibitions, media, publishing, or even in esports competitions themselves.
Indeed, in the past, Telkomsel had become a popular sponsor across the esports ecosystem. Telkomsel sponsored the team through Elite8, which used to have a strong reputation in the Vainglory game scene. They also sponsored major leagues such as Arena of Valor Star League Season 1. However, after that, Telkomsel switches its strategy and develops the Dunia Games ecosystem.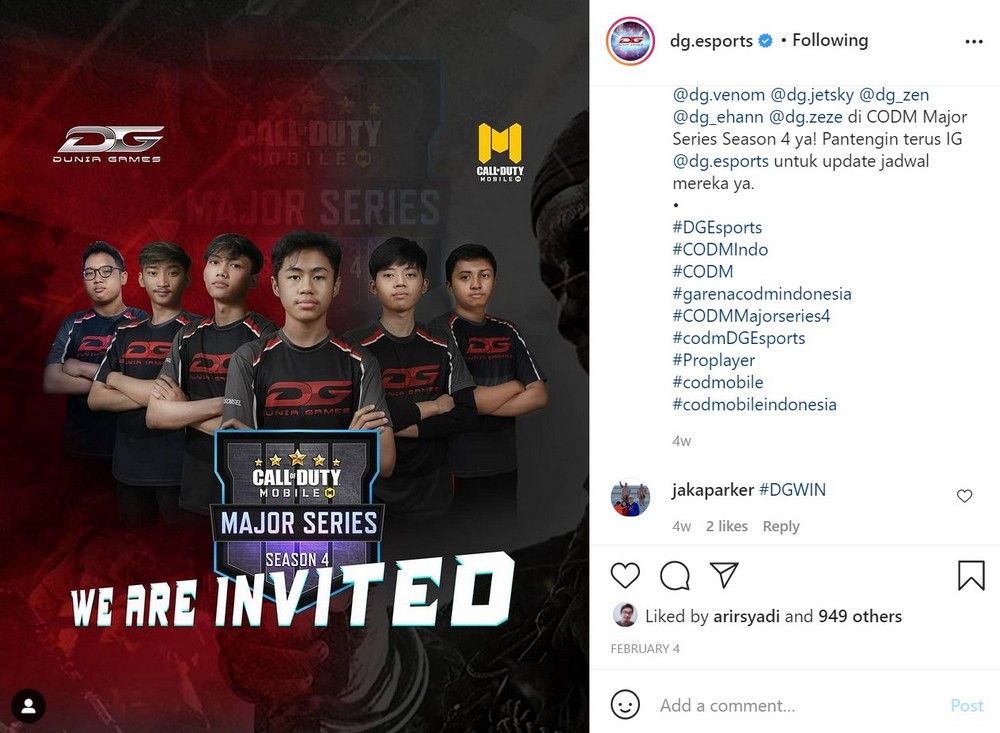 Rezaly then explained another reason behind Telkomsel's ideology in creating their own esports brand. "By developing our own brand, we can connect the esports ecosystem more deeply. We can observe what aspects of the value chain in esports can grow organically and anticipate challenges from the dynamics of the esports and gaming industry. Besides that, we also try to develop the passion for gaming and esports in our company and our partners. If all parties involved are excited and interested in the esports, we hope we can create better ideas and keep developing the industry or ecosystem in the future."
As a telecommunications company, Telkomsel is considered an endemic brand in the esports ecosystem. However, telecommunication networks are needed by all gamers to be able to access their games. However, observing the continuous growth of gaming and esports, it's no wonder that Telkomsel is willing to invest highly in the ecosystem. Hopefully, in the future, we will have a more diverse set of companies providing the needs of the industry other than telecommunication services.
Rezaly then explained further regarding the DuniaGames ecosystem. "As a prominent digital telecommunication company as well as a digital game payment channel in the region, we try to be present in every line of gaming activity. Some examples include providing special data packages for gamers, allowing credit conversion into game vouchers, publishing game titles, and hosting esports events. Our goal is to provide the best and affordable digital and communication experience for the gaming community. "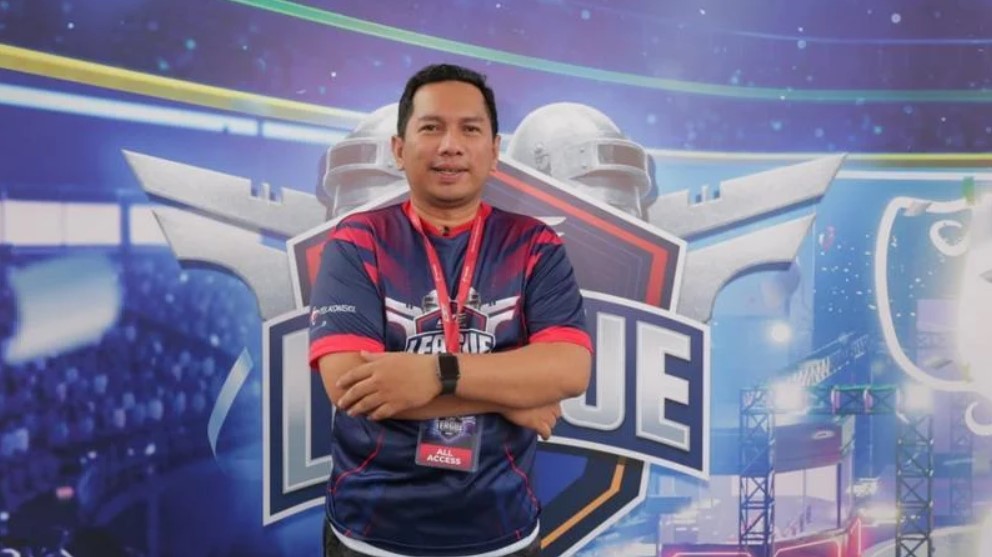 Before ending the discussion, I asked about the benefits and challenges of building a separate ecosystem. "When it comes to the advantages of building our own esports ecosystem, I feel that we have more organic business growth and can be much more sustainable in the future. It also allows us to easily adapt to new emerging gaming trends or business models."
As mentioned by Rezaly earlier, flexibility is one of the aspects that Telkomsel seeks to achieve when developing their own esports brand. However, as I explained earlier, Telkomsel can easily achieve this goal partly because of its position as an endemic esports brand. 
The same thing cannot be said for non-endemic brands whose main line of business does not correlate with the esports ecosystem (fashion, food and beverage, or cosmetics businesses, for example). For non-endemic brands, hosting a tournament with other existing organizers will be the best option. However, imitating Telkomsel's strategy of developing their own esports ecosystem will require a great deal of investment capital (money, time, and energy) and most likely result in diminishing returns. 
Collaborating with the Esports Team
Sponsoring or collaborating with an esports team can be another option for brands if they want to enter the esports industry. However, sponsoring an esports team can be quite confusing for brands inexperienced in the esports market. After all, there is a wide range of selections of teams and games that brands can choose from in the esports ecosystem. Furthermore, some teams only compete in specific esports scenes. For example, a team might only compete in PUBG Mobile esports but not Mobile Legends. On the other hand, there are organizations such as RRQ and EVOS that have divisions in almost every Indonesian esports game.
Let's take Alter Ego as an example. The Alter Ego team itself is arguably one of the biggest and most successful esports teams in Indonesia. As far as my observation goes, Alter Ego is doing quite well in 3 different esports scenes, namely Mobile Legends Bang Bang, PUBG Mobile, and VALORANT. I also interviewed Indra Hadiyanto as COO of Alter Ego to expand on the discussion.
I first asked him regarding the collaboration opportunities that were open with esports teams like Alter Ego. "There can be a lot of collaboration opportunities with our team. You can collaborate with us just for the sake of branding. You can also have a content collaboration, creating tournaments or even product collaborations, which is less interesting in my opinion." Indra explained.
Apart from being an esports team, Alter Ego also has a sister company, called Supreme League, that acts as an esports organizer. Therefore, it is not surprising that Indra mentioned that creating tournaments can be a collaborating option. But not all esports teams have a business line like Alter Ego. There are also esports teams that focus and diversify towards talent management. To find out the specific forms of collaboration that can be done with an esports team, I also asked about the sponsorships available at Alter Ego.
Indra explained, "Sponsorship in Alter Ego has three levels which are varied in terms of logo placements in the pro jersey. Logos in the chest region is ranked highest, followed by the shoulder logo, then the back logo as the lowest level." After that, Indra continued explaining the variations in the investment value of each of these sponsorship forms.
"Even though there are levels in logo position on the jersey, the sponsorship cost still depends on the form of collaboration that the brand wants to do with Alter Ego over the next year. Therefore, if two brands want to be displayed in the chest region of the jersey, the sponsorship price could possibly change. One brand might have additional requests in the sponsorship deal, whether it's conducting community gatherings or players to promote a campaign. " Indra explained further.
Finally, I also asked about the strengths and challenges of collaborating with esports teams. "Of course, collaborating with esports allows your brand to access the younger market," Indra replied to open the discussion. "In my opinion, esports is an incredibly unique market and its fans are usually very loyal. For example, if JessNoLimit uses a new brand of keyboard, then his followers will also buy these products. The effect is not limited to gaming gadgets only but also includes other aspects like fashion." Says Indra.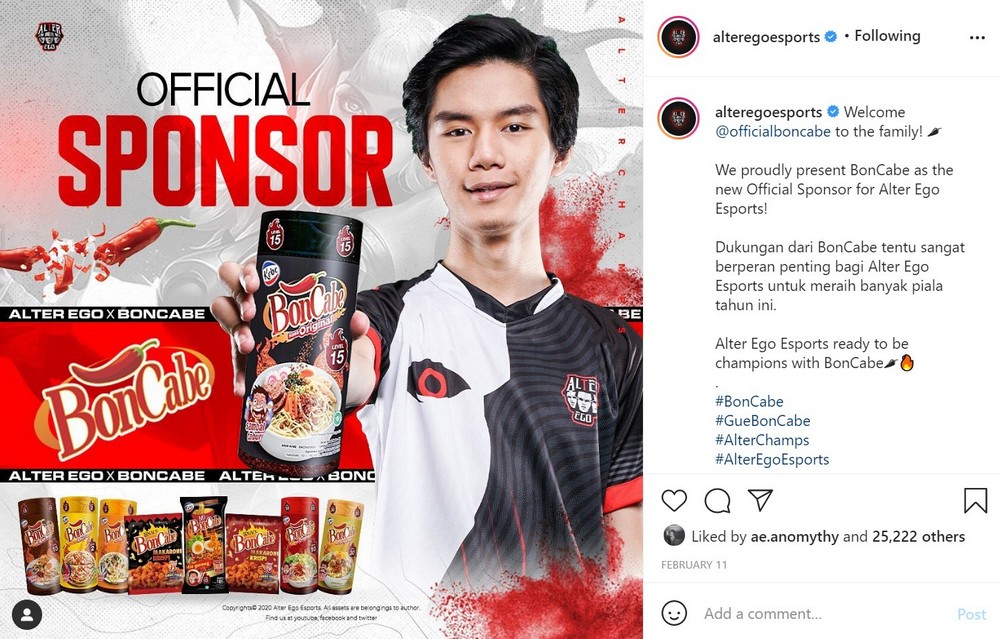 "When it comes to the challenges, I feel that it mostly occurs in how you want to convey a message to the fans. Apart from that, challenges include how to attract fans and keep their interest. Generally, it also includes how to make brands agree to long-term contracts." Indra explained from the perspective of Alter Ego.
Like sponsoring a soccer team, one of the advantages of sponsoring an esports team, in my opinion, is the strong identity that you can create with related brands. For example, when sponsoring a team that often wins championships, your product brand might be associated with a good quality that only winners want to use.
On the other hand, working with the esports team also presents a lot of challenges for external brands. One of the challenges may be dealing with the instability of the esports competition climate. In football alone, a team that is doing well can suddenly fall out of shape. This event can occur more dramatically in esports. Teams can be disbanded in a matter of days, and strong players in the roster can spontaneously leave. Fortunately, the three major esports games in Indonesia (Mobile Legends: Bang-Bang, PUBG Mobile, and Free Fire) each already have competitions in a stable league format that have set specific constraints to deal with these situations. However, it still does not rule out the possibility for a strong team to have sudden disappointing performances. 
Collaborating with Esports Influencers
Like most of the entertainment industry, collaboration with a Key Opinion Leader (KOL) is also an option. Returning to the football analogy, this collaboration is similar to Nike sponsoring Christiano Ronaldo. In the esports ecosystem, there is a diverse range of KOLs that brands can choose from, which can be both an advantage or disadvantage. Apart from pro players, brands can also collaborate with shoutcasters, streamers, or cosplayers related to the gaming/esports ecosystem.
For this discussion, I interviewed Florian "Wolfy" George, a well-known shoutcaster in the PUBG Mobile Indonesia esports scene. Firstly, I asked about the opportunities and the various forms of cooperation with a Key Opinion Leader figure in esports.
"The main opportunity, of course, is being able to engage with KOL followers directly or indirectly. The engagement aspect here is distinctive to every KOLs. With regards to the levels of cooperation, it also ranges between individuals. The cooperation can just be in the form of a social media post, story, or content, or even reaching long-term projects such as a campaign or a brand ambassador." Wolfy said.
Collaborating with KOLs in esports has very much the same process as collaborating with KOLs in other fields. The only difference perhaps lies in the segmentation of the audience. Of course, the esports audience is mostly comprised of young people who enjoy gaming as their pastime activities
"In my opinion, the cooperation between a brand and a KOL is always unique. I feel that because each brand and KOL represent their own unique 'color'. That is why I believe that they can probably work on different forms of collaborations than just social media posts or stories. In my opinion, every collaboration between every KOLs and brand is unique in their own manner. " Wolfy mentioned.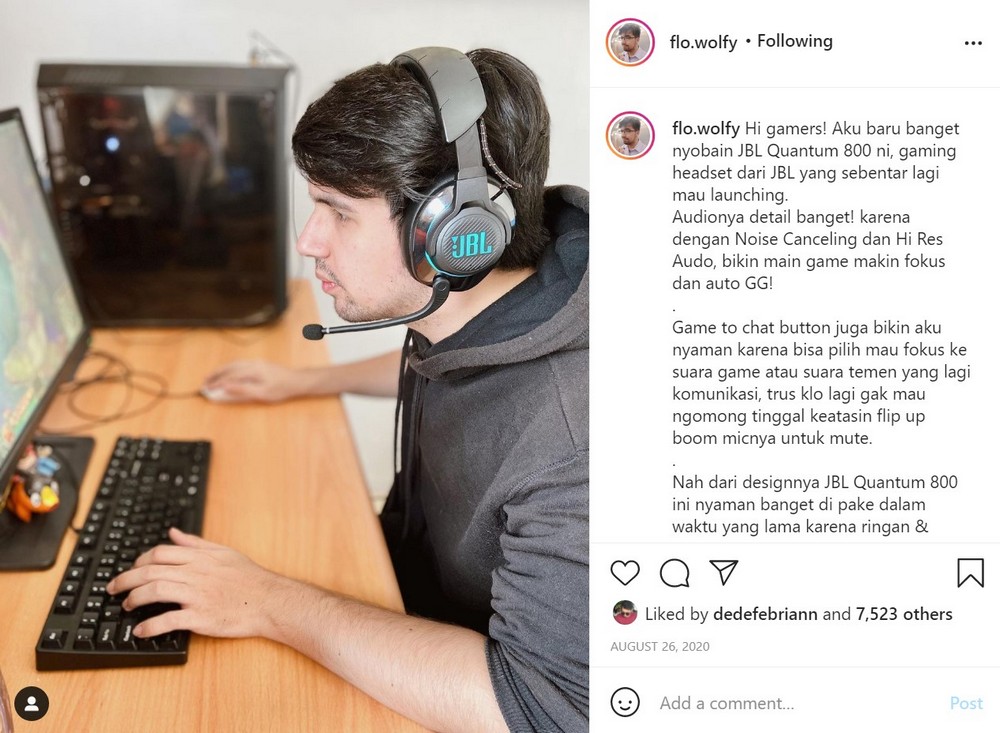 Before closing the interview, I also asked Wolfy's opinion about the advantages and disadvantages of working with KOLs in esports. "When it comes to the strengths, I feel that the presence of a brand that supports a KOL can help them (KOLs) to improve the quality of the ideas that were echoed from the start. With regards to the shortcomings and challenges, one of them might be in terms of market segmentation. KOL esports is usually only popular in one specific game, which poses problems if a brand wants to target audiences from multiple games."
Specificity is definitely a factor that needs to be considered when collaborating with KOLs in esports. The collaboration tends to be more intimate with the specific community that it has set in. But as Wolfy mentioned, brands can only focus on one line of esports game.
Therefore, the KOL medium might be better suited for small collaborations that target specific audiences. For example, Audio products will work well with KOL esports PUBG Mobile. One of the reasons is because playing PUBG Mobile requires good audio quality, which means that the collaboration works very well. If a brand wants to reach a much larger audience, then collaborating with multiple KOLs might be a viable alternative.
In-Game Sponsorships
The last and currently the most trendy method that brands can use to enter the esports community is through in-game sponsorship. In-game sponsorship is merely displaying a brand logo in the game elements of esports matches. Instead, games will include the whole brand inside the game itself.
One of the prevalent esports brands in this method of collaboration is Garena.  Last August 2020, I made a list of the collaborations done by Garena.
From that article, you can see that Garena has worked with AOV,  Fruit Tea, Wiro Sableng, and DC Comics. However, not all of the collaborations I listed can be considered as a sponsorship. Although Garena did not state this explicitly, I feel that the aforementioned collaborations are more inclined towards a partnership deal.
However, that does not mean that Garena has never had an in-game sponsor with another brand. One obvious example is the appearance of the KFC fast-food mascot Colonel Sanders as a skin in Arena of Valor in Taiwan. Quoting from Fanbyte.com, this cooperation was a form of promotional cooperation between the two. In this collaboration, players who buy a special food package for around US $ 5 will get a gacha box, containing Colonel Sanders' skin for the Ormarr character. Apart from skins, there are also other KFC-themed in-game elements that players can obtain, such as a Recall Effect, Kill Effect, or Sprinting Trail Effect.
Garena's collaboration with KFC is just one example of in-game sponsorships. Along with the development of esports, we can also see other sponsorships like Bathing Ape (a streetwear fashion product) with PUBG Mobile, Tesla with PUBG Mobile in China, or Louis Vuitton with League of Legends, which appears through the Prestige skin of the Qiyana character.
Collaboration in this form is perhaps one of the most attractive forms of sponsorship for brands. After all, it provides brands with the opportunity to showcase their products in a game. Therefore, this form of collaboration might be more suitable for brands that sell physical products, such as clothes, foods, or beverages.
However, in the Indonesian ecosystem, one of the shortcomings and challenges in collaborating through this method is the small number of game developers/publishers operating directly in the country. Furthermore, not all game developers want to do this kind of collaboration because it can be considered as "hard-selling". Developers might worry that these sponsorships will interfere or sabotage the playing experience of their games.
 ---
The points I mentioned above are, of course, not complete, but they are primary elements that need to be considered in the esports ecosystem. There are also many other related elements, pertaining to the elements mentioned. Hopefully, this article can shed a light on the esports industry and assist brands in entering the esports market.