Esports Ecosystem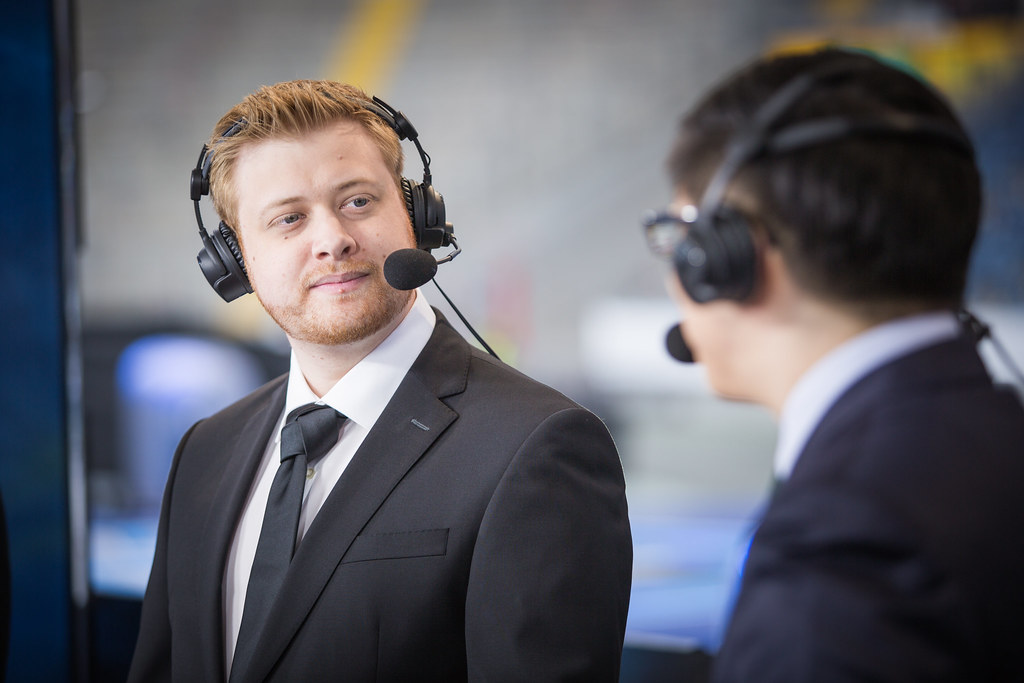 Dengan segudang pengalaman sebagai esports talent, TobiWan memiliki segalanya untuk memimpin para talent di Code Red Esports
Code Red Esports adalah talent agency yang berbasis di Inggris. Mereka menyediakan jasa on-air talent (casters, analyst & hosts) dan esports personality untuk berbagai acara esports. Code Red Esports memiliki total 51 esports talent termasuk Toby "TobiWan" Dawson, Austin "Capitalist" Walsh, Paul "ReDeYe" Chaloner dan Eri Neeman.
We're delighted to announce that @TobiWanDOTA is joining us as our new Head of Broadcast Talent! 🙌

Combining his expertise as a leading caster with his talent management skills, we're excited to see him excel in his new role and provide world-class advice to our talent family.

— Code Red Esports (@CodeRedEsport) March 3, 2020
Setelah bergabung dengan Code Red Esports pada bulan Maret 2018, TobiWan kini diangkat menjadi Head of Broadcast Talent. Ia ditugaskan untuk mengatur jadwal para talent, memperbanyak jumlah talent berkualitas di Code Red Esports, dan mengembangkan para talent tersebut. Code Red Esports mengingatkan para penggemar TobiWan untuk tidak khawatir. Karena TobiWan tetap akan melakukan casting di dunia Dota 2 walaupun ia harus menjalankan pekerjaannya sebagai Head of Broadcast Talent. 
One of the ways I can invest into the next generation of esport talents

I will also continue casting @DOTA2 – will post more about my objectives in life closer to The International 10 https://t.co/LzuKovfluK

— Toby Dawson (@TobiWanDOTA) March 3, 2020
Dikutip dari Esports Insider, Luke Cotton selaku COO dari Code Red Esports berkomentar, "kami sangat senang memiliki seseorang seperti TobiWan di perusahaan kami. Karena kami berencana untuk selalu meningkatkan kualitas para talent dan tournament organizers Code Red Esports. TobiWan sudah sangat memahami kehidupan dari seorang talent dan ia memiliki passion untuk mengembangkan kualitas talent."
Masih banyak yang menganggap enteng, apa saja yang dibutuhkan untuk menjadi Talent Manager?
Penting memang untuk seorang Talent Manager memiliki pengalaman sebagai talent itu sendiri dan mengetahui jalannya suatu esports broadcast. Sehingga, Talent Manager memiliki gambaran bagaimana kehidupan seorang talent. TobiWan telah menjadi caster Dota 2 di setiap gelaran The International. Karena itulah, ia sangat mengerti apa saja yang dibutuhkan untuk menjadi seorang talent yang berkualitas. Selain Dota 2, TobiWan juga telah memasuki dunia PUBG pada tahun 2018 kemarin. Memiliki pengetahuan di banyak game juga menjadi hal penting bagi seorang Talent Manager karena para talent akan memiliki fokus yang berbeda di setiap game title. 
Banyak yang masih meremehkan tugas seorang Talent Manager. Code Red Esports menekankan bahwa TobiWan akan ditugaskan untuk meningkatkan kualitas para talent. Dengan demikian, mereka bisa menawarkan susunan esports talent Code Red Esports kepada pihak yang ingin menggunakan jasanya. Jadi, seorang Talent Manager bukan hanya mengatur pekerjaan para talent saja namun juga diharapkan untuk mengembangkan kualitas talent juga.
From Our Network