Esports Ecosystem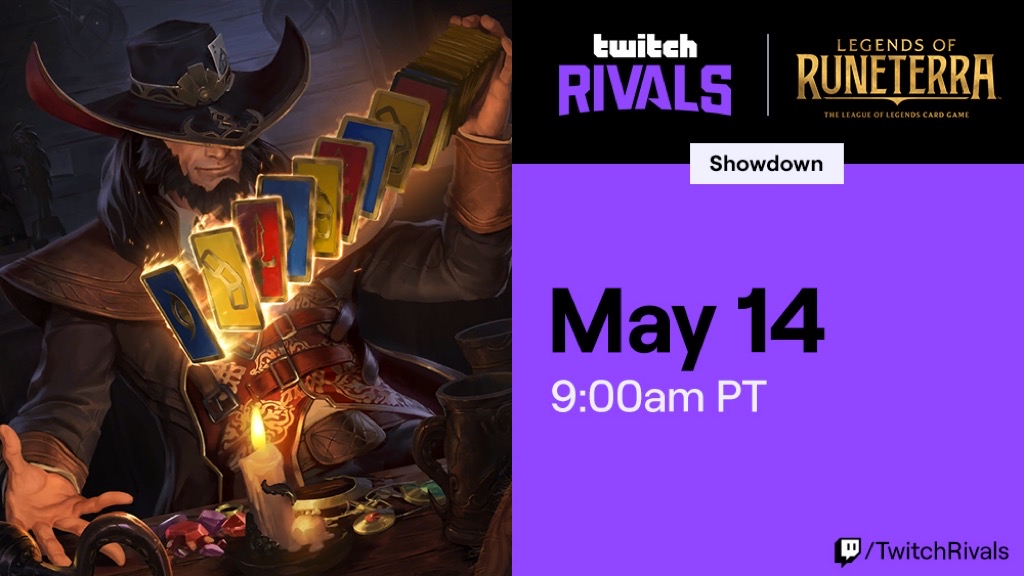 Memperebutkan 1,4 miliar Rupiah, Twitch Rivals diikuti oleh jajaran streamer ternama di komunitas Runeterra, mulai dari MegaMogwai hingga BruisedByGod1.
Setelah melalui proses pengembangan yang cukup lama, Legends of Runeterra akhirnya rilis tanggal 30 April 2020 lalu. Ini merupakan game pertama, dari jajaran game yang diumumkan pada ulang tahun ke-10 Riot Games dan akan rilis tahun 2020 ini.
Tak diduga, Legends of Runeterra ternyata berhasil mendapat penerimaan yang baik di kalangan gamers, dengan catatan 5 juta lebih download di Play Store setelah sekitar satu pekan lebih hadir di pasaran. Tak heran, karena game kartu ini sedikit banyak bisa dibilang sebagai salah satu game kartu terbaik sejauh ini.
Melihat penerimaan yang baik ini, kompetisi mulai bermunculan, Twitch Rivals jadi salah satunya. Memperebutkan total hadiah sebesar US$100.000 (sekitar Rp1,4 miliar), Twitch Rivals bisa dibilang menjadi turnamen Legends of Runeterra dengan hadiah terbesar sejauh ini.
Join us for a legendary adventure in the $100,000 Twitch Rivals: Legends of Runeterra Showdown!

Which of your favorite @PlayRuneterra Twitch streamers will be crowned champion?

Find out on Thursday, May 14 at 9am PT at https://t.co/xea83i1yVmpic.twitter.com/R5WAS8iiac

— Twitch Esports (@TwitchEsports) May 8, 2020
Tidak heran Twitch melakukan inisiatif turnamen Runeterra untuk para streamers, karena antusiasme game yang cukup baik dari para penonton Twitch terhadap game kartu besutan Riot Games.
Mengutip dari laman Twitch Tracker Legends of Runeterra sempat mencapai angka 244.635 penonton di saat yang bersamaan pada Oktober 2019 lalu. Setelahnya jumlah penonton Runeterra juga tidak begitu buruk, dengan rata-rata sebanyak 10.266 penonton pada bulan Mei 2020.
Seperti biasanya, Twitch Rival mengundang steramers yang merupakan rekan Twitch untuk bertanding di dalam kompetisi ini. Berikut jajaran streamers yang akan mengikuti Twitch Rival Legends of Runeterra.
@AlanzqTFT
@FreshlobsterC
@zezetel1
@FirstPinkBeaver
@pokrovacHS
@swimstrim
@Prismaticismism
@MegaMogwai
@Hyped_AF
@BruisedByGod1
@HugS86
@22Tilted
@Saucymailman
@ManuS
@Gummi
Dari jajaran pemain tersebut, BruisedByGod (kadang disebut BBG) merupakan pemain Runeterra terbaik sejauh ini, menurut DotEsports. Selain itu kehadiran sosok Mogwai dan Swim juga menjadi sesuatu yang sudah pasti, karena dua streamers tersebut rajin membuat konten Runeterra hingga saat ini.
Pertandingan pada Twitch Rival nantinya akan menggunakan format Swiss Round Single Elimination. Satu peraturan yang menarik dari kompetisi ini adalah setiap orang wajib membawa tiga deck yang berbeda. Dalam setiap pertandingan, masing-masing pemain boleh ban salah satu dari tiga deck yang akan digunakan musuh dalam pertandingan berformat best-of-3.
Turnamen akan diadakan pada 14 Mei 2020 pukul 09:00 Pacific Time (14 Mei 2020 pukul 23:00 WIB), yang tentunya akan ditayangkan di kanal resmi TwitchRivals. Penasaran dengan deck yang sedang meta? Ingin tahu bagaimana para streamers memainkan kartu-kartunya? Catat jadwalnya, jangan sampai kelewatan pertandingan Twitch Rivals: Legends of Runeterra tentunya.
From Our Network