Esports Ecosystem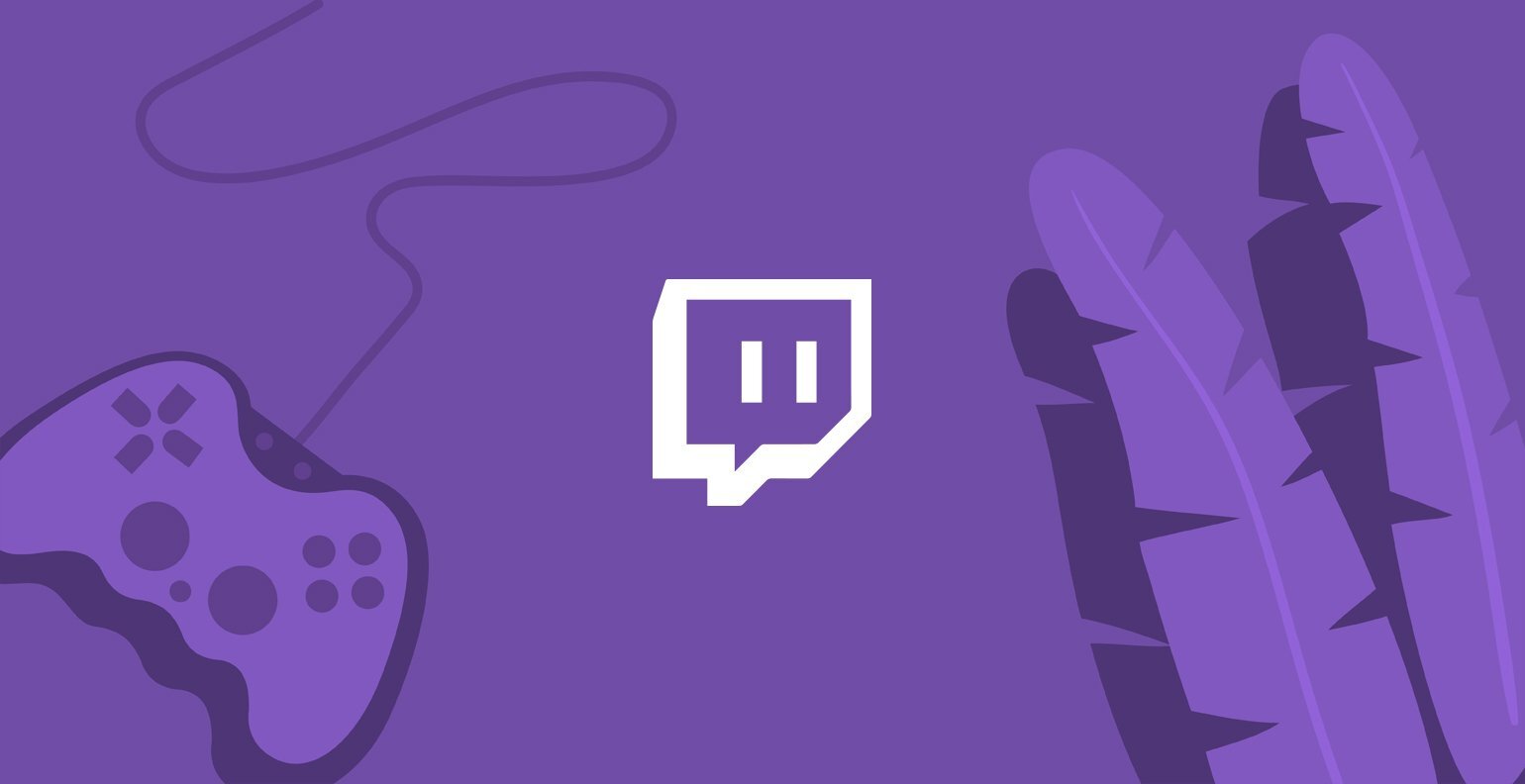 Twitch does not collaborate with local telecommunication operators to reduce the cost of users watching content on their platform.
Today, playing games can be much more than just a hobby. Moreover, people are not only attracted to playing games but also watch other people play. Because of this, both the esports and streaming industries are currently rapidly growing. Many companies also took the opportunity to invest in this thriving business. However, the streaming market is still dominated by several big platforms, such as Twitch, YouTube, and Facebook.
Globally, Twitch is still the number one game streaming platform. However, Twitch is not very popular in Indonesia. Data from DSResearch at the end of 2019 shows that Twitch is actually the least popular streaming platform in the country. Instead, YouTube is the most popular game streaming platform in Indonesia, followed by Facebook and NimoTV.
But why is this?
The State of the Streaming Industry
The gaming industry was one of the few industries that experienced growth during the COVID-19 pandemic. Simply put, people spend a lot of their time playing games or watching game content while quarantining at home. In 2020, the number of viewers for live streaming games doubled that of the previous year. Throughout 2020, the total hours of viewed gaming content was 12 billion, while total hours streamed reached 916 million hours, according to StreamLab data.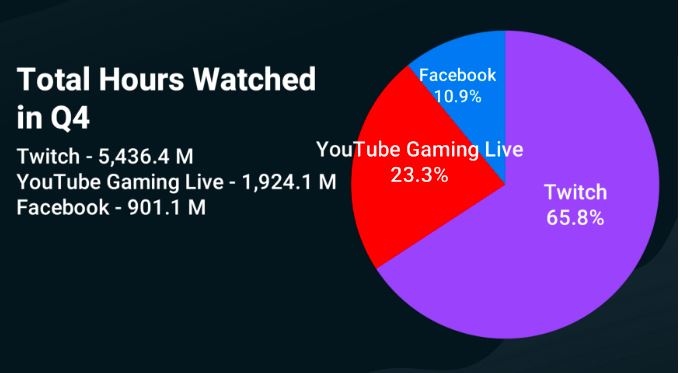 In the second quarter of 2020, Twitch broke the record for their total watch hours. For the first time in history, their watch hours reached 5 billion million hours. They broke this record again later in the fourth quarter of the year, accumulating 5.44 billion watch hours. This figure shows that Twitch contributed to 65.8% of the total hours watched in the streaming industry. In comparison, YouTube only contributed 23.3% or about 1.9 billion watch hours, while Facebook only had 901.1 million watch hours (10.9%)
Apart from their massive watch hour numbers, Twitch also excels in streaming hours (the broadcasting duration of streamers in the platform). In the last quarter of 2020, all streamers on Twitch broadcasted 230.5 million hours of content. Facebook only reached a figure of 14.5 million hours while YouTube Gaming only had 10.4 million hours. This statistic is relatively predictable considering that Twitch's primary use case is streaming. On the other hand, Facebook is a social media that also offers an extra feature of streaming while YouTube specializes in non-live content.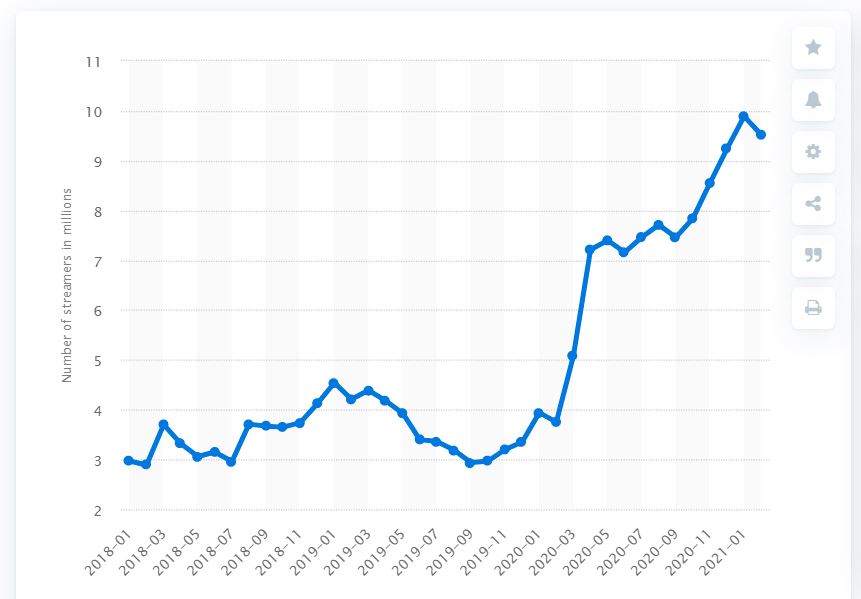 In the past year, the number of streamers on Twitch has also increased dramatically, as seen from the figure above. At its peak, the number of streamers on Twitch was 9.89 million, according to data from Statista. However, in February 2021, the number of streamers on Twitch had dropped to 9.52 million people. Despite this, data from Twitch Tracker shows that the number of streamers on Twitch will again increase in March 2021, to 9.6 million people. In the past week, Just Chatting is still the most popular category on Twitch. Grand Theft Auto V ranked second, followed by League of Legends, Fortnite, and Call of Duty: Warzone.
In comparison, YouTube revealed that the number of active gaming channels on their platform will reach 40 million in 2020. They also expect their watch hours on gaming content will reach 100 billion hours, and also subsequently reach 10 billion watch hours in their gaming streams. Interestingly, the games that are popular on YouTube are somewhat different from the games that are popular on Twitch.
Here is a list of the top 5 most popular games on YouTube:
Minecraft – 201 billion views
Roblox – 75 billion views
Free Fire – 72 billion views
Grand Theft Auto V – 70 billion views
Fortnite – 67 billion views
Streamers' opinions
To find out what streamers or content creators think about Twitch and the streaming industry in Indonesia, Hybrid conducted an interview with several of these people. One of them is Cindy "Cimon" Monika, who started streaming as a brand ambassador. Cimon chose YouTube as her primary platform to broadcast her content because she felt that the platform has provided the best stage for video content, including gaming content. She also believes that the gaming audience on YouTube is much bigger than any other streaming platform.
"YouTube is already a popular or common app from the get-go so you don't need to download an application or go to a specific link to watch," said Cimon when contacted by Hybrid via text message. "Most people don't really want to download new applications to watch gaming contents." Cimon said she did use Twitch previously for quite some time. She felt that Twitch was a suitable platform for streamers who were targeting audiences from Western countries. "Twitch also has several 'embellishments', which makes streaming look like a legitimate 'profession', such as overlays," she said. Even so, features such as overlays can also be found on other streaming platforms, including YouTube.
The case is different with Clara Vauxhall aka Iris, who prefers to stream on Twitch. She has even entered into the Twitch Affiliate program. A Twitch Affiliate can monetize his/her channel by offering subscriptions, Bits, and sales of games or in-game items. Clara revealed to Hybrid that her reason for streaming on Twitch is to target an audience outside Indonesia.
"I chose Twitch because the audience is more dominated by foreigners, which makes me more comfortable," said Clara. "YouTube viewers are usually predominantly domestic, often more stubborn and less lenient when compared to Twitch viewers."
Clara didn't want to get involved in any sort of conflicts with the local community. However, that does not mean that she completely ignores the local audience. "I try to balance my domestic and foreign audiences, although there are fewer domestic audiences than those from abroad," she said.
Clara also liked Twitch's design and overall looks. She also likes the existence of the Channel Points System that encourages viewers to watch the stream for a longer duration. The system will reward viewers with points as they view the stream. These points can then be used to redeem special rewards or requests such as asking the streamer to sing. "However, the requests that can be requested by viewers are different between streamers. The streamers themselves decide what kind of rewards can be redeemed," she said. "I think this system provides a chance for the audience to have a deeper interaction with the streamer."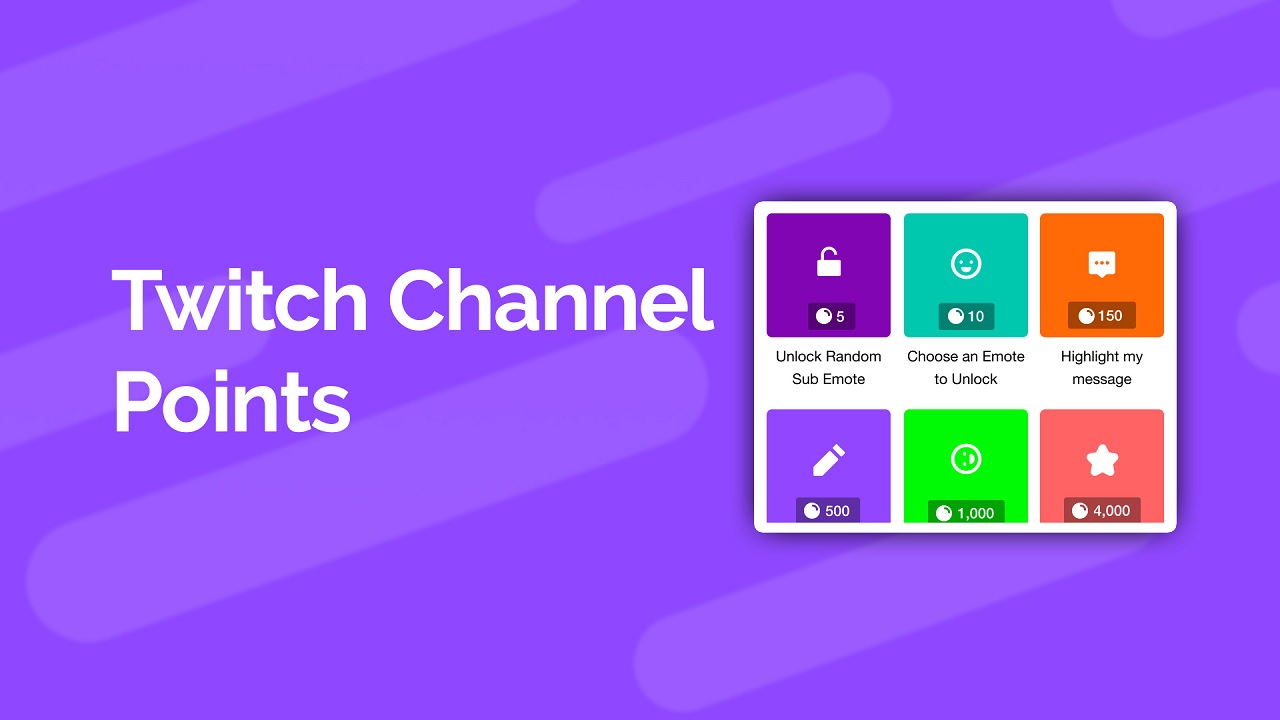 Of course, Clara ran into many problems while streaming on Twitch. One of the major problems she faced is the much more stringent Terms of Service. "Other toxic words outside the scope of ethnicity, religion, race, and inter-group relations – such as simp and virgin – shouldn't be used at Twitch," she said. She also often experiences a large ping when collaborating with streamers outside Indonesia. "When it comes to collaborating with other streamers that have an overseas audience causes many problems such as ping latency, time zone difference, and so on," she said. "In these sorts of cases, having a domestic audience is much easier to manage."
The streaming industry is also used by companies engaged in gaming and esports to grow their popularity. One of them is RevivalTV. Just like Cimon, YouTube is RevivalTV's preferred platform. However, they are also active on Nimo TV, a brand under HUYA and a streaming platform from China. Chief Growth Officer of RevivalTV, Irliansyah Wijanarko Saputra, explained the main reason why RevivalTV chose these two Nimo and YouTube is the gaming and esports community that they have built on the platform.
"The community is there and we're part of it," said Irli with a smile. He mentioned that the two largest gaming communities on YouTube and Nimo TV are Mobile Legends and PUBG Mobile. He revealed that YouTube and Nimo TV have built their ecosystem for the gaming and esports community, esports company officials, and Key Opinion Leaders (KOL). This is one of the advantages of streaming on these platforms.
Irli mentions that the single factor that determines the success of a streaming platform in Indonesia is its internal community. Streamer benefits and audience-streamer interaction also play a crucial part. He further explained why Nimo TV was much more popular than Twitch in Indonesia.
"Twitch is a western product while Nimo is an eastern product. The approaches of the developers of Twitch and Nimo are also very different," said Irli. "Twitch's approach is relatively passive. They don't give any other benefit besides the fact that their platform is already huge and popular compared to other streaming platforms. Eastern streaming platforms, such as Nimo, go down to the grassroots and choose to grow with the community. Furthermore, Twitch can sometimes be slow to adapt and change. In 2016-2017, they didn't have many rivals in the streaming industry, which prompted them to not host a server in SEA, causing many viewers from that region to lag out. Of course, this causes a huge loss of audience for Twitch."
Comparing the Viewing Experience Between Twitch and YouTube Live
Lag is one of the prominent problems that Indonesian netizens have to face when watching Twitch, allegedly. To confirm the theory, I kept track of the downstream data rates while watching Twitch on a laptop. I then compared this data to the downstream speed when watching YouTube. When I watched a 720p stream on Twitch, the download speed was in the range of 1.1 Mbps to 3.2 Mbps, with an average speed of 2.5 Mbps.
In comparison, the downstream speed when I watch videos with the same resolution on YouTube is much more volatile or unstable. The download speed ranges from as low as 8 kbps to as high as 16.4 Mbps. The average downstream data rate I experience is around 3.4 Mbps. Therefore, you actually don't need a faster connection to watch Twitch.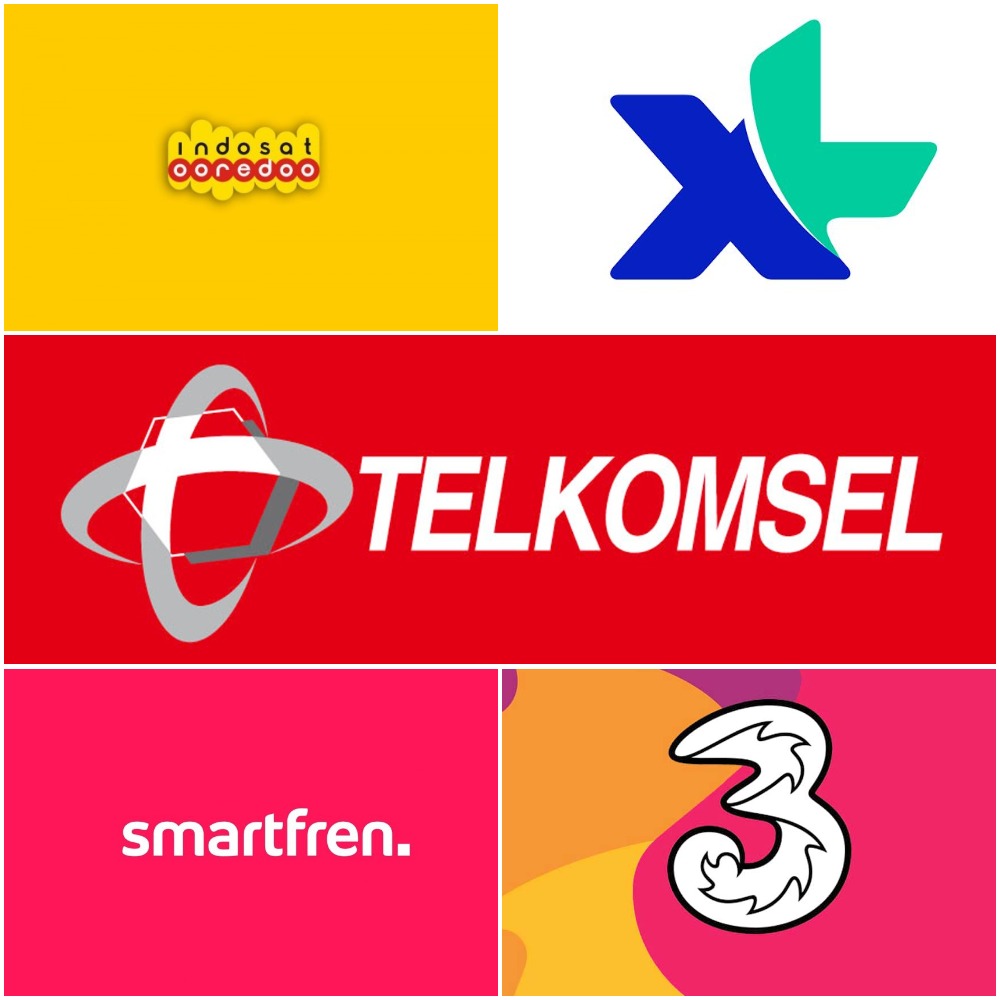 I also did the exact same test using a smartphone. When watching a 720p stream on Twitch, the lowest speed I got is 360 kbps, the highest speed is 1.1 Mbps, while the average downstream data rate is at around 790 kbps. In comparison, when I watched YouTube, the lowest speed was 133 kbps and the top speed was 367 kbps, with an average download speed of 307 kbps. Thus, unlike laptops or PCs, YouTube requires a much slower speed than Twitch in mobile.
Each operator usually has a special package for social media and YouTube.
When discussing the source of income for streamers, I once asked Fandra "Octoramonth" Octo the reason behind the lack of popularity of Twitch in Indonesia. According to him, the absence of special mobile data offers or packages for watching Twitch is one of the culprits behind this trend. Indeed, when I checked the list of internet packages offered by Telkomsel, there were packages for YouTube, Facebook, and Instagram, but there were none for Twitch.
Without any special packages or offers for using Twitch, to what extent does this impact the users' mobile data fees? To answer this question, we need to compare watching YouTube with operator packages and watching Twitch without any of those offers.
To watch 1 hour of 720p video, you will need to spend around 1.6GB of mobile data. Given that Twitch doesn't have a special data package, I will use the regular mobile data pricing from Telkomsel. One of the packages that Telkomsel provides is the OMG package. With this package, you can get 27GB of mobile data for a month at a price of IDR 152,000, which means that 1GB is valued at IDR 4.7 thousand. Therefore, if you watch a 720p video for an hour, then you will roughly spend around IDR 7.5 thousand.
Now, let's move on to the costs involved when watching YouTube with a special package. Telkomsel provides a "YouTube package" that allows you to watch YouTube as much as you want for a week for only IDR 15.2 thousand. Assuming you have work or college activities, you can probably only set aside about 4 hours each day watching YouTube – which means you can watch 28 hours of content every week. Therefore, the cost you have to spend to watch YouTube videos for 1 hour in this scenario is IDR 15.2 thousand divided by 28 hours or is IDR 542.
If you are a busy person and can only watch videos on YouTube for 2 hours every day, so you have to spend Rp1.1 thousand watching YouTube videos for an hour. The calculation above concretely shows that special packages can make a huge difference in user' fees when using Twitch and YouTube.
Conclusion
At first glance, Twitch, YouTube Gaming, and Facebook Gaming offer the exact same thing: a streaming platform for gaming content creators. However, the three of them actually have different focuses and primary use cases. In the beginning, YouTube was created as a place to share pre-recorded videos. On the other hand, Facebook started as a social media. Twitch, since its inception, serves as a streaming platform.
As one of the early pioneers in the industry, it is no wonder that Twitch dominates the streaming market. To date, Twitch is still the number one game streaming platform globally. One of the advantages of Twitch is the countless features that it possesses, such as the Channel Point System. Twitch also supports special features for popular games, such as Live Tracker for League of Legends. Unfortunately, these features are usually only available for PC games. However, in Indonesia and Southeast Asia, mobile games are far more popular than their PC counterparts. Therefore it is expected that most Indonesian streamers are less interested in using Twitch.
Twitch also tends to be much more passive than other platforms. So far, they have not collaborated with any local telecommunication operators. As a result, there are no special packages for watching Twitch that can incentivize viewers to use the platform. If this laid-back ideology persists, Twitch can never attract the audience of a country where mobile data fees and quotas are still incredibly limited.
Feat Image Credit: Creatopy. Translated by: Ananto Joyoadikusumo
From Our Network