Esports Ecosystem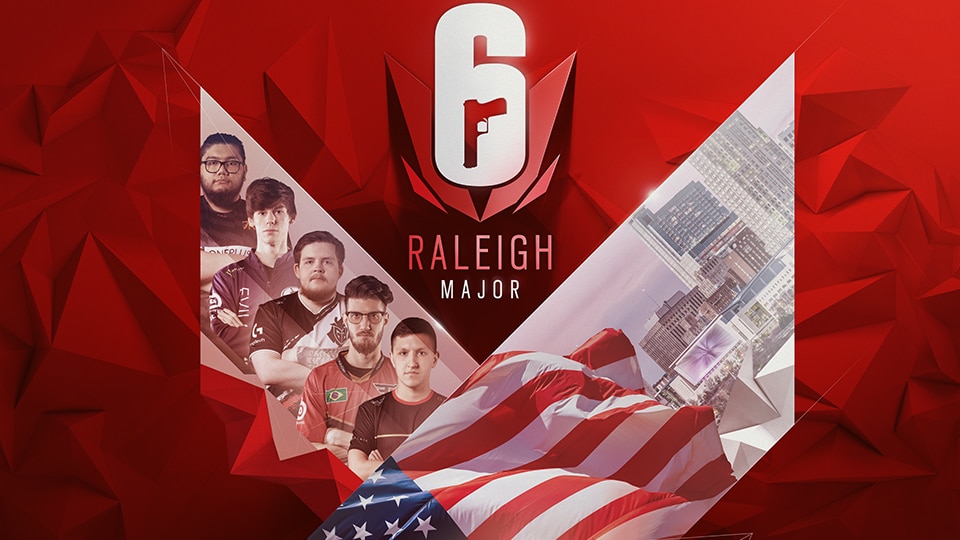 Selama tiga hari, rata-rata pengunjung Raleigh Major adalah 2.600 orang per hari
Sebelum memilih Raleigh sebagai tempat diadakannya turnamen Rainbow Six Siege Major, Ubisoft mempertimbangkan beberapa kota lainnya. Che Chou, Senior Director of Esports, Ubisoft mengatakan, ada beberapa hal yang mereka pertimbangkan sebelum memilih sebuah kota sebagai tempat diselenggarakannya turnamen Major. Salah satu pertimbangan Ubisoft adalah fans. Selain itu, Raleigh memang agresif dalam usahanya meyakinkan Ubisoft untuk mengadakan turnamen Major di kota tersebut, seperti memberikan subisidi. Chou mengatakan, di Tiongkok, semakin banyak kota yang ingin menciptakan reputasi yang lekat dengan gaya hidup esports. Tren ini juga mulai muncul di Amerika Serikat.
Kenapa pemerintah kota ingin agar turnamen esports besar diadakan di kota mereka? Data dari agensi media dan esports Big Block menunjukkan, turnamen Raleigh Major memberikan sumbangan ekonomi langsung sebesar US$1,45 juta atau sekitar Rp20,5 miliar. Selain itu, pada akhir pekan ketika turnamen Raleigh Major diadakan, terdapat lebih dari 1.000 pencarian pekerjaan terkait industri game. Memang, di kawsan Raleigh-Durham, ada beberapa game developer studio ternama, seperti Epic Games, Insomniac Games, Funcom, dan Red Storm Entertainment yang merupakan studio Ubisoft.
Raleigh Major diadakan mulai 12 Agustus 2019. Namun, hingga tanggal 14 Agustus, pertandingan hanya disiarkan secara online. Turnamen diadakan di Raleigh Convention Center selama tiga hari, yaitu pada 16-18 Agustus 2019. Selama tiga hari, rata-rata pengunjung yang datang ke Raleigh Major mencapai lebih dari 2.600 orang. Memang, jika dibandingkan dengan pengunjung turnamen Intel Extreme Masters (IEM) — yang jumlah pengunjungnya mencapai 130 ribu orang — jumlah pengunjung Raleigh Major jauh lebih kecil. Namun, IEM yang diadakan di Polandia tersebut berlangsung lebih lama dan mengadu lebih dari satu game. Selain itu, kesuksesan turnamen Raleigh Major menunjukkan bahwa kota yang relatif kecil pun tertarik untuk mengadakan turnamen esports.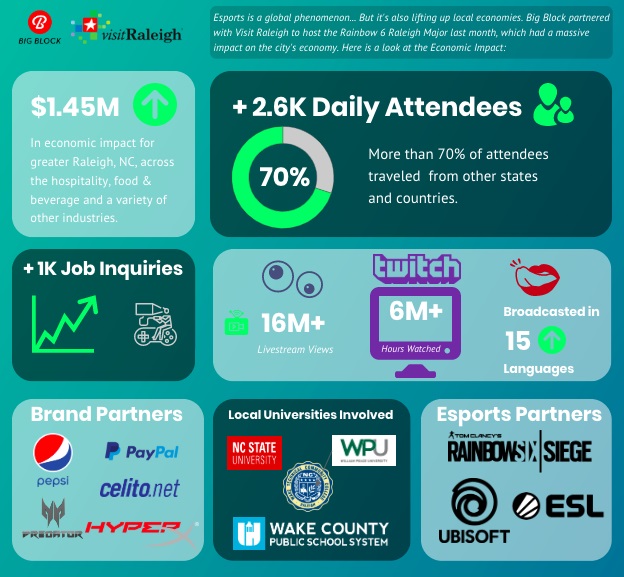 Alasan Raleigh berusaha agar turnamen esports diselenggarakan di kotanya adalah karena fans esports biasanya rela datang dari jauh untuk menghadiri turnamen. Memang, dari semua pengunjung yang datang, sebanyak 70 persen datang dari luar negeri atau luar negara bagian North Carolina. Selain itu, esports juga bisa membuat orang-orang tertarik untuk berkuliah universitas lokal. "Esports memiliki fans berat yang bersedia untuk datang dari seluruh belahan dunia. Ini akan meningkatkan pendapatan dari pariwisata. Sebagai perbandingan, acara olahraga tradisional atau konser biasanya menarik orang-orang dari kawasan sekitar," Loren Gold, Executive Vice President of the Greater Raleigh Convention and Visitors Bureau, seperti dikutip dari Forbes.
Untuk memastikan turnamen Raleigh Major berjalan lancar, Greater Raleigh Convention and Visitors Bureau (Visit Raleigh) dan Greater Raleigh Sports Alliance (GRSA) mengajak kerja sama Big Block. Selain menjadi konsultan bagi Visit Raleigh dan GRSA selama Raleigh Major berlangsung, Big Block juga mengedukasi pelaku bisnis lokal tentang industri esports dan kesempatan yang bisa mereka manfaatkan. Ke depan, tiga badan ini juga akan bekerja sama untuk menjadikan Raleigh sebagai pusat esports. Tujuan mereka adalah agar dalam waktu tiga sampai lima tahun, ada lima acara esports yang diadakan di Raleigh.
Namun, Managing Director of Esports, Big Block, Ed Tomasi mengatakan, merealisasikan rencana itu tidak mudah. Industri esports telah ada selama hampir dua dekade dan tumbuh pesat dalam beberapa tahun belakangan. Ada banyak perusahaan yang tertarik untuk berinvestasi di industri ini atau menjadi sponsor para pemain dan tim profesional, merek non-endemik sekalipun. "Esports bukanlah sesuatu yang bisa dikembangkan dalam waktu singkat," kata Tomasi, lapor The Esports Observer. Dia mengatakan, Greater Raleigh telah sukses menyediakan fasilitas dan ekosistem yang memadai untuk menyelenggarakan turnamen esports kelas dunia berkat bantuan dari Big Block, yang memiliki pengalaman lebih dari 20 tahun.
From Our Network