Esports Ecosystem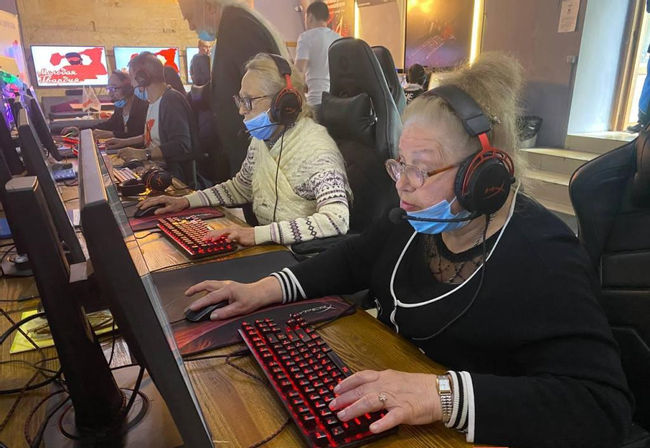 Young Guard berhasil menyalip Grey Gunners sebagai tim CS:GO dengan lima pemain tertua di dunia
Beberapa saat lalu, sebuah turnamen CS:GO unik dilaksanakan di Ukraina dengan salah satu tim partisipan bernama "Young Guard". Tim tersebut memiliki lima personel dengan rata-rata umur 75 tahun dan 2 bulan. Mereka mengikuti turnamen yang diselenggarakan oleh Cybersport Federation of the South of Ukraina bersama tim-tim lain yang mayoritas adalah anak-anak sekolah.
Turnamen yang tidak memiliki batasan rank, gender, dan umur menjadi salah satu faktor Young Guard mengikuti turnamen ini. Kehadiran mereka pun jadi viral dan bahkan dicatat di buku rekor nasional Ukraina sebagai tim CS:GO dengan rata-rata pemain tertua di Ukraina.
Young Guard adalah tim asal Ukraina yang memiliki lima pemain di atas umur 66 tahun. Pemain termudanya berumur 66 tahun dan 8 bulan, dengan yang tertuanya berumur 78 tahun dan 8 bulan. Jika dirata-rata, kelima pemain tersebut memiliki umur 75 tahun dan 2 bulan. Umur mereka yang sudah kepala tujuh ini tidak menghentikan mereka untuk bermain secara kompetitif di game yang berumur sepertujuh umur mereka.
Hadirnya Young Guard menarik ketertarikan Lana Vetrova, kepala National Register of Records of Ukraine. Vetrova mendaftarkan Young Guard sebagai nominasi "Unique Nomination" di kategori lansia. Nama mereka saat ini sudah terpampang di buku rekor Ukraina.
"Kategori ini baru diselenggarakan secara aktif, diisi ulang dengan peserta baru, dan setiap kali kami terkejut dengan pencapaian yang ditunjukkan orang bukan pada usia 50, bukan 60, tetapi selama 70 tahun dan lebih. Itu selalu sangat berharga bagi kami ketika orang-orang di usia ini aktif (di kesempatan seperti ini)," sebut Vetrova.
"Belum pernah ada rekor seperti ini di Ukraina. Tim ini, tidak hanya menunjukkan indikator usia mereka, tetapi juga menunjukkan keceriaan, optimisme, yang merupakan bagian integral dari kesuksesan mereka dengan rekor ini."
Selain Young Guard, memang sudah ada beberapa tim senior lainnya yang telah malang-melintang di ranah kompetitif CS:GO. Salah satunya adalah Silver Snipers. Tahun ini, kelima pemain memiliki rata-rata umur 71 tahun. Uniknya, mereka dipandu oleh pelatih kelas dunia, yaitu asisten pelatih Ninjas in Pyjamas dan pelatih utama Young Ninjas saat ini, Fredrik "JAEGARN" Andersson.
Selain itu, ada juga Grey Gunners yang sekarang disusul oleh Young Guard sebagai tim CS:GO dengan lima pemain tertua di dunia. Tim asal Finlandia ini sempat bertanding dengan pemain Silver Snipers di salah satu pertandingan showmatch.
From Our Network