Internet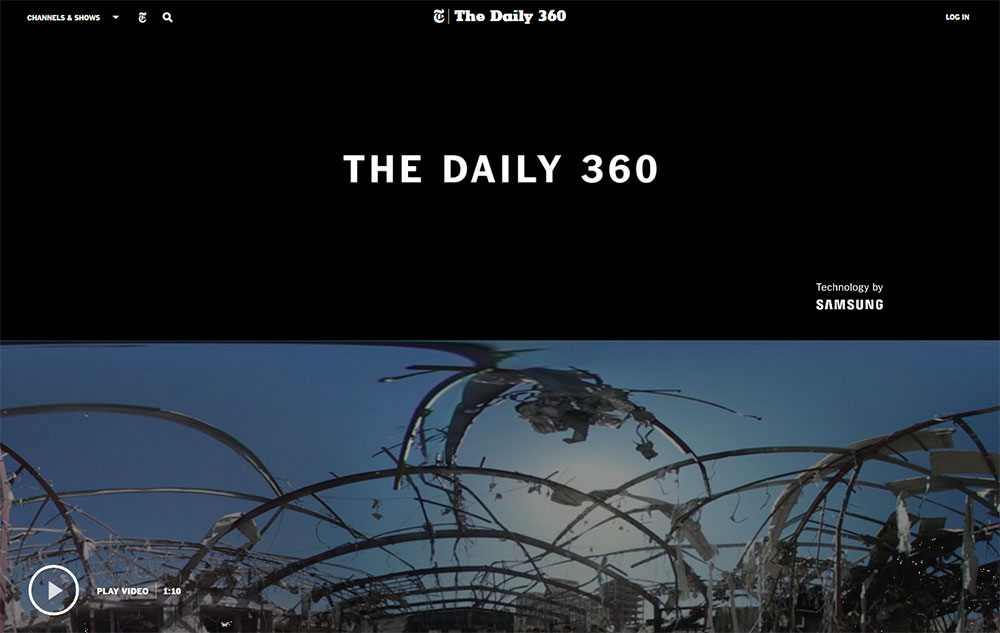 Setiap harinya akan ada video 360 derajat baru yang bisa dinikmati penonton langsung di komputer, smartphone maupun tablet
Selama bertahun-tahun, media publikasi telah mendampingi kita memahami dunia dari berbagai sudut pandang. Mediumnya sendiri berevolusi dari sekadar teks di atas kertas menjadi reportase video guna memberikan gambaran yang lebih jelas. Maka dari itu, wajar apabila trennya terus bergeser menuju ke ranah virtual reality, atau setidaknya video 360 derajat.
Publikasi ternama asal AS, The New York Times, adalah salah satu yang pertama menunjukkan keseriusan dan komitmennya terhadap medium baru ini. Bekerja sama dengan Samsung, mereka memperkenalkan The Daily 360, sebuah proyek jurnalistik yang berfokus pada format video 360 derajat.
Sesuai namanya, The Daily 360 menjanjikan konten yang baru setiap harinya. Setidaknya akan ada satu video 360 derajat baru yang bisa kita nikmati, dan topik bahasannya akan berganti dari hari ke hari, disesuaikan dengan aktivitas konsumen; contohnya, topik yang dibahas di akhir pekan adalah seputar traveling.
Samsung sendiri berperan memberikan akses ke teknologi yang dibutuhkan, dalam kasus ini kamera 360 derajat. Berdasarkan pernyataan resmi yang diterima VentureBeat, Samsung akan membekali jurnalis NY Times di berbagai penjuru dunia dengan kamera Gear 360 dan perlengkapan ekstra yang dibutuhkan.
Menariknya, The Daily 360 tidak mewajibkan penonton untuk menggunakan VR headset. Seluruh videonya bisa dinikmati langsung dari browser komputer, atau dari smartphone dan tabletviaaplikasi NYTimes; meski tentu saja, pengalamannya akan terasa lebih immersive jika menggunakan headset macam Gear VR.
Silakan tonton trailer The Daily 360 di bawah ini. Oh ada bagian yang cukup menarik, tepatnya mulai detik 53 dimana salah satu calon presiden AS Hillary Clinton terlihat sedikit kebingungan dan menanyakan mengenai benda apa yang sedang berada di depannya – yang tidak lain dari kamera 360 derajat. Hal ini bisa menjadi indikasi bahwa porsi pengguna yang belum mengenal konsep VR masih cukup besar.
Sumber: The New York Times dan VentureBeat.