Esports Ecosystem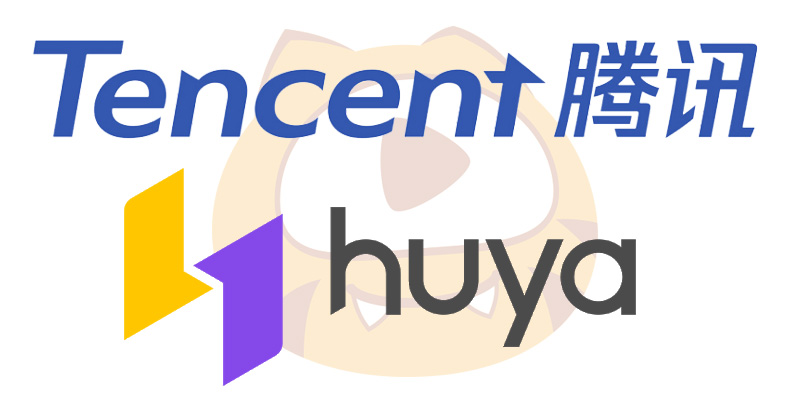 Menariknya, Tencent menjadi pemegang saham mayoritas dari Huya dan Douyu, pesaing Huya
Tencent membeli 16,5 juta saham Class B di Huya, platform streaming game serupa Twitch di Tiongkok, pada awal bulan ini. Untuk membeli saham tersebut dari JOYY, perusahaan media sosial yang menjadi induk Huya, Tencent mengeluarkan US$262,6 juta (sekitar Rp4,1 triliun). Dengan ini, Tencent menjadi pemegang saham mayoritas dari Huya. Secara keseluruhan, total saham yang dimiliki oleh Tencent mencapai setidaknya 50,1 persen. Meskipun begitu, Huya tetap akan beroperasi mandiri.
Dua tahun lalu, Tencent menanamkan investasi sebesar US$461,6 juta (sekitar Rp7,2 triliun) di Huya. Menariknya, mereka melakukan hal ini kurang dari 24 jam setelah mereka mengucurkan modal sebesar US$632 juta (sekitar Rp9,8 triliun) ke Douyu, platform streaming game yang merupakan pesaing Huya, menurut laporan Games Industry. Sekarang, Tencent menjadi pemegang saham mayoritas di Douyu dan Huya. Namun, mereka juga memiliki platform streaming game sendiri, yaitu eGame. Strategi Tencent untuk menguasai industri platform streaming game di Tiongkok serupa dengan strategi mereka dalam industri game. Tencent memang sangat aktif dalma membeli saham atau mengakuisisi developer game. Pada Januari 2020, Tencent dikabarkan akan mengakuisisi Funcom, developer dari Conan Exiles.
Sebagai bagian dari perjanjian antara Tencent dan Huya, Lingdon Huang, yang menjabat sebagai General Manager for Interactive Entertainment di Tencent, akan menjadi Director dan Chairman dari dewan direktur Huya. Tak hanya itu, tiga manager Tencent lainnya — yaitu Zhi Cheng, Hai Tao Pu, dan Guang Xu — juga akan menjabat sebagai direktur di Huya.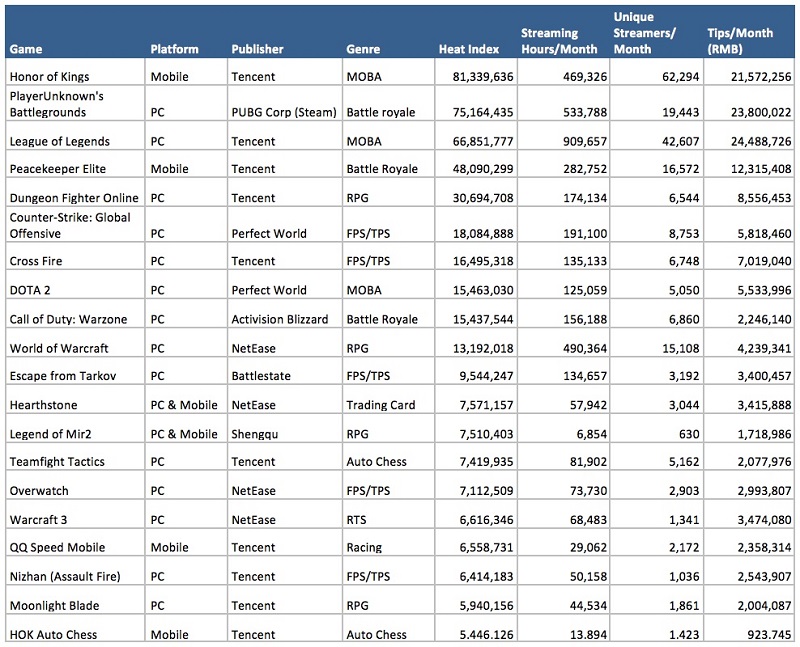 Pada awal bulan April 2020, Niko Partners, perusahaan analis yang fokus pada negara-negara Asia, meluncurkan streaming tracker untuk game-game di Tiongkok. Tracker itu mengumpulkan data tentang game-game terpopuler di platform streaming game di negeri Tirai Bambu tersebut, seperti Huya, Bilibili, dan Douyu. Berdasarkan data Niko Partners, Honor of Kings — yang juga dikenal dengan nama Arena of Valor — menjadi game yang paling banyak ditonton. Sepanjang Maret 2020, total durasi konten ditonton dari Arena of Valor mencapai lebih dari 469 ribu jam. Di posisi kedua duduk Player Unknown's Battleground, diikuti oleh League of Legends, lapor Game Daily.
Menariknya, dari 20 game terpopuler di platform streaming game, sebanyak 14 di antaranya merupakan game dari Tencent atau NetEase. Memang, dua perusahaan ini menguasai pasar game di Tiongkok. Pada 2019, NetEase mendapatkan pemasukan sebesar US$6,5 miliar (sekitar Rp100,8 triliun). Sementara Tencent mendapakan pemasukan 377,8 miliar yuan atau sekitar Rp856 triliun. Selain itu, data dari Niko Partners menunjukkan bahwa mobile game adalah segmen dengan pertumbuhan paling cepat di Tiongkok. Salah satu pendorongnya adalah mobile esports.
Sumber header: The Esports Observer