Esports Ecosystem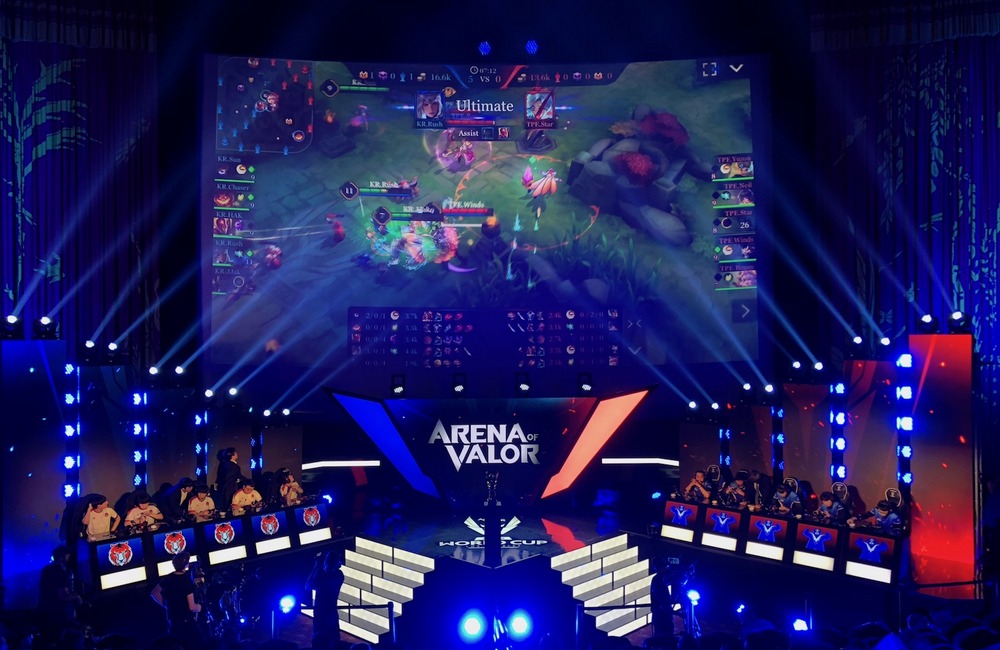 Namun masih belum ada informasi lebih lanjut seputar venue, tanggal acara, maupun total hadiah yang akan diperebutkan
Tencent dan Garena mengumumkan bahwa Arena of Valor World Cup 2019 (AWC 2019) akan diadakan di Vietnam. Tahun lalu, event esports AOV tahunan ini diadakan di Los Angeles, Amerika Serika dengan tujuan untuk memikat peminat mobile gaming di barat. Namun sepertinya tahun ini Tencent dan Garena memilih untuk fokus memanjakan penggemar mobile gamers di Asia.
Pemilihan Vietnam sebagai tuan rumah AWC 2019 sebenarnya bisa dibilang langkah masuk akal bagi Tencent dan Garena, mengingat negara tersebut merupakan salah satu regional dengan jumlah pemain Arena of Valor terbanyak. Diterbitkan dengan nama Liên Quân Mobile, Esports Charts mencatat bahwa tayangan liga AOV lokal Vietnam sudah ditonton total selama 5.097.486 jam, dengan jumlah penonton terbanyak secara bersamaan adalah 213.301 penonton.
Dengan diadakannya AWC di Vietnam, tahun 2019 jadi tahun pesta esports bagi negara Vietnam. Pasalnya, selain menjadi tuan rumah event internasional Arena of Valor, Vietnam juga menjadi tuan rumah dari salah satu event kompetisi tengah musim League of Legends terbesar, Mid-Season Invitational.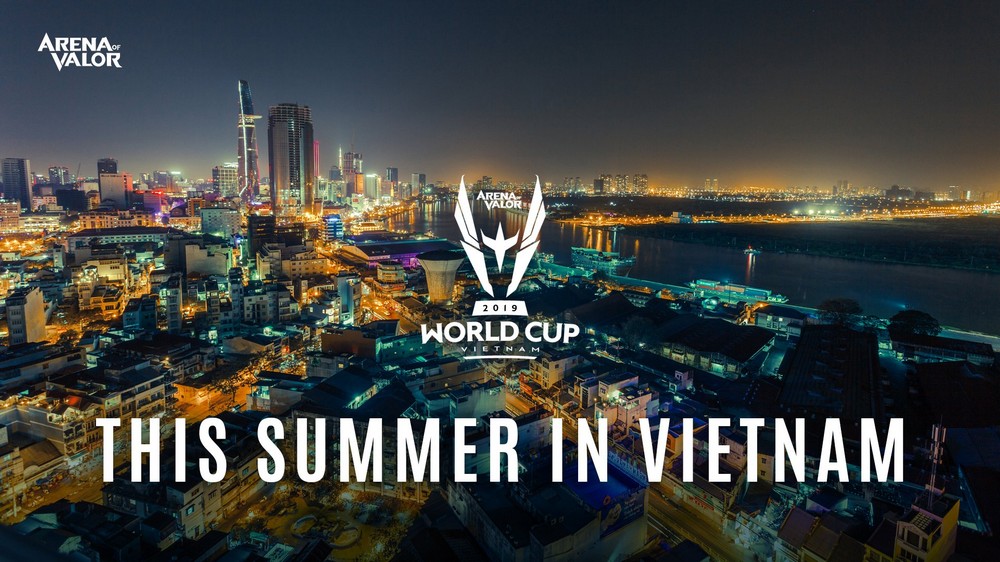 Mengutip sebuah bocoran informasi dari Esports Observer, kompetisi AWC 2019 kabarnya akan membawa sebuah format baru yang membuat pertandingan jadi lebih menarik ditonton. Format tersebut diberi nama "Global Ban Pick", format yang dirancang agar tim peserta tidak menggunakan hero yang sama secara terus menerus selama kompetisi. 
Jadi semisal kedua tim bertanding dalam seri pertandingan best-of-5, setiap tim hanya boleh menggunakan satu hero sebanyak satu kali dari empat kali permainan yang dijalani; dengan pengecualian jika permainan mencapai ke game 5.
Entah bagaimana format ini akan berdampak kepada para pemain, namun satu hal yang pasti ini akan membuat permainan jadi lebih menghibur. Selama ini baik AOV atau League of Legends menghadapi masalah yang sama, yaitu sedikitnya variasi hero yang kuat untuk bisa digunakan dalam pertandingan kompetitif.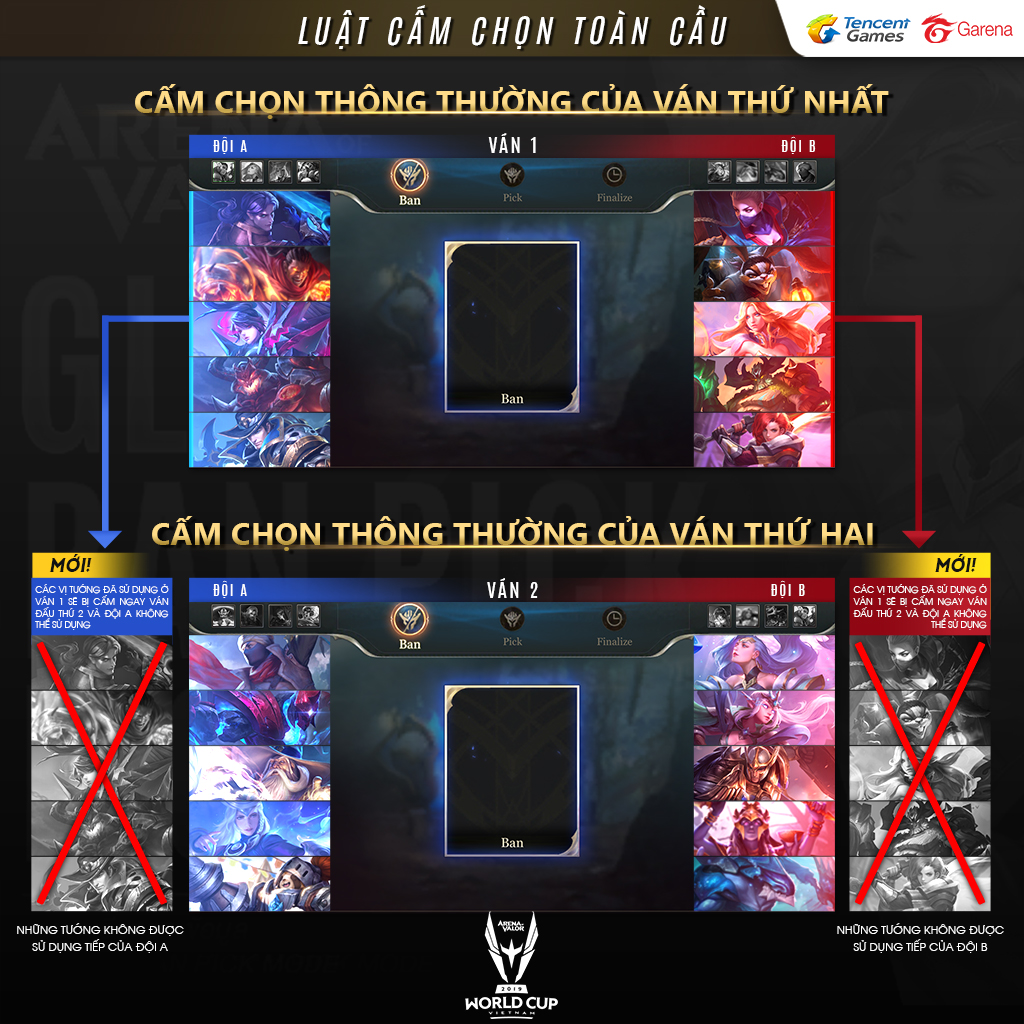 Hal ini kadang membuat pertandingan jadi terasa membosankan, apalagi dalam seri-seri panjang seperti best-of-5 atau best-of-7. Para peserta biasanya akan terus mengulang menggunakan hero dan gaya permainan yang sama demi memenangkan pertandingan.
Lalu bagaimana wakil Indonesia untuk AWC 2019? Tahun lalu juara Arena of Valor Star League Season 1, EVOS AOV, langsung dipastikan untuk mewakili Indonesia dalam gelaran AWC 2018. Namun tahun ini, informasi seputar hal tersebut masih belum jelas. Mengingat Garena tidak menyebut apapun tentang AWC 2019, pada saat penganugerahan EVOS AOV sebagai juara ASL Season 2.
Terkait AWC 2019, selain negara tempat diadakan, belum ada pengumuman lebih lanjut seputar tempat, tanggal acara, serta total hadiah yang diperebutkan. AWC tahun lalu memperebutkan total hadiah sebesar US$550 ribu (Sekitar Rp7,7 miliar). Kalau melihat hadiah AoV International Championship 2018 yang meningkat, bukan tidak mungkin hadiah AWC 2019 juga akan meningkat.