Esports Ecosystem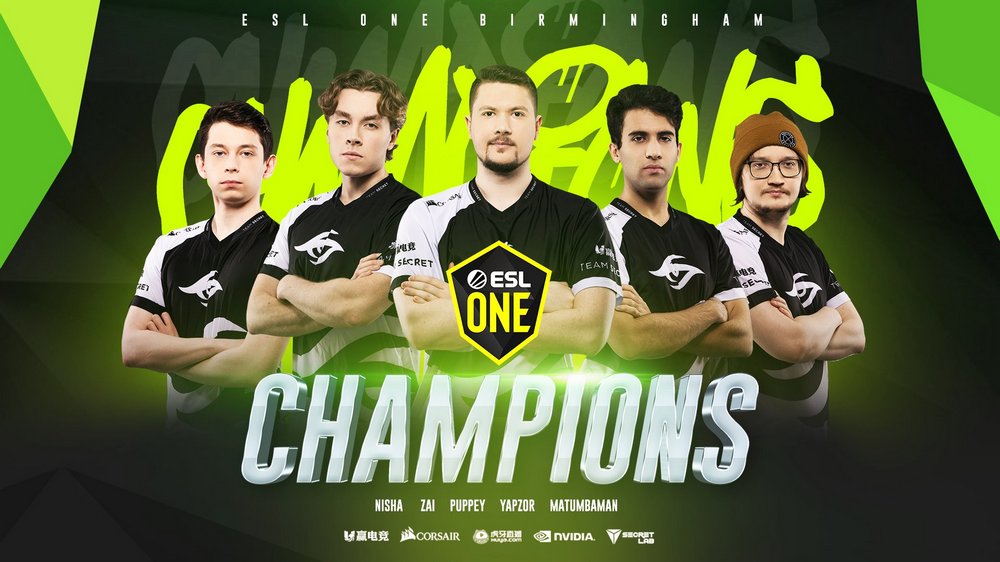 Team Secret Juara ESL One Birmingham Online setelah libas Alliance 3-0. Ini jadi gelar kemenangan Puppey dan kawan-kawan yang ketiga berturut-turut.
Pada musim ini, skena kompetisi Dota 2 resmi dari Valve mungkin sedang melesu. Pandemi COVID-19 jadi salah satu alasannya. Gara-gara hal tersebut, pada Maret 2020, Valve jadi membatalkan semua jadwal Dota 2 Pro Circuit, bahkan juga membatalkan Dota 2 The International 2020.
Namun demikian, kompetisi Dota 2 tetap subur terlaksana secara online, dan Team Secret menjadi rajanya regional Eropa. Baru-baru ini, mereka berhasil menjadi juara dalam gelaran ESL One Birmingham Online: Europe & CIS, melibas Alliance 3-0.
What a start from @teamsecret#ESLOne

Perfect teamfight from them as they manage to almost wipe @theAllianceGG in the first big fight of the match!

LIVE: https://t.co/JQlhBD71lrpic.twitter.com/pX4wbGOyX2

— ESL Dota2 (@ESLDota2) June 7, 2020
Kemenangan ini sudah menjadi yang ketiga bagi tim yang beranggotakan Lasse Urpalainen (MATUMBAMAN), Michal Jankowski (Nisha), Ludwig Wahlberg (zai), Yazied Jaradat (YapzOr), dan Clement Ivanov (Puppey). Sebelumnya, mereka sudah menjadi juara di WePlay! Pushka League pekan kedua bulan Mei dan OGA Dota PIT Online di pekan ketiga bulan Mei.
Lebih menariknya lagi, hampir di semua kompetisi mereka babat habis musuhnya tanpa ampun. Pada WePlay! Pushka League mereka babat habis VP.Prodigy di final, dan bahkan tak kalah satu game pun pada OGA Dota PIT 2020 Online.
Memang, dalam ESL One Birmingham Online, Alliance terbilang kalah kelas dibanding Team Secret. Dua game pertama, Secret tidak membiarkan Alliance berkutik. Game pertama Alliance mencoba gaya main fast-push dengan Chen dan Death Prophet, namun terhalang oleh Team Secret yang selalu bisa menahan dengan mengandalkan Nature Prophet dan Batrider yang membawa Boots of Travel.
https://twitter.com/ESLDota2/status/1269663585774571522?ref_src=twsrc%5Etfw%7Ctwcamp%5Etweetembed%7Ctwterm%5E1269663585774571522&ref_url=https%3A%2F%2Fdotesports.com%2Fdota-2%2Fnews%2Fteam-secret-earn-third-consecutive-championship-crush-alliance-at-esl-one-birmingham-online
Game kedua ada Meepo dari Nisha yang bikin Alliance kewalahan. Sementara game ketiga, giliran Ursa dengan Battle Fury milik MATUMBAMAN yang bikin Alliance kewalahan. Fakta menarik lainnya adalah, Team Secret berhasil mengamankan 31 skor kill selama tiga game berturut-turut, sementara Alliance mengumpulkan akumulasi 32 skor kill dari tiga ronde pertandingan yang ia jalani.
Memang hingga saat ini, kebanyakan tim kasta atas Eropa sedang mengalami performa yang tidak stabil. Team Nigma yang berisikan roster juara The International 2017 kerap kali tersungkur sebelum mencapai babak final. OG yang baru saja kedatangan Topson kembali, juga sepertinya masih harus melakukan adaptasi dengan kedatangan 3 pemain barunya yaitu SumaiL, MidOne, dan Saksa.
From Our Network