Esports Ecosystem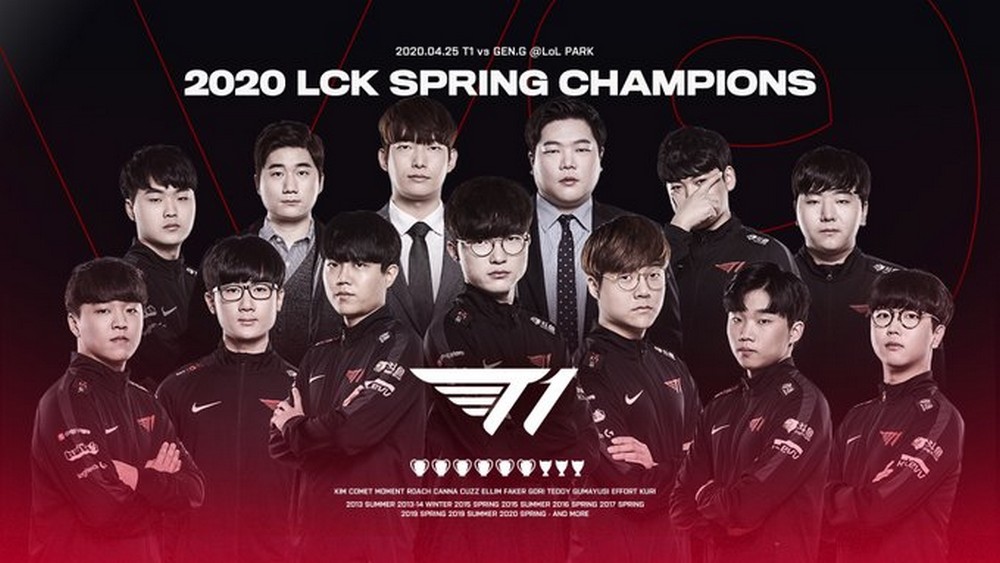 Gen.G memang pemuncak klasemen babak regular season, tapi mereka tak berdaya di hadapan Faker dan kawan-kawan T1 di final LCK Spring Playoff 2020.
Akhir pekan lalu adalah puncak dari gelaran League of Legends Champions Korea (LCK) Spring Season 2020. Pada Grand Final babak Playoff, T1 melibas pemuncak klasemen babak Regular Season, Gen.G, 3-0 dengan cukup mudah.
Kemenangan ini menjadi kemenangan ke sembilan kali bagi sosok midlaner senior yang sudah bersama tim ini sejak masih bernama SKT, Lee Sang-Hyeok (Faker). Memang roster T1 musim ini tampil dengan sangat solid, menunjukkan permainan tanpa celah yang membuat Gen.G kelabakan. Bukti dari ini adalah sang Jungler, Moon Woo-chan (Cuzz) yang mendapat gelar MVP berkat rotasi serta permainan apik yang ia tunjukkan.
Tak hanya dari segi permainan, T1 juga menunjukkan drating yang solid sepnajang seri pertandingan. Kim Jeong-soo, pelatih Damwon Gaming yang diambil oleh T1 pada masa off-season menunjukkan pola drafting yang sangat lihai sehingga Gen.G jadi kesulitan.
Game pertama diselesaikan oleh T1 dalam durasi 45 menit. First blood didapatkan T1 setelah Cuzz berhasil menangkap Azir milik Gwak Bo-seong (bdd) dari tim Bdd di sungai. Selama fase awal, Sylas dari Kim Chang-dong (Canna) babak belur, namun duet botlane T1 ternyata berhasil mendominasi.
T1 mungkin tidak memimpin perolehan net-worth, tetapi mereka berhasil mengendalikan area objektif dengan sangat baik. Walau Gen.G berhasil bertahan dengan tiga Dragon yang ia dapatkan, tapi gap sudah terlalu jauh membuat mereka terpaksa kalah di game 1.
Game kedua, Gen.G mencoba untuk mengalahkan T1 dengan melakukan ban pada 3 Champion Jungle. Graves masuk daftar karena sangat mengganggu ketika dimainkan oleh Cuzz pada game pertama. T1 menggunakan komposisi hampir mirip, kali ini mengambil Varus untuk melawan Ezreal dari Gen.G.
Sylas dari Canna lagi-lagi dihabisi oleh Ornn milik toplaner tim Gen.G, Kim Kwang-hee (Rascal). Ini segera dimanfaatkan oleh Gen.G untuk menekan bot-lane sehingga berhasil membuuh Varus dan Karma. Sementara dua side-lane dimenangkan, Gen.G lengah membiarkan Corki dari Faker memimpin 3 ribu gold melawan Zilean dari bdd.
Akhirnya dari sini keadaan menjadi seperti bola salju. Gen.G mulai luluh lantah. T1 mengambil Baron membuat mereka bisa amankan lebih banyak kill. Sampai pada akhirnya damage dari Corki dan Varus terlalu besar hingga tak terbendung lagi oleh Nexus tim Gen.G.
Masuk game 3, T1 pindah ke sisi biru. Pertarungan antara Canna melawan Rascal di top-lane kini berbalik. Jayce dari Rascall berkali-kali terbunuh oleh Ornn dari Canna. Walau ada gank dari Sejuani yang dimainkan Kim Tae-min (Clid), namun Gen.G tetap kesulitan untuk mengalahkan dominasi Canna, membuat Jayce semakin ketinggalan.
Zilean dari bdd jadi harapan terakhir bagi Gen.G, tapi sayang harapan itu pupus lagi di hadapan Faker. Pada akhirnya setelah mendapatkan Baron, T1 segera menyerang markas Gen.G, dan memenangkan gelar LCK 2020 Spring Championship.
Soal kemenangannya Faker berkata kepada Invenglobal. "Saya masih tidak percaya bisa memenangkan kejuaraan ini sebanyak 8 kali. Ini rasanya sangat luar biasa bagi kami bisa memenangkan sangat banyak kejuaraan."
Selamat bagi kemenangan T1. Pada akhirnya Faker masih menunjukkan taringnya sebagai pemain terkuat di skena League of Legends Korea. Akankah Korea Selatan bisa kembali mendominasi skena internasional di musim ini?
From Our Network