Esports Ecosystem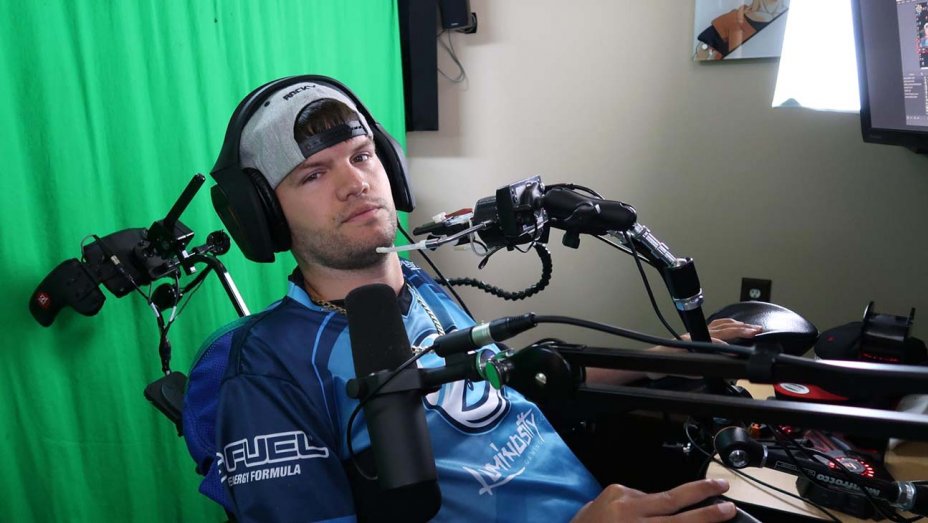 RockyNoHands dikenal dikomunitas karena dia bermain menggunakan Quadstick
Rocky Stoutenburgh, seorang streamer Fortnite difabel yang mengalami kelumpuhan dari leher ke bawah, baru saja menandatangani kontrak dengan Luminosity Gaming. Dikenal sebagai RockyNoHands, Stoutenburgh bermain game menggunakan Quadstick, alat yang memungkinkannya untuk bermain dengan mulutnya. Selain Fortnite, dia juga memainkan beberapa game shooting lainnya, seperti Call of Duty: Modern Warfare, Warzone, dan PlayerUnknown's Battlegrounds.
Stoutenburgh mulai dikenal setelah dia ikut dalam kontes yang diadakan oleh media gaming Destructoid. Dalam kompetisi yang disiarkan di Twitch itu, Stoutenburgh berhasil masuk ke dalam tiga besar sebelum merebut gelar juara. Tak hanya itu, Stoutenburgh juga berhasil masuk dalam Guiness World Records. Dia mencetak dua rekor. Pertama, jumlah Victory Royale di Fornite terbanyak menggunakan Quadstick dan jumlah eliminasi terbanyak di Fortnite menggunakan Quadstick.
Please join us in welcoming @rockynohands to Team Luminosity!

Number one quadriplegic gamer in the world
x 2 Guinness Book of World Records Holder in Fortnite
The coldest 'Quadstick' sniper in Call of Duty Warzone#LGLOYALpic.twitter.com/aMaUEVVsUG

— Luminosity Gaming (@Luminosity) August 11, 2020
"Saat ini, pencapaian terbesar saya sebagai seorang streamer adalah bergabung dengan Luminosity Gaming. Mimpi saya adalah menjadi bagian dari organisasi gaming ternama seperti mereka. Dan saya dengan bangga akan menggunakan seragam mereka," kata Stoutenburgh dalam pernyataan resmi, seperti dikutip dari DailyEsports.
Stoutenburgh menjadi seorang quadriplegic setelah kecelakaan pada 2006, menurut laporan Hollywood Reporter. Ketika itu, dia jatuh pada kepalanya saat dia tengah bermain gulat bersama temannya. Kejadian tersebut membuatnya mengalami kelumpuhan dari bagian leher ke bawah. Sejak saat itu, dia tak lagi bisa melakukan hal-hal yang dia biasa lakukan, seperti angkat beban dan bermain hoki. Namun, dia kemudian tertarik dengan dunia game.
Luminosity Gaming adalah organisasi esportsdi bawah perusahaan Enthusiast Gaming. Mereka memiliki tujuh tim esports profesional, termasuk Vancouver Titans di Overwatch League dan Seattle Surge di Call of Duty League. Sama seperti kebanyakan organisasi esports lainnya, Luminosity juga memiliki sejumlah streamer ternama, seperti Harley "MrFreshAsian" Campbell, Muselk, Anomaly, dan lain sebagainya.
From Our Network