Game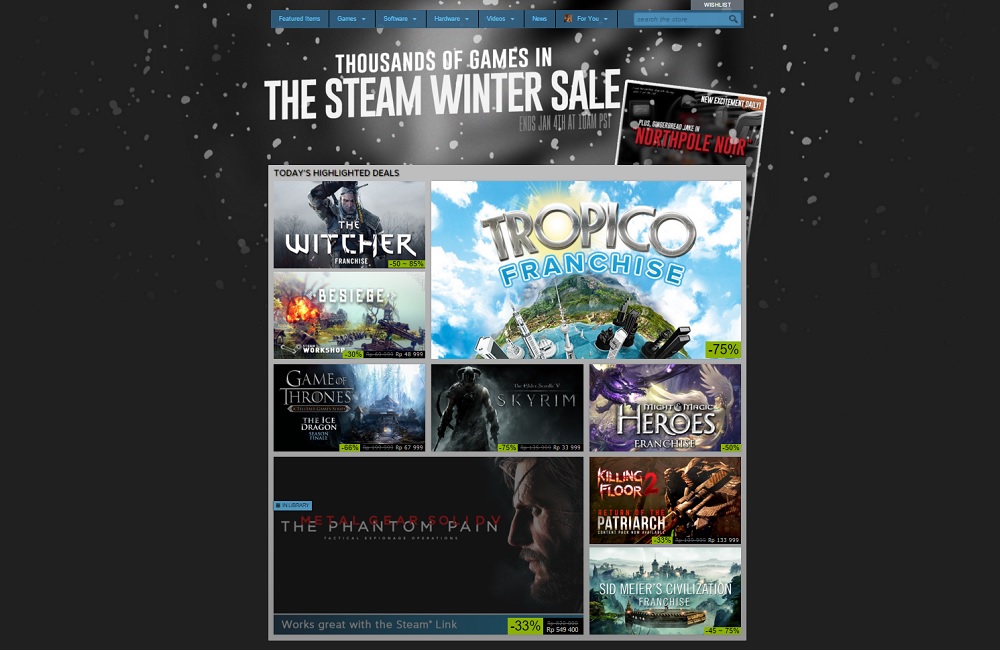 Promo Steam Winter Sale diimplementasikan terhadap 9.945 judul game yang ada di platform distribusi digital ini.
Sudahkah Anda mempersiapkan game untuk menemani waktu senggang di akhir tahun? Jika belum, sekarang adalah saat yang tepat karena sesuai tradisi, penyedia layanan distribusi digital terbesar di dunia kembali mengadakan program potongan harga – diterapkan pada hampir 10.000 judul permainan. Khusus bagi gamer, hari Natal tampaknya datang lebih awal.
Valve telah memulai The Steam Winter Sale, sebuah promo diskon besar-besaran untuk memperingati datangnya musim dingin sekaligus merayakan liburan Natal. Buat Winter Sale kali ini, Steam tidak mengusung metode flash atau dailydeal, namun tidak berarti tak ada penawaran menarik.
Valve membagi laman Steam Store ke dalam beberapa segmen, yaitu Today' Highlighted Deals, More Highlighted Deals, kolom penjualan terlaris, dan more recommendations. Selain itu, sang penyedia layanan juga membagi-bagikan trading card Winter Sale, cukup dengan menjelajahi game-game di daftar rekomendasi. Steam Trading Cards ialah kartu virtual, bisa diperoleh lewat membeli atau memainkan game.
Khusus di Winter Sale, Anda bisa memperoleh kartu North Pole Noir Sale secara cuma-cuma dengan syarat akun Steam berada di level lima ke atas. Anda cukup log-in, lalu klik tombol 'mulai eksplorasi'. Setelah melewati 11 judul yang disarankan oleh Valve, Anda membuka satu kartu event. Queue bisa dimulai lagi, dapat diulang sampai dua kali – maksimal tiga kali sehari. Silakan cek trading card tersebut di Steam Inventory. Sebagai bonus, satu trading card North Pole Noir Sale dapat diraih tiap transaksi sebesar US$ 10.
Di hari pembukaan ini, ada sembilan judul masuk dalam Highlighted Deals. Mereka adalah seri The Witcher (paket trilogi, The Witcher: Enhanced Edition Director's Cut, Assassins of Kings Enhanced Edition, dan Wild Hunt), franchise Tropico (Reloaded, Tropico 3, 4 dan 5), Besiege, Game of Thrones: The Ice Dragon – Season Finale, The Elder Scrolls V Skyrim, seri Heroes of Might & Magic (ada puluhan item), Killing Floor 2, franchise Sid Meier's Civilization, serta Metal Gear Solid V: The Phantom Pain.
Mungkin ini ialah kesempatan terakhir Anda mendapatkan permainan-permainan terbaik di 2015 dengan harga murah. The Witcher 3 tidak sampai Rp 270 ribu, dan Grand Theft Auto V cuma dijajakan di Rp 330 ribu. Salah satu gameplatformer terfavorit, Ori and the Blind Forest juga turun harga ke Rp 72 ribu. Sayang sekali meskipun terkena diskon, harga The Phantom Pain masih tinggi, di Rp 550 ribu. Kemudian Fallout 4 malah tidak terkena efek promo.
Tunggu apa lagi? Kunjungi Steamsekarang juga.