Gaming News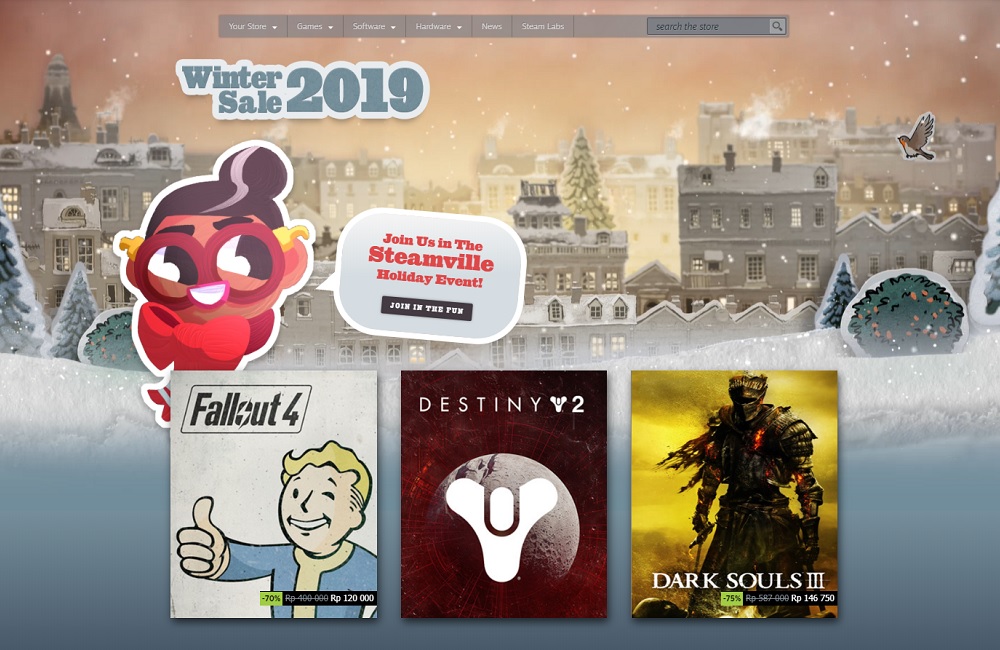 Program diskon ini akan berlangsung sampai tanggal 3 Januari 2020.
Steam sale selalu menjadi momen yang sangat dinanti oleh gamer PC. Program potongan harga game ini biasanya dilangsungkan cukup lama di tiap musim, dan belakangan, Valve mulai terbuka soal kapan mereka akan melaksanakannya. Winter Sale 2019 sendiri dijadwalkan untuk digelar pada tanggal 19 Desember (atau 20 Desember waktu Indonesia) dan semuanya berjalan sesuai jadwal.
Steam Winter Sale 2019 akan berlangsung selama kurang lebih dua minggu, berakhir di tanggal 2 Januari 2020 (3 Januari waktu Indonesia). Itu berarti ada banyak waktu untuk berbelanja game di harga lebih murah. Berdasarkan pengamatan singkat saya, Winter Sale 2019 menghidangkan diskon dari mulai 17 hingga 90 persen, diterapkan pada judul-judul baru, lama serta bundel franchise. Semuanya disuguhkan langsung di laman utama Steam.
Seperti sebelumnya, Steam sale kali ini juga mengangkat tema unik, bertajuk Steamville Holiday Market. Di sana, Valve menawarkan 'Festivity Token' yang bisa diperoleh dengan berbelanja permainan atau menyelesaikan Quest. Dari info tertulis, pembelian senilai Rp 1.000 akan memberikan Anda delapan buah token. Festivity Token nantinya dapat Anda tukarkan dengan beragam Chat Sticker, efek Chat Room unik, emoticon, profile background baru hingga badge bertema musim dingin.
Baiklah, ayo segera kita telusuri penawaran terbaik di Steam Winter Sale 2019.
Saat artikel ini ditulis, bagian atas Winter Sale 2019 meng-highlight tiga permainan: Fallout 4 (Rp 120 ribu), Destiny 2, dan Dark Souls III (Rp 147 ribu). Di bawahnya, Valve mengingatkan kita untuk ikut serta dalam voting The Steam Awards 2019, kemudian lanjut menampilkan permainan-permainan berdiskon. Melihat kebiasaan Valve, kemungkinan besar mereka akan mengubah susunan atau daftar game dengan judul baru setiap hari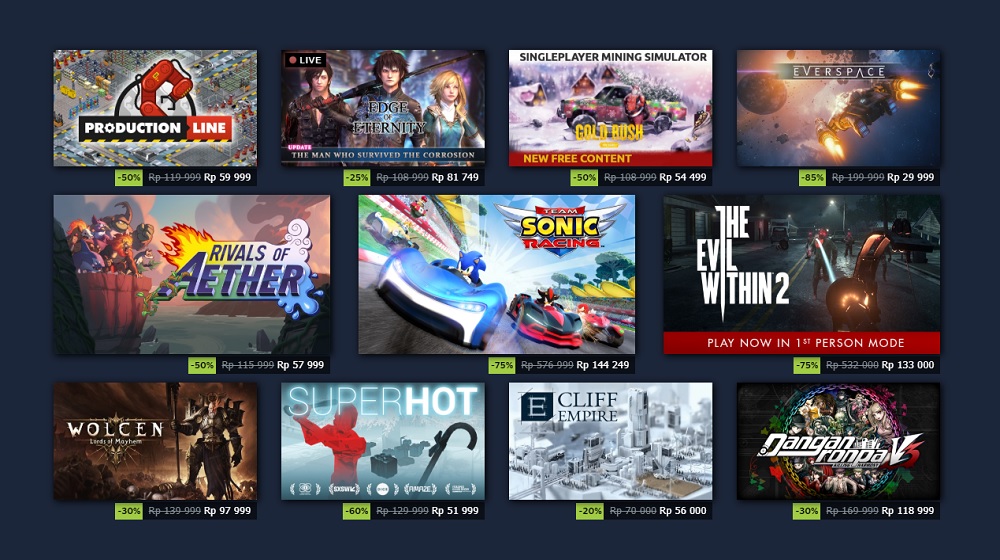 Selain permainan secara individual, potongan harga turut diterapkan pada franchise game. Jumlahnya cukup banyak, meliputi Star Wars, Call of Duty, Civilization, Resident Evil, Batman, Tom Clancy, Lego, Total War, Fallout, The Witcher, Tomb Raider, Assasssin's Creed dan lain-lain.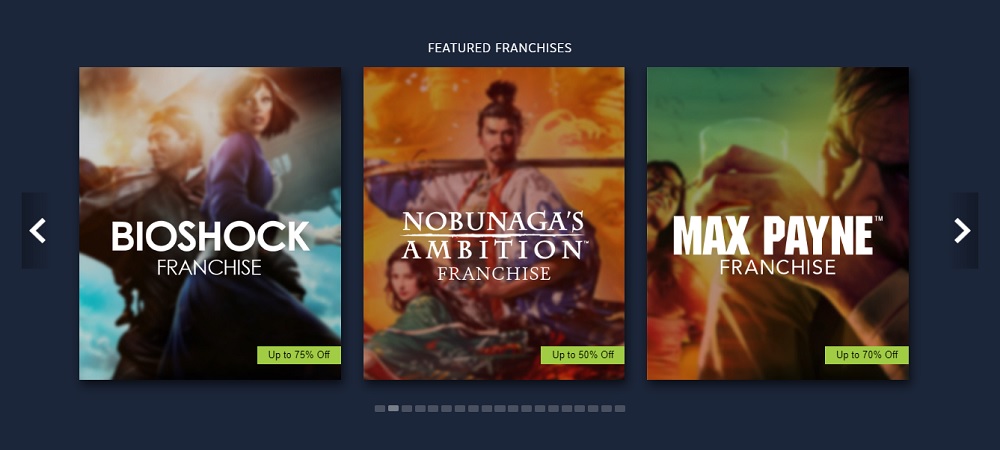 Turun lebih jauh ke bawah dan Anda akan menemukan daftar game terlaris – mayoritas ialah permainan kelas blockbuster. Ini dia beberapa judul yang mungkin menarik perhatian Anda:
Red Dead Redemption II – Rp 512 ribu
Sekiro: Shadows Die Twice – Rp 474 ribu
Monster Hunter: World – Rp 200 ribu
Star Wars Jedi: Fallen Order – Rp 705 ribu
Halo: The Master Chief Collection – Rp 170 ribu (harga normal)
Grand Theft Auto V – Rp 145 ribu
Planet Zoo – Rp 397 ribu
Total War: Warhammer II – Rp 184 ribu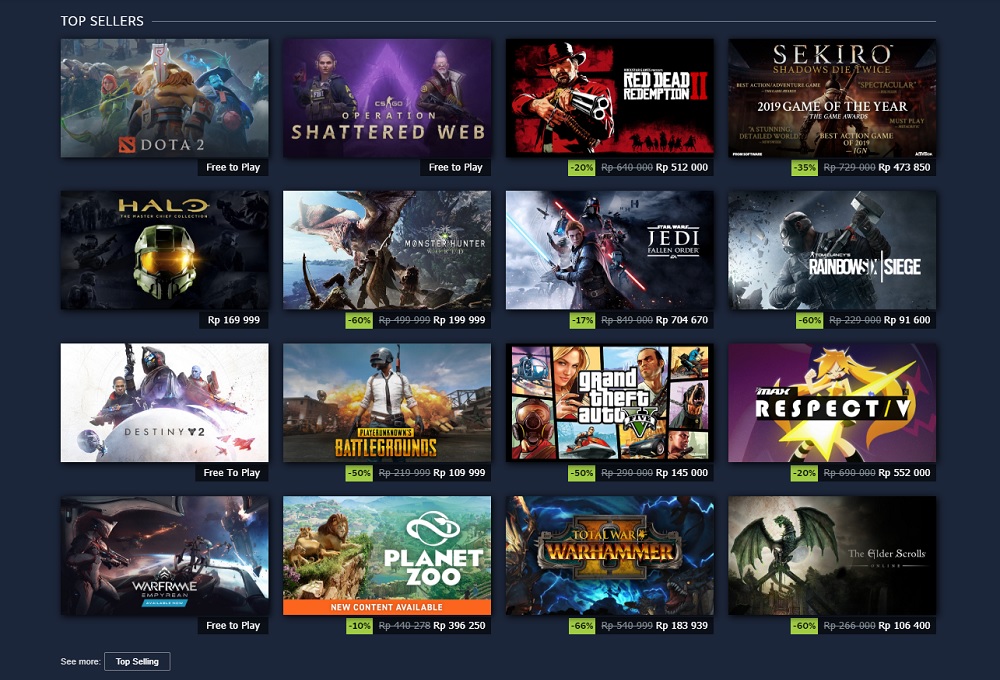 Selain itu, Valve juga tak lupa membagi game-game di Winter Sale 2019 ke dalam grup berbeda, misalnya permainan dengan diskon sampai 75 persen, atau judul-judul seharga di bawah Rp 90 ribu. Selanjutnya di area bawah page Steam, Valve mengkategorikan permainan berdasarkan genre seperti tactical, simulasi militer, petualangan, VR, misteri, JRPG, balapan serta city building.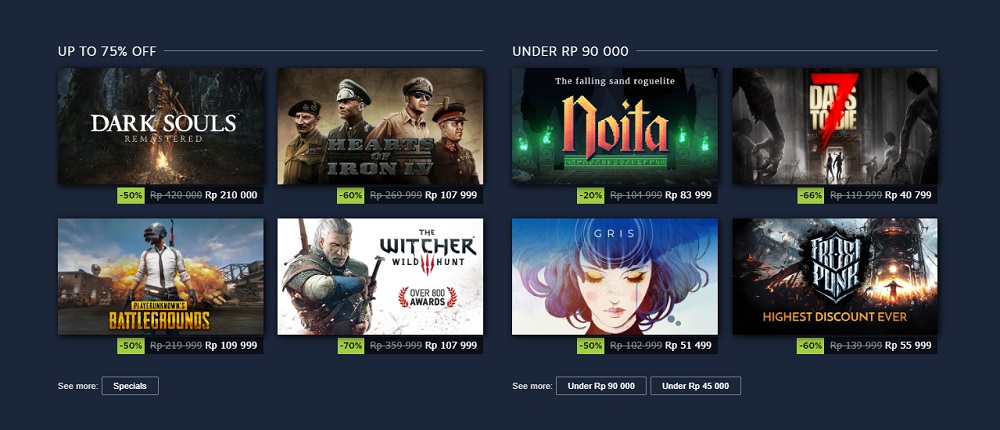 Alternatifnya, temukan permainan yang Anda inginkan langsung via fitur search. Selamat berlanja, tapi ingat jangan habiskan seluruh tabungan (atau bonus tahunan) Anda hanya untuk video game.