7 Mods You Must Download in Stardew Valley
Out of the 6000+ available mods, here are 7 that every Stardew Valley player must have in their arsenal.
Since its initial release in 2016, Stardew Valley has amassed quite an enormous playerbase and, with it, also a loyal community of modders. According to Nexus Mods, there are over 6000 mods that have been created for Stardew Valley, a pretty huge number to say the least. Of all the available mods, we have compiled 7 that are most beloved by the community and are considered essential to download. Since we will only be including the "must-have" mods, I won't be mentioning any texture or re-skin mods that are more specific to personal taste.
Without further ado, here are the recommended Stardew Valley mods.
1. Stardew Valley Expanded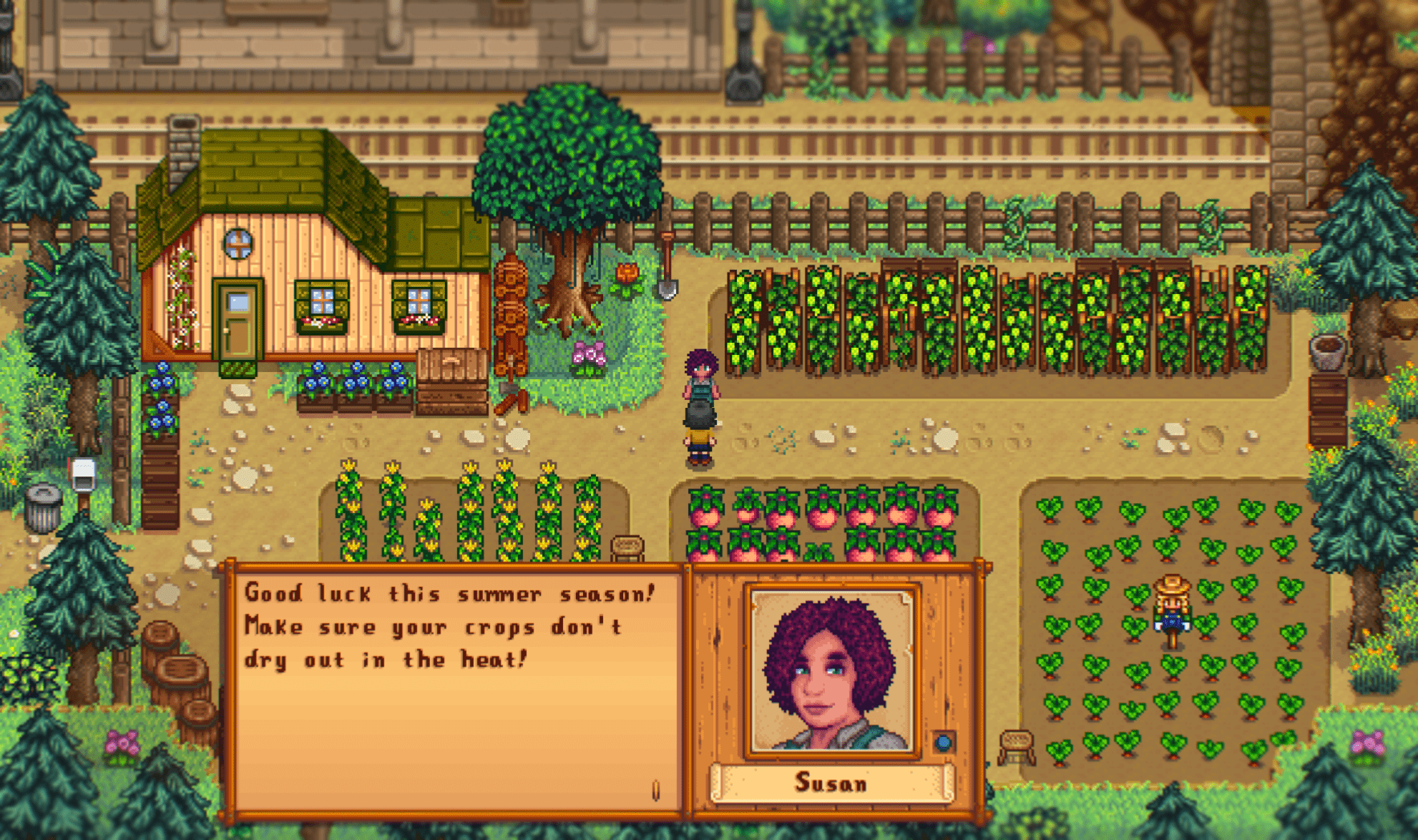 The Stardew Valley Expanded mod does exactly what it sounds like. The mod adds a ton of new stuff into the game and gives experienced players the feeling of a fresh start. You can explore Pelican Town in greater detail, finding tons of new features just like you would do when you first start playing Stardew Valley. In the current version of the mod (1.13), SVE introduces 26 new NPCs with personalized schedules, backgrounds, and events. There are also more than 200 additional character events that expand the original Stardew world lore. The mod also includes map redesigns and 33 new unlockable locations. These are just a few of the plethora of new features that SVE adds to the game. If you want to know more about the mod, I suggest checking out their fanmade wiki here. Despite the sheer complexity of the mod, FlashShifter does an awesome job in ensuring that the mod feels original as if it was a legitimate DLC of Stardew Valley. If you have already completed the vanilla game several times and felt bored of Stardew Valley, this mod might just be the one for you.
2. Tractor Mod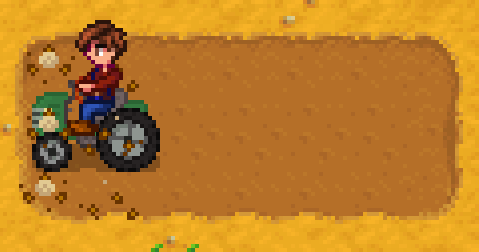 One of the most popular and beloved mods in the community is perhaps the Tractor mod. The mod gives you a tractor garage that is purchasable from Robin the carpenter, which allows you to use a tractor to plant seeds, water your plants and harvest your precious crops. The tractor also has built-in tools to clear twigs, till soils, and even mow down monsters. It just makes life much easier and speeds everything up on the farm. Note that getting the tractor does require a bit of resources, some of which are quite rare. More specifically, you will need 150 000 gold, 20 Iron Bar, 5 Iridium Bar, and 5 Battery Packs. However, once you accumulate these items and get the invaluable tractor, I ensure you that your life on the farm will be much less painful.
3. Lookup Anything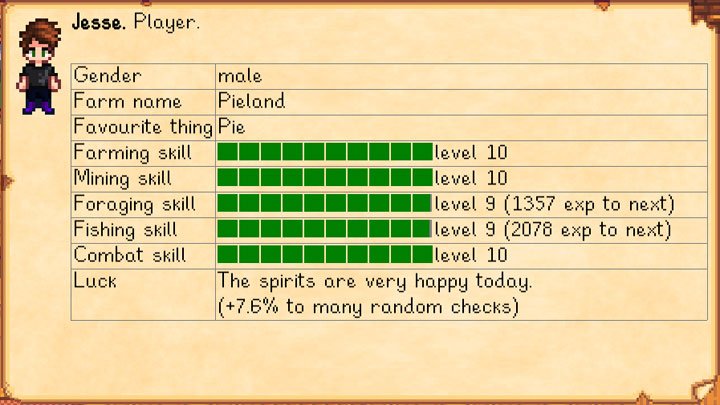 Lookup Anything is perhaps one of the best utility mods that will greatly enhance your knowledge about Stardew Valley. You can basically hover any object in the game and simply press F1 to bring up the information about that particular object. If you hover a character, you can see their birthday, friendship status, and their favorite gifts. If you hover an item, you can see how much it sells for, who might want it, and its recipe. You can see a plant's growth stage and seed availability by using the same technique. Likewise, you can also find out monster drops and their health if you are in the mood for hunting. Lookup anything is essentially one quick Google search of any entity in the game and will be incredibly useful for you who wants to learn more about the intricacies of Stardew Valley.
4. NPC Map locations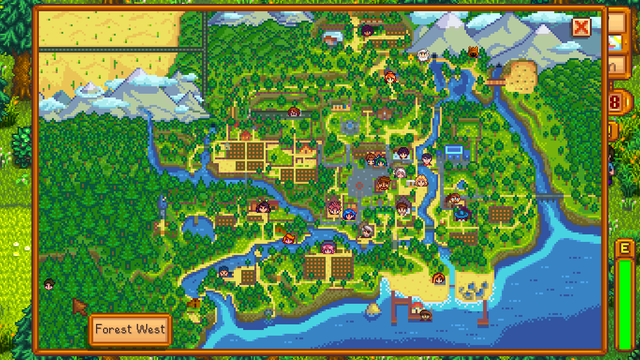 This handy mod will display all the NPCs on your map at any given time. Therefore, when you want to find a specific person to send gifts or do quests, you don't have to wander around town endlessly and simply pull out your map to see where they are. Furthermore, you can also customize what characters are displayed, hiding the NPCs that you consider less important. Many players have wanted this feature to be implemented in the original game since keeping track of NPC locations and schedules can be rather tedious most of the time. For now, however, we will just have to stick with NPC Map Locations.
5. CJB show item sell price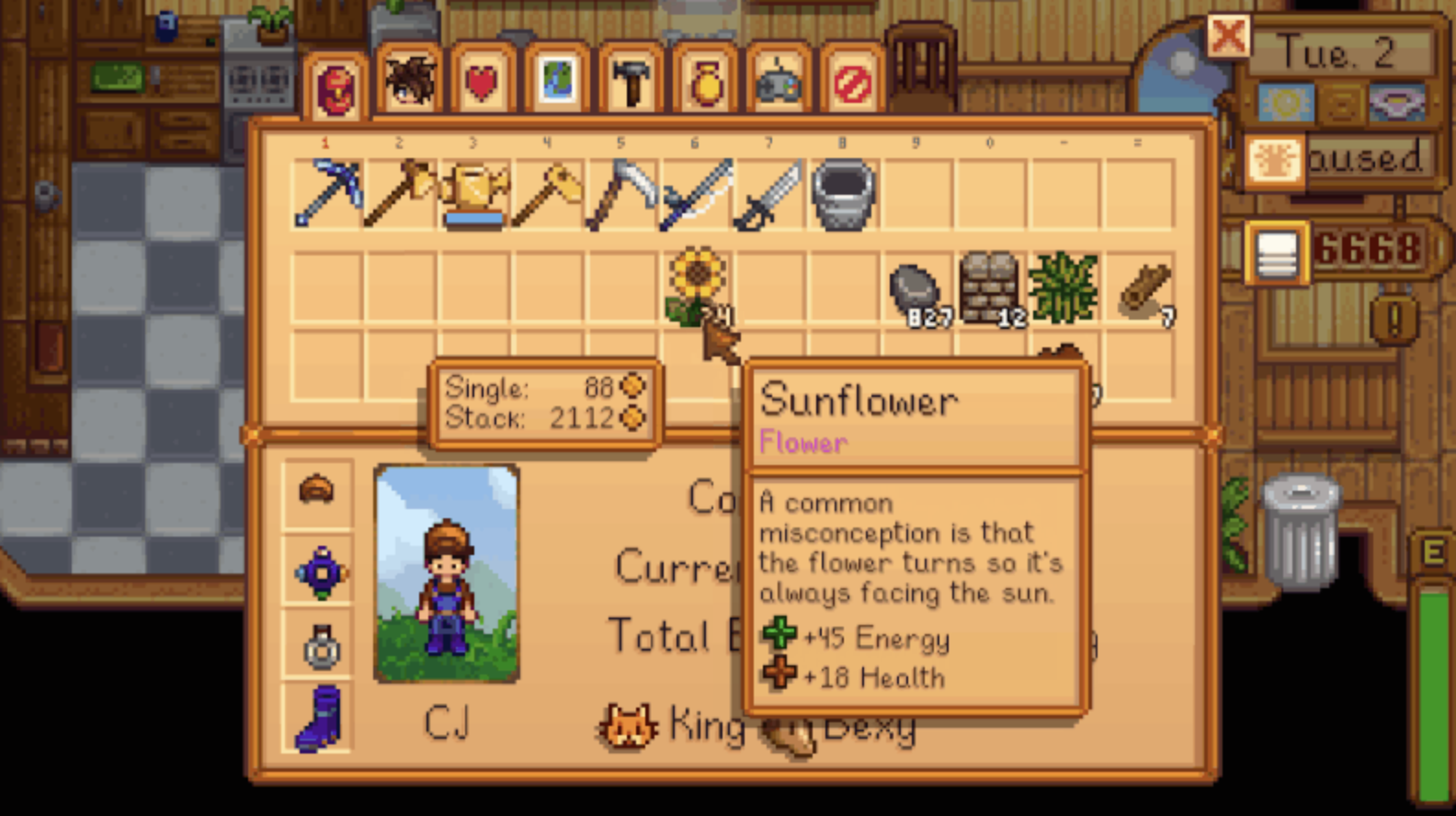 CJB show item sell price is perhaps the simplest mod in the whole list but is still incredibly useful to have in your arsenal. The mod does exactly what it sounds like: display prices of items singly and in a stack. Therefore, you can essentially see how much money you are making from your inventory without having to wait to ship the item, sleep, and wait for the end screen. You can also use the mod to filter which items are less worth and possibly to throw away. Again, just an overall essential mod to have that will speed things up and make life easier in Stardew Valley.
6. CJB item spawner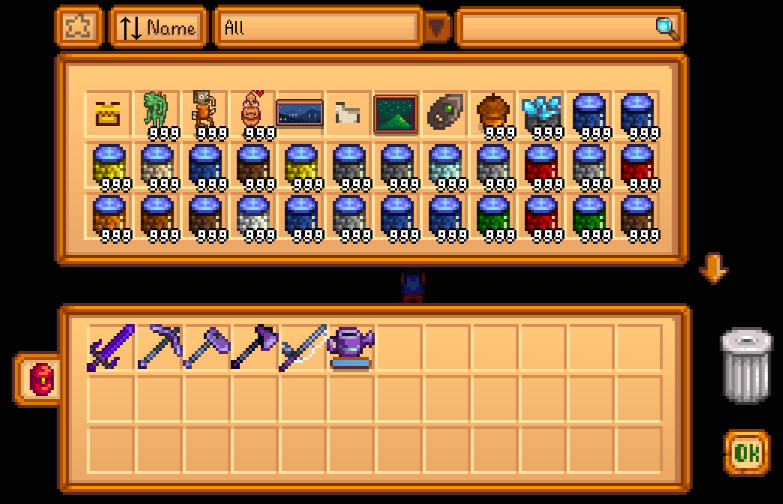 The Item Spawner mod by CJB is the first cheat mod in this list. You can select any item in the game, spawn it with whatever amount you want with any quality. With all this power, you can be rich and build your creative endeavors without having to manually collect years' worth of resources. Of course, using this mod will remove all the "grinding" nature that defines Stardew Valley, which is why I think that the Item Spawner mod will be better suited for players who have completed the game.
The mod draws parallels to the Creative Mode in Minecraft. Sure, Creative Mode will not give you the fascinating feeling of mining diamonds. But it will allow you to build a 10-story mansion to your liking with ease.
If you already worked your way up to the top and want to experiment with the different aspects of the Stardew Valley, the Item Spawner mod will provide much-needed help.
7. CJB cheats menu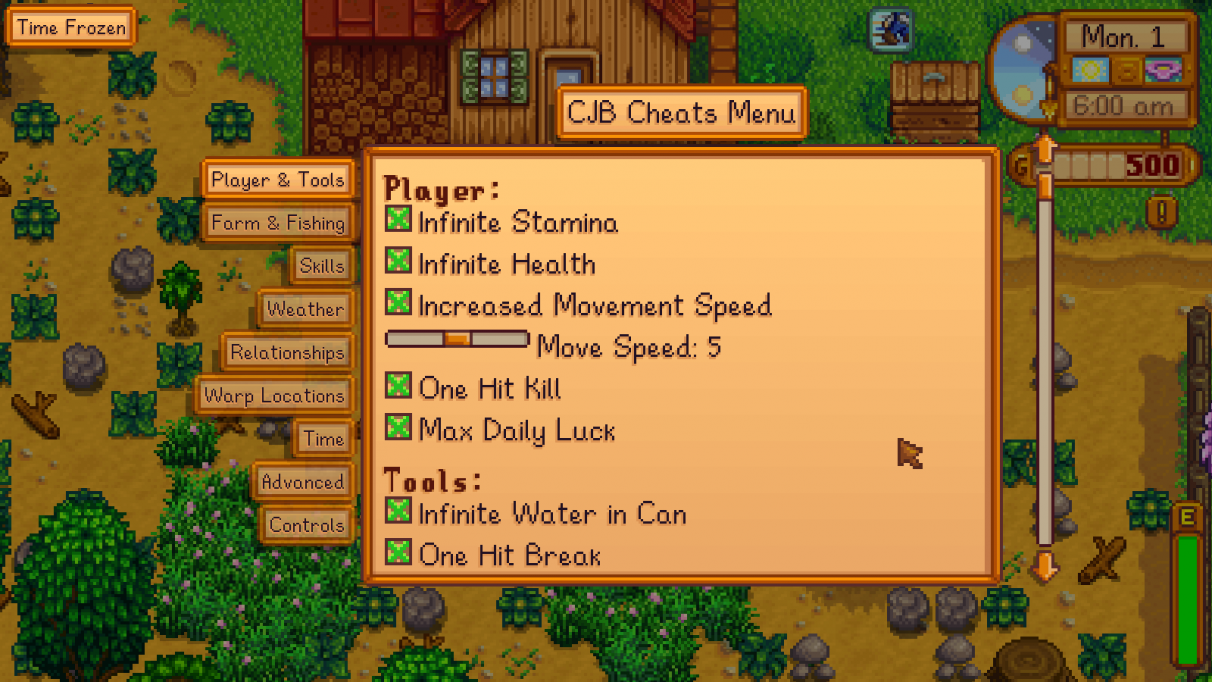 If you think that the Item Spawner mod is broken, you have been greatly mistaken. Unlike the previous cheat mod, CJB Cheats Menu allows you to basically modify the game to your liking. You can have infinite stamina, health, and speed. You can give yourself unlimited money, change the weather, teleport to any location, freeze time; you get the point. Of course, as I said before, cheat mods like this ruins the experience of Stardew Valley, and I would only recommend picking CJB Cheats Menu up if you are already an advanced player.
Featured Image: GameIndo