Esports Ecosystem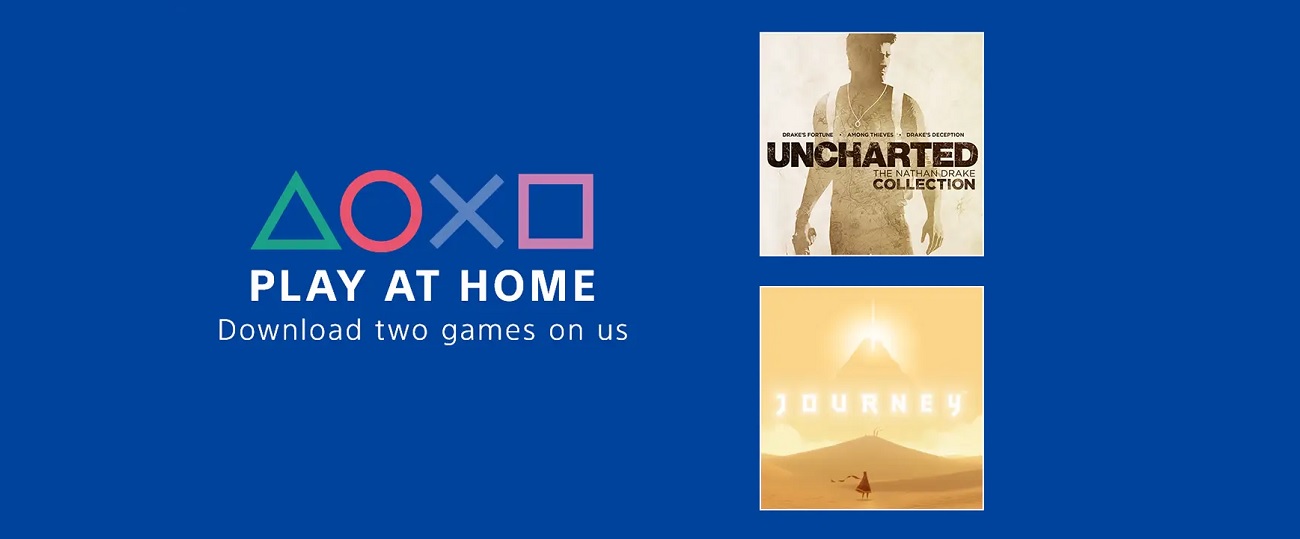 Bagi-bagi game gratis ini merupakan bagian dari prakarsa baru bertajuk Play At Home.
Berkali-kali saya menyampaikan bahwa Windows merupakan platform terbaik untuk menemukan game gratis karena buat mendapatkannya di console, kita perlu berlangganan layanan premium seperti PS Plus atau Xbox Live Gold. Dan dalam membantu penyebaran wabah corona, beberapa platform distribusi digital seperti Steam dan Epic Store kian gencar membagikan permainan secara cuma-cuma.
Kali ini, sesuatu yang tidak biasa dilakukan oleh Sony Interactive Entertainment. Lewat blog resmi, mereka mengumumkan sebuah prakarsa baru untuk membantu Anda menyibukkan diri di rumah, di tengah-tengah pandemi COVID-19. Mereka menamainya Play At Home. Ada dua tujuan utama digelarnya program tersebut: bagi-bagi game gratis serta buat membantu deveoloer-developer kecil yang menemui kendala finansial akibat virus corona.
Sebagai langkah awalnya, Sony menggratiskan dua judul legendaris di era current-gen, yaitu Uncharted: The Nathan Drake Collection serta Journey. Tak perlu pengenalan panjang-panjang, The Nathan Drake Collection ialah bundel tiga permainan pertama di seri Uncharted, berisi Drake's Fortune, Among Thieves, serta Drake's Deception; semuanya di-remaster untuk PlayStation 4. Journey sendiri adalah game petualangan indie artisitik, pemenang banyak penghargaan di tahun 2013.
Dua permainan gratis tersebut bisa diunduh tanpa perlu membayar, tetapi durasi penawarannya terbatas, sampai tanggal 5 Mei 2020 (pukul 20:00 Waktu Pasifik). Silakan ditebus dan mereka akan jadi milik Anda secara permanen. Terhitung mulai artikel ini ditulis, 5 Mei memang terasa masih lama, namun Anda disarankan agar tidak membuang-buang waktu buat men-download karena Sony telah menurunkan kecepatan akses ke layanannya demi mengurangi beban pada server.
Menariknya untuk alasan yang belum diketahui, khusus di kawasan Jerman dan Tiongkok, Sony menukar Uncharted: The Nathan Drake Collection dengan Knack 2. Permainan ini juga merupakan franchise milik sang publisher – digarap oleh SIE Japan. Namun ketika meluncur, respons media terharap Knack II memang tidak seantusias saat The Nathan Drake Collection tersedia.
"Di masa-masa ketika kita harus membatasi kontak fisik ini, fans [PlayStation] mengandalkan gaming sebagai cara mengisi waktu serta menghibur diri," tutur CEO Jim Ryan. "Di Sony Interactive Entertainment, kami merasa sangat beruntung dapat menyediakan konten hiburan. Kami sadar ini hanyalah sebuah langkah kecil, dan kami sangat berterima kasih pada para pemain, seisi komunitas serta partner."
Dan seperti yang sempat disinggung sebelumnya, Play At Home digarap pula untuk membantu studio-studio kecil tetap hidup, terutama di waktu sulit ini. Sony tidak menjelaskan prosedurnya secara detail, mereka hanya bilang akan mendukung mereka dari sisi pendanaan dan telah menyiapkan US$ 10 juta bagi para developer mitra.
From Our Network