Esports Ecosystem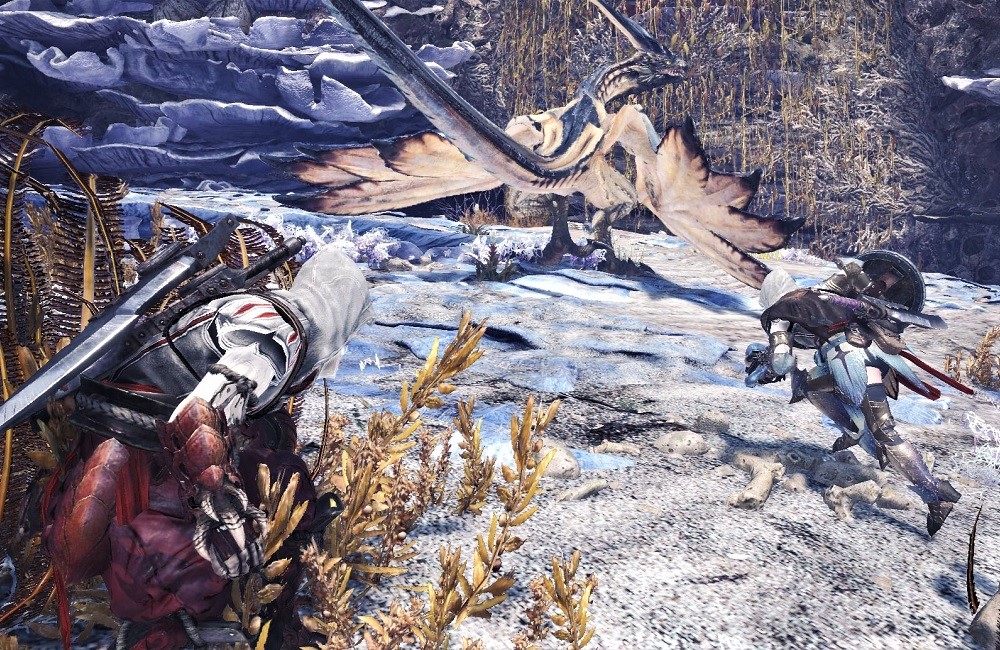 Anda bisa mendapatkan kostum ala Bayek atau hood milik Ezio.
Developer kadang suka bermain-main dengan memasukan elemen satu game ke permainan buatannya sebagai cara mengapresiasi karya rekan mereka di studio lain atau sekadar untuk memberi kejutan pada fans. Satu contoh teruniknya ialah potongan Final Fantasy yang dapat ditemukan di Assassin's Creed Origins. Namun 'event crossover' belakangan menjadi tren dan semakin berani.
Ambil contohnya tokoh Geralt of Rivia dari seri The Witcher. Ia menjadi karakter primadona di game Soulcalibur VI dan rencananya juga akan mengunjungi dunia Monster Hunter di waktu dekat. Ternyata agenda crossover Capcom tak berhenti sampai di sana. Minggu lalu, studio Jepang ini meluncurkan hasil kolaborasi bersama Ubisoft melalui misi bertema Assassin's Creed di Monster Hunter: World.
Sebagaimana para assassin menyerang, event tersebut datang secara tiba-tiba lewat quest bernama SDF: Silent, Deadly, and Fierce. Di sana, Anda ditugaskan untuk memburu sejumlah monster level tinggi. Jika berhasil menyelesaikannya, Anda akan dihadiahkan Senu Feather (bulu elang milik Bayek di Origins). Dua helai Senu Feather dapat ditukarkan dengan Bayek Layered Armor – bisa melapisi set baju yang Anda kenakan – atau Assassin's Hood mirip punya Ezio.
Aksesori Assassin's Hood memberi manfaat dalam permainan. Saat mengenakannya, serangan sembunyi-sembunyi yang Anda lakukan bisa memberikan tingkat kerusakan lebih tinggi. Selain itu, Assassin's Hood juga mendongkrak kecepatan gerak serta mempersilakan Anda bersembunyi lebih cepat.
Namun mendapatkan Senu Feather tidaklah mudah. Anda harus berpartisipasi di pertempuran arena melawan tiga spesies monster terbesar di Monster Hunter: World, yaitu Odogaron, Deviljho, serta Lunastra. Dan Anda harus menumbangkan mereka dalam satu sesi match. Pertama-tama, Anda akan berhadapan dengan Odogaron dan Deviljho sekaligus, kemudian setelah keduanya berhasil ditundukkan, datanglah Lunastra.
[PS4/X1] Equip the Assassin's Hood to dish out staggering additional damage to monsters when attacking from a stealth state!

Complete the event quest "SDF: Silent, Deadly, and Fierce" to unlock this handy new @AssassinsCreed mantle in #MHWorld. pic.twitter.com/44VftokrEy

— Monster Hunter (@monsterhunter) December 29, 2018
Idealnya, quest SDF: Silent, Deadly, and Fierce perlu diselesaikan sebanyak empat kali buat mendapatkan empat helai Senu Feather. Dua untuk ditukarkan dengan Bayek Leather Armor dan dua lagi buat Assassin's Hood. Begitu berhasil memperolehnya, item-item ini akan menjadi milik Anda secara permanen.
Event crossover Assassin's Creed di Monster Hunter: World sudah bisa Anda akses sekarang. Tapi ingat, ini adalah event dengan waktu terbatas, akan ditutup pada tanggal 10 Januari 2018 nanti. Buat sekarang, SDF: Silent, Deadly, and Fierce baru dapat dinikmati oleh gamer PlayStation 4 dan Xbox One. Add on akan tiba di versi PC Monster Hunter: World di 'lain waktu'.
Via PC Gamer.
From Our Network