Esports Ecosystem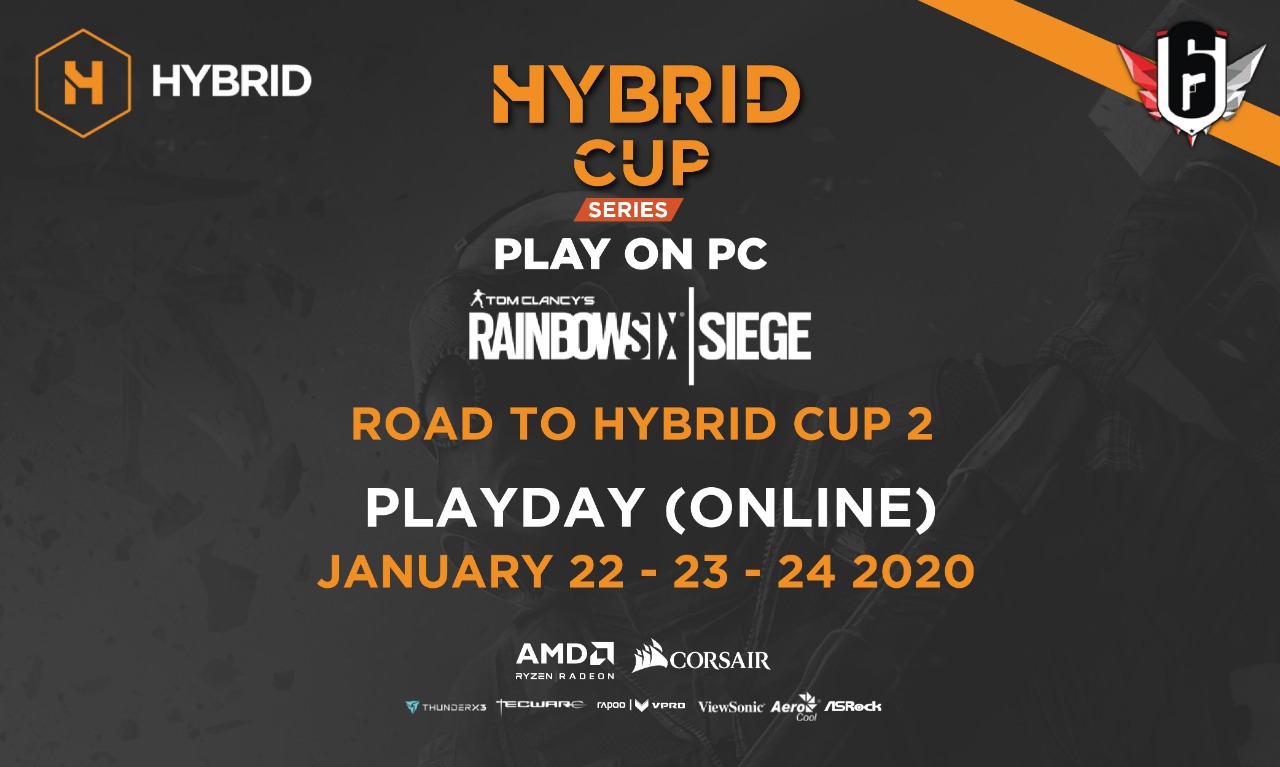 Tim ternama di skena Rainbow Six Siege Indonesia seperti 1z Esports dan SPiCA Esports turut bertanding di gelaran ini
Road to Hybrid Cup 2: R6S akan segera dimulai! Fase pendaftaran yang telah ditutup sejak tanggal 20 Januari 2020 kemarin, telah berhasil merangkul tim 21 tim R6S untuk berkompetisi demi mendapat tempat di gelaran puncak Hybrid Cup Series – Play on PC: Rainbow Six Siege.
Kompetisi ini merupakan lanjutan dari rentetan Hybrid Cup Series – Play on PC: Rainbow Six Siege. Sebelumnya Road to Hybrid Cup 1 telah selesai digelar pada 18-20 Desember 2019 lalu, yang menghasilkan Team Scrypt sebagai juara. Terkait rangkaian kompetisi R6S ini, Wiku Baskoro, Co-Founder Hybrid.co.id sempat memberi sedikit pandangannya pada artikel sebelumnya.
"Dengan adanya turnamen ini, kami ingin komunitas R6IDN bisa lebih dikenal lagi oleh masyrakat luas. Hybrid ingin ikut serta memberikan sumbangsih nyata bagi kemajuan tren game R6 di Indonesia. Kami juga ingin mengajak para pembaca untuk menonton pertandingan pilihan yang akan ditayangkan secara live-streaming di official page Hybrid IDN serta channel Youtube komunitas R6IDN." Ucap Wiku Baskoro.
Last minute of @TeamScrypt winning the Road to Hybrid Cup Series – Rainbow Six Siege. @AjieZata_A : Sa ae pitung. pic.twitter.com/ArO22Ia31i

— Hybrid.IDN (@Hybrid_IDN) December 23, 2019
Setelah fase registrasi selesai, 21 tim peserta akan bertanding mulai esok hari secara online mulai Rabu, 22 Januari 2020 sampai 24 Januari 2020 mendatang. Berikut daftar peserta Road to Hybrid Cup 2: R6S:
Obeasty
SPiCA Rexus
BOS Esports
aNp
Rexdan Esport
Victorys
NEUVRION
Fearless
Fly Esports
Team Sixth Rising
Already Esport
ReckLess Lads
Bond Esport
NJP
NITE-RUSHER
The Mafias
Jibakutai
Kintay
1z 2nd
1z Esports
Misqueen Esports
Tanpa adanya Team Scrypt di gelaran Road to Hybrid Cup 2, bisa dijamin persaingan akan jadi semakin sengit. Apakah tim R6S yang sudah punya cukup nama di skena kompetitif Indonesia seperti 1z Esports atau Team SPiCA akan berhasil merebut slot untuk bertanding di gelaran utama Hybrid Cup Series – Play on PC: R6S?
Pertandingan Road to Hybrid Cup 2 akan ditayangkan lewat livestream di Official Facebook Page Hybrid IDN dan Youtube Hybrid mulai pukul 19:00 WIB.
Hybrid Cup Series – Play on PC disponsori oleh AMD dan Corsair, dengan dukungan dari Aerocool, ThunderX3, Tecware, RapooVPRO, ViewSonic, dan ASRock.
Untuk informasi lebih lanjut mengenai Hybrid Cup dan program-program lain ke depannya, jangan lupa untuk memantau situs Hybrid.co.id dan follow akun media sosial Hybrid di Twitter, Facebook, dan YouTube.
From Our Network