Esports Ecosystem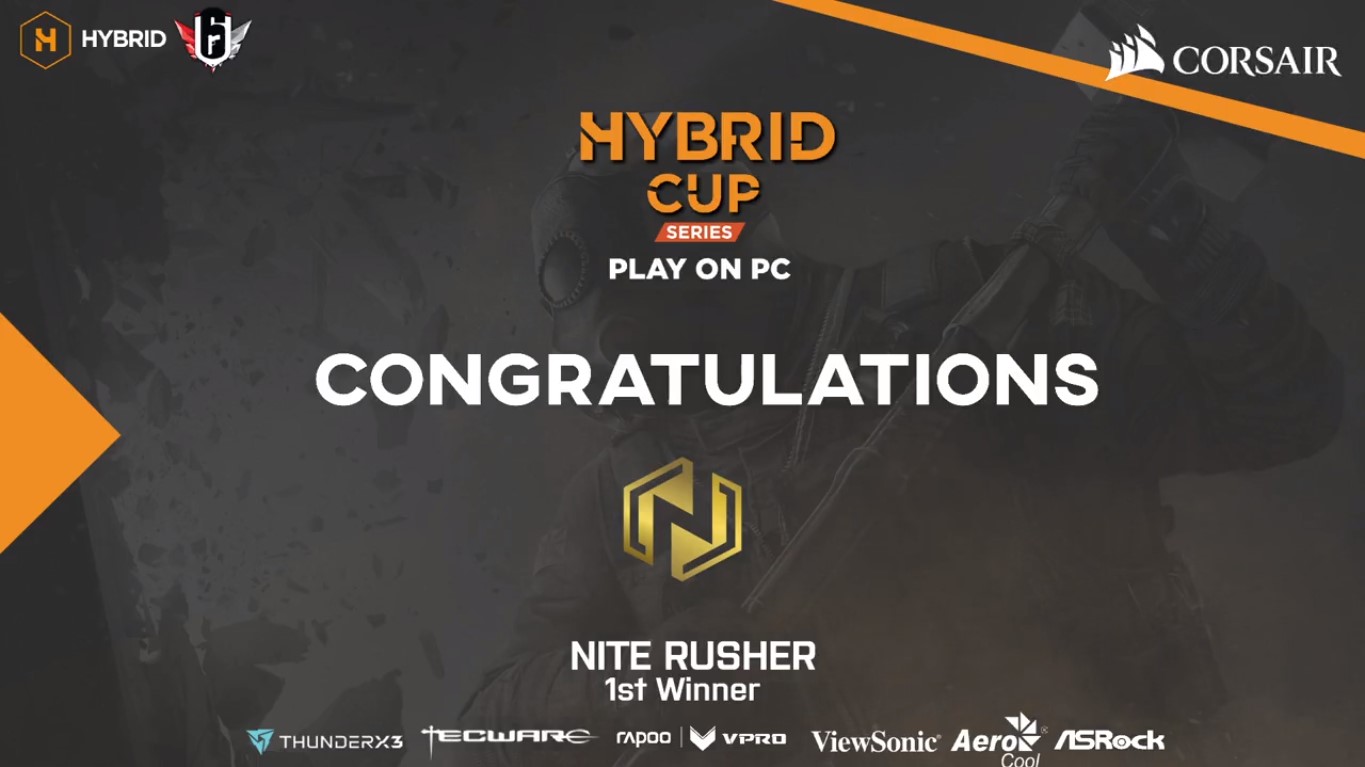 Walau bukan tim yang dijagokan, Nite Rusher membuktikan diri bisa kalahkan nama sebesar 1z Esports di Road to Hybrid Cup 2
Pekan lalu, gelaran Road to Hybrid Cup 2 Rainbow Six: Siege telah selesai digelar. Setelah bertanding selama 3 hari dari Rabu 22 Januari 2020 sampai Jumat 24 Januari 2020, tim Nite Rusher keluar sebagai juara setelah berhasil mengalahkan 1z Esports 2-0 dalam seri best-of-3.
Pertandingan ini bisa dibilang rematch dari Road to Hybrid Cup 1, yang mana Nite Rusher kalah melawan 1z Esports di babak semi-final. Kali ini Nite Rusher bermain dengan lebih solid, walau sempat kecolongan di beberapa ronde. Map game 1 adalah Coastline, salah satu map yang punya banyak ruang terbuka, dan memungkinkan permainan agresif dari berbagai sisi.
Pada first-half (6 ronde pertama), pertarungan antar kedua tim masih cukup imbang. Malah pada second-half (6 ronde kedua) Nite Rusher segera mendominasi permainan ketika mendapat peran sebagai sebagai Attacker. Sudah mendapat 6 poin kemenangan, Nite Rusher mulai goyah, membuat 1z Esports sempat mencuri satu ronde pada keadaan tersebut. Ronde 10, keadaan jadi menegangkan, saling bertukar kill sampai menyisakan pertarungan 1v1 antara Sky dari 1z dengan Jetz dari Nite Rusher. Mencoba mengelabui dengan fake defuse, Sky malah terkelabui karena posisi Jetz yang ada di sudut ruangan.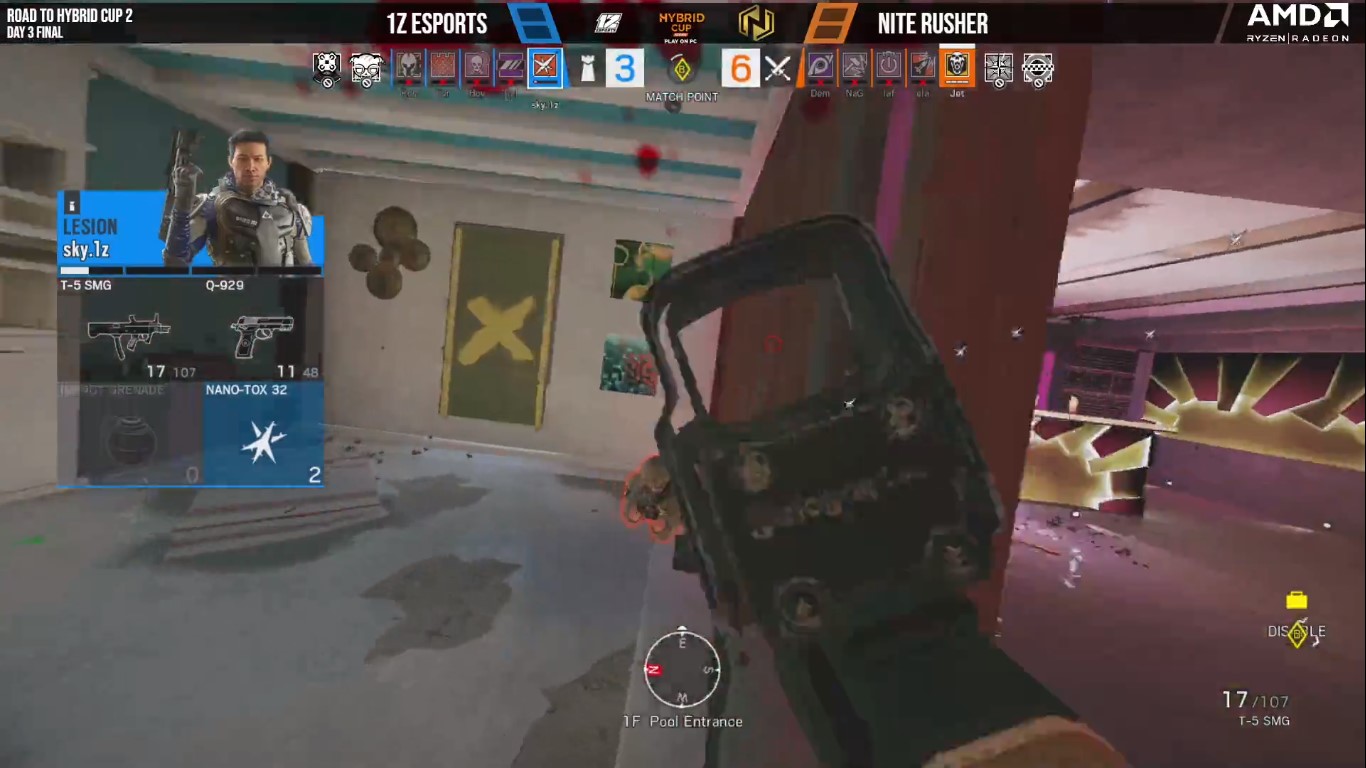 Map game 2 adalah Bank. Pertarungan kali ini jadi lebih berimbang, setidaknya pada 4 ronde pertama. Namun setelahnya Nite Rusher lagi-lagi kembali mendominasi permainan sampai skor menjadi 6-2. Kejadian pada game 1 seakan terulang, permainan Nite Rusher kembali goyah. Mereka dipaksa tunduk sampai skor jadi 6-5. Untungnya pada pertandingan penentuan Nite Rusher berhasil bangkit dan memenangkan match-point.
"Nite Rusher betul-betul merusak ekspektasi banyak orang. Membuat para penonton terkejut, termasuk gue sendiri." Ujap Ajie Zata (Wildlotus) shoutcaster dari R6 IDN. "Secara historis 1z Esports sebenarnya memukau di beberapa pertandingan sebelumnya. Namun demikian, kemenangan Nite Rusher sangat tidak gue duga, apalagi mereka menang 2-0 tanpa balasan dari 1z esports." lanjut Ajie.
"Dari pertandingan kemarin, pemain yang patut jadi sorotan sih Elang dan Dempsey. Dua pemain ini bisa dibilang yang jadi penentu tempo permainan Nite Rusher di final Road to Hybrid Cup 2 kemarin. Elang bisa dibilang entry fragger dengan tingkat kesuksesan tertinggi. Sekali masuk dia bisa dapat satu sampai dua kill, dan itu memberi momentum yang baik pada tim. Lalu Dempsey adalah pemain yang mengontrol ritme permainan. Dia bermain dengan sangat baik, tahu cara memposisikan diri di game kemarin." Ajie menjelaskan soal sosok pemain yang jadi sorotan dari Road to Hybrid Cup 2 kemarin.
Dengan ini berikut daftar 8 besar dari gelaran Road to Hybrid Cup 2 R6S.
Champion – Nite Rusher – Rp1.000.000
2nd Place – 1z Esports – Rp600.000
3rd Place – NEUVRION LIMITLESS – Rp400.000
4th Place – Reckless Lads – Rp200.000
5-8th Place – Obeasty -Rp200.000
5-8th Place – BOS Esports – Rp200.000
5-8th Place – Kintay – Rp200.000
5-8th Place – Team Sixth Rising – Rp200.000
Kemenangan tersebut memberikan Nite Rusher kesempatan untuk melaju ke babak utama! Yaitu Hybrid Cup Series – Play on PC: R6S. Rangkaian Road to Hybrid Cup kini sudah usai, tersisa gelaran utama yang akan diselenggarakan pada bulan Maret 2020 mendatang. Saat ini, sudah ada Team Scrypt dan Nite Rusher yang menunggu di sana.
Akankah ada tim yang muncul dan bisa mengalahkan salah satu tim Rainbow Six terbaik di Indonesia, Team Scrypt? Akankah Nite Rusher bisa mempertahankan tren performa baiknya?
Hybrid Cup Series Play on PC disponsori oleh AMD dan Corsair, dengan dukungan dari Aerocool, ThunderX3, Tecware, RapooVPRO, ViewSonic, dan ASRock.
Untuk informasi lebih lanjut mengenai Hybrid Cup dan program-program lain ke depannya, jangan lupa untuk memantau situs Hybrid.co.id dan follow akun media sosial Hybrid di Twitter, Facebook, Instagram, dan YouTube.
From Our Network