Esports Ecosystem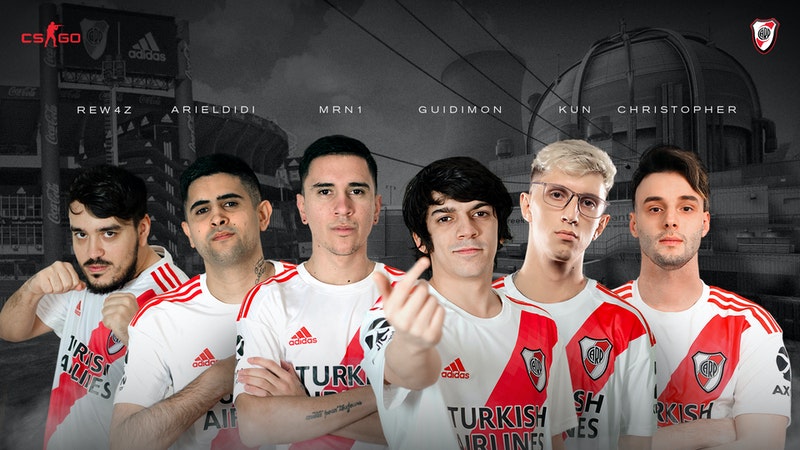 River Plate, klub sepak bola asal Argentina mengumumkan divisi CS:GO. Ini menjadi percobaan kedua River Plate terjun ke esports setelah League of Legends.
Walau olahraga tradisional tidak bisa dibilangnya sepenuhnya serupa dengan esports, namun tak bisa dipungkiri keduanya punya semangat yang sama, semangat berkompetisi. Tapi, satu yang mungkin tak bisa dipungkiri adalah bahwa tim olahraga juga mengejar khalayak esports demi melebarkan jangkauan mereka.
Satu yang aktif terlihat adalah klub sepak bola asal Prancis, Paris Saint-Germain (PSG), yang sempat bekerja sama dengan RRQ di tahun 2019 lalu, dan baru-baru ini berkolaborasi dengan Talon Esports untuk masuk liga LoL Asia Pasifik. Tetapi, kisah hubungan erat antara klub sepak bola dan esports bukan hanya milik PSG semata. Baru-baru ini, juga ada klub sepak bola Amerika Latin yang mengumumkan divisi CS:GO.
Klub tersebut adalah River Plate, salah satu tim sepak bola Amerika Latin ternama yang berasal dari Argentina. Secara pemain, divisi CS:GO River Plate memang tidak mengambil pemain yang namanya sudah termasyhur secara internasional. Kebanyakan pemain mereka berasal dari kancah lokal Argentina. Roster pertama mereka adalah Ezequiel Palmero (KUN), pemain muda berusia 22 tahun asal Argentina.
Mengutip dari HLTV.org, KUN sudah diincar oleh River Plate sejak awal lama. Namun demikian, negosiasi tidak berjalan lancar. Semuanya berubah ketika KUN dibangkucadangkan pada tim sebelumnya, Coscu Army. Dari sana, sedikit demi sedikit roster terbentuk. KUN mengajak mantan rekan satu timnya, yaitu Ariel Ramirez (arieldidi) dan Mariano Santa Maria (MRN1), yang sedang dalam posisi free agent setelah meninggalkan tim Hawks.
Mereka lalu merekrut pemain dengan status free agent lain, Thomas Navales (christopher). Baru setelah itu skuad tersebut dilengkapi dengan Guido Romano (guidimon). Sebagai pelengkap terakhir, Hugo Caceres (rew4z) hadir sebagai pelatih.
Dengan roster ini, River Plate akan bertanding di beberapa kompetisi, yaitu Aorus League, FiRe League, Logitech G Challenge 2020, Argentina Game Show, dan La Liga Pro Trust.
Ini bukan kali pertama bagi River Plate terjun ke dalam ekosistem esports. Pada 21 Desember 2019 kemarin, Liga Master Flow, kompetisi League of Legends terbesar di Argentina, sudah mengumumkan kehadiran River Plate di dalam ke dalam kompetisi; yang diikuti oleh pengumuman resmi dari klub River Plate pada 16 Januari 2020.
https://twitter.com/RiverPlateGames/status/1217627789840592897
Menarik jika melihat bagaimana klub sepak bola kini semakin tidak ragu untuk masuk ke dalam ekosistem esports. Melihat potensi bisnis esports yang menggiurkan, mungkin di masa depan akan ada lebih banyak lagi klub olahraga profesional ikut terjun ke dalam ekosistem esports.
From Our Network