Game
Entah bagaimana ceritanya sebuah momen khusus untuk mengenang orang-orang yang sudah tiada berubah jadi festival bertema horor, namun Halloween memberikan kabar gembira tersendiri buat gamer. Hampir semua developer telah menyiapkan update berkonsep All Hallows' Eve, dan kini giliran para penyedia layanan distribusi digital ikutan berpartisipasi.
Semenjak beberapa hari lalu, mungkin Anda telah menyadari ada perubahan di website-website serta client app digital distribution. Baik Steam, Origin hingga Good Old Games merayakan Halloween dengan cara yang hampir sama, yaitu menyajikan potongan harga pada permainan-permainan dalam waktu terbatas. Semangat Halloween mungkin tidak terlalu tampak di situs Humble Bundle, tapi mereka lagi melangsungkan Humble Jumbo Bundle 5.

Baiklah, pertama-tama mari kita berkunjung ke Steam terlebih dulu. Valve sedang menggelar The Steam Halloween Sale, sampai tanggal 2 November 2015 pukul 10:00 PDT (3 November, jam 01:00 WIB). Diskon sampai 80 persen tak cuma diberlakukan buat game-game horor saja. Setidaknya ada 1.859 judul dijual dengan harga murah, dan Anda bisa segera memukan Grand Theft Auto V, The Witcher 3 serta Dying Light berada di laman pertama, di bawah harga Rp 400 ribu.
Ingin menjajal game-game yang belum dimiliki? Steam sudah menyediakan fitur filter di sebelah kanan, dibagi dalam enam kategori – genre, tipe, mode, fitur, sistem operasi, dan bahasa.
Info menarik: Bulan Depan, Update New Xbox One Experience Bawa Fitur Backward Compatibility

Tak mau kalah, GOG mengadakan program Halloween Monster Hunt. Jumlah permainan dalam promo CD Projekt tersebut memang tidak sebanyak Valve, sekitar 38 buah, namun kapan lagi Anda dapat membeli permainan seharga US$ 1,5? Developer sekaligus publisher ini fokus pada empat judul andalan: The Witcher 3: Wild Hunt ('definisi sesungguhnya' dari Halloween Monster Hunt), Victor Vran, Sanitatium, serta Stasis. Jika Anda pecinta horor, saya sangat merekomendasikan Amnesia, Outlast dan The Cat Lady.

Beralih ke Origin, Electronic Arts saat ini menyuguhkan Zomboss Invasion Sale, dengan potogan harga tertinggi di 75 persen. Selain seri Dead Space dan Alice, EA memang tak mempunyai banyak franchise horor. Tapi setidaknya di sana ada update Spooky Stuff untuk The Sims 4, Resident Evil Revelations, Metro: Last Light, Dead Island Riptide sampai The Secret World.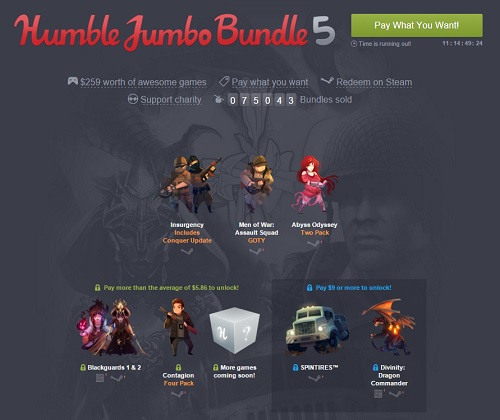 Terakhir ialah Humble Bundle. Melalui Humble Jumbo Bundle 5, Anda berhak mendapat Insurgency, Men of War: Assault Squad dan Abyss Odyssey, seberapapun uang yang Anda bayarkan. Seandainya berkenan mengeluarkan uang di atas rata-rata konsumen (buat sekarang US$ 5.86), Anda turut memperoleh Blackguards 1 & 2, Contagion, plus bonus. Dan dengan 'berderma' lebih dari US$ 9, akses ke Spintires dan Divinity: Dragon Commander akan terbuka.
Selamat ber-Halloween!