Esports Ecosystem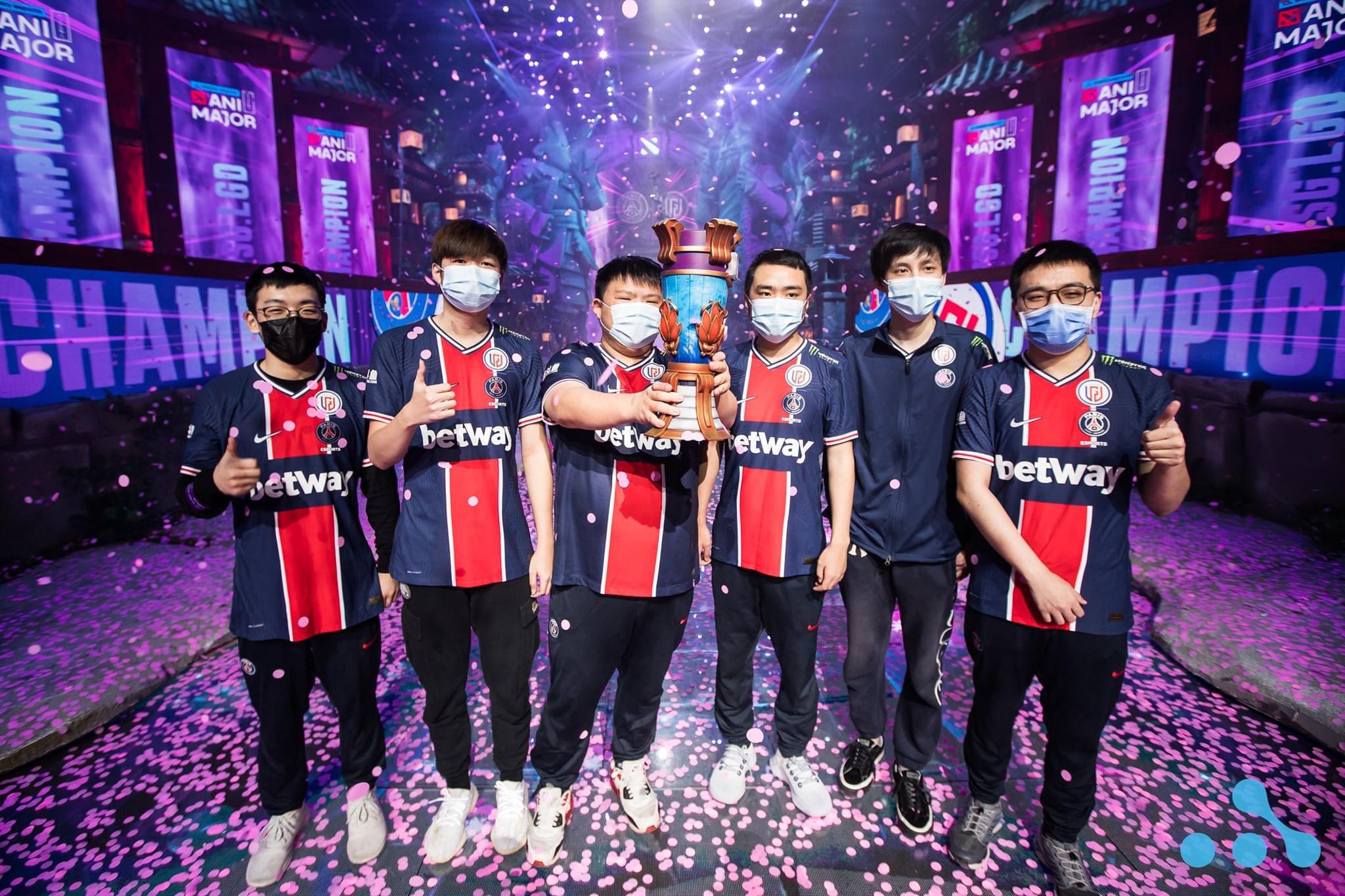 Evil Genius takluk untuk kedua kalinya melawan tim asal Tiongkok pada turnamen DPC.
Di penghujung DPC, PSG.LGD mampu membuktikan sebagai tim terkuat pada musim ini setelah mengungguli Evil Geniuses (EG) dengan skor 3-0. Tim asal Tiongkok ini mampu bermain secara rapi, kompak, dan cepat dengan durasi pertandingan masing-masing sekitar 30 menit. PSG berhasil memenangkan turnamen dan mendapat hadiah sebesar US$200 ribu atau sekitar Rp2,8 miliar dan 500 poin DPC.
https://twitter.com/WePlay_Esports/status/1404199013306540036
Pada awal turnamen, PSG.LGD datang sebagai perwakilan asal Tiongkok bersama Aster dan VIci Gaming. Pada babak group stage, mereka mampu menduduki peringkat pertama dan langsung lolos menuju upperbracket. Sebelum sampai ke babak Grand Final, PSG.LGD mampu mengalahkan tim-tim kuat lain seperti Team Nigma, Virtus.pro, dan T1.
Berbeda dengan lawan mereka, Evil Geniuses melewati jalan yang cukup panjang untuk sampai ke babak Grand Final. Mereka menjadi perwakilan Amerika Utara bersama dengan Quincy Crew. EG nyaris tidak lolos ke babak playoff dengan perolehan peringkat keempat di babak group stage. Karenanya, mereka terpaksa bermain melalui lower bracket. Walau demikian, EG mampu mengalahkan dan memupuskan kesempatan beberapa tim untuk berlaga di The International, seperti Team Nigma dan NoPing e-sports.
Salah satu momen paling sengit dari babak Grand Final adalah pada match pertama. Saat itu, kill score dipimpin jauh oleh PSG.LGD dengan 24-6. Namun saat menit ke 32, EG berusaha untuk mencuri Aegis demi membalikkan keadaan. Memang pada akhirnya EG berhasil mencurinya, namun PSG.LGD mampu melawan balik dan langsung menutup game dengan skor akhir 30-6.
https://twitter.com/WePlay_Esports/status/1404183342573051906
Kemenangan PSG.LGD juga tidak bisa dilepaskan dari andil sang coach, yaitu Zhang "xiao8" Ning. Ia mampu memberikan arahan dan berperan besar dalam menentukan hero draft yang akan dipakai timnya. Berikut ini adalah roster tim PSG.LGD  :
Wang "Ame" Chunyu
Cheng "NothingToSay" Jin Xiang
Zhang "Faith_bian" Ruida
Zhao "XinQ" Zixing
Zhang "y'" Yiping
Dengan berakhirnya AniMajor, maka sudah dapat dipastikan tim mana saja yang akan berangkat ke The International 10. Selain itu juga, telah dirilis daftar tim beserta bracket setiap region pada regional qualifer, demi mendapatkan tiket menuju The International 10 di Stockholm, Swedia, yang dimulai tanggal 5 Agustus mendatang.
The International 10 Pro Circuit Qualifications. #TI10#Dota2pic.twitter.com/DwiaJWoDTa

— Wykrhm Reddy (@wykrhm) June 12, 2021
Jumlah perwakilan dari masing-masing region adalah Tiongkok sebanyak 5 tim, Amerika Utara sebanyak 3 tim, Amerika Selatan sebanyak 3 tim, Eropa Barat sebanyak 3 tim, Eropa Timur sebanyak 2 tim dan Asia Tenggara sebanyak 2 tim. Regional qualifier akan dimulai pada tanggal 23 Juni 2021.
From Our Network