Internet
Menjelang tutup tahun 2014, Trenologi ingin menyajikan menu penutup berupa data populasi digital Indonesia beserta rincian pengguna aktif, termasuk juga data pengguna sosial media dari sektor mobile yang memang dipandang berkontribusi terhadap pertumbuhan penggunaan internet di dunia.
Dalam infografis rilisan We Are Social ini populasi Indonesia sampai dengan bulan Desember 2014 tercatat sebanyak 212 juta orang. Angka ini sedikit lebih rendah dibanding angka BPS tahun 2010 sebanyak 237 juta atau pun data Departemen Perdagangan AS pada tahun 2014 sebanyak 253 juta orang.
Kemudian angka pengguna aktif internet tercatat sebanyak 42 juta dengan persentase penetrasi 19%. Menariknya angka pengguna media sosial justru lebih tinggi yaitu 58 juta orang dengan penetrasi 27%.
Info Menarik: Fokus di Sisi Teknologi, ZTE Akan Beralih ke Segmen High-End Smartphone di Tahun 2015
Penetrasi sektor mobile tercatat yang paling tinggi yakni 147% dengan angka pengguna aktif mencapai 312 juta, kemudian pengguna media sosial di sektor mobile sebanyak 50 juta pengguna.
Lebih lengkap, berikut infografis singkatnya.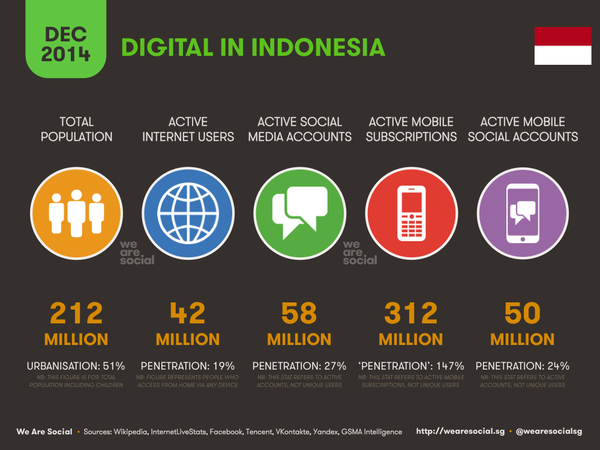 Sumber: @Ndorokakung/Twitter dan Imago. Gambar header: Celebrate via Shutterstock.
—
Kolom Pic of the Day (PoD) adalah kolom yang menghadirkan gambar pilihan yang dikutip dari situs Imago. Gambar berupa tabel, infografis atau yang lainnya ini akan berkisar seputar dunia digital. Diharapkan pilihan informasi ini bisa memberi manfaat, ide atau informasi berguna bagi pembaca TRL.