Mobile
Peta persaingan aplikasi pesan didominasi oleh pemain-pemain lama, seperti WhatsApp, Facebook Messenger, WeChat, Line, Viber dan KakaoTalk. Pic of The Day hari ini ingin menyoroti peta persaingan di antara keenamnya yang tertuang dalam bentuk infografis berupa statistik angka pengguna aktif selama bulan November 2014.
Facebook jadi yang paling dominan karena menempatkan dua wakilnya, WhatsApp dan Facebook Messenger. WhatsApp duduk di puncak klasemen dengan angka pengguna aktif bulanan November 2014 sebanyak 600 juta orang.
Disusul oleh Facebook Messenger di posisi kedua dengan angka pengguna aktif sebanyak 500 juta orang. Jejaring sosial raksasa ini juga sempat memplokamirkan pencapaian ini beberapa waktu yang lalu. Walaupun cara untuk mengarahkan penggunanya mengundang kontroversi.
Info Menarik: 10moons D9i, Mini PC Dua Sistem Operasi Dengan Harga di Bawah US$ 100
Di posisi ketiga ada WeChat dengan angka pengguna aktif sebanyak 438 juta. Kemudian Line, Viber dan KakaoTalk menempati posisi enam besar secara berurutan dimana KakaoTalk berada di posisi paling akhir dengan jumlah pengguna hanya 50 juta.
Bila dinilai dari gap antara satu dan lainnya, besar kemungkinan peta persaingan ini belum akan berubah dalam waktu yang cukup lama. Tapi mungkin saja kita akan melihat penantang baru, misalnya Tango atau Snapchat di masa mendatang.
Dari statistik ini, jagoan Anda di nomor berapa?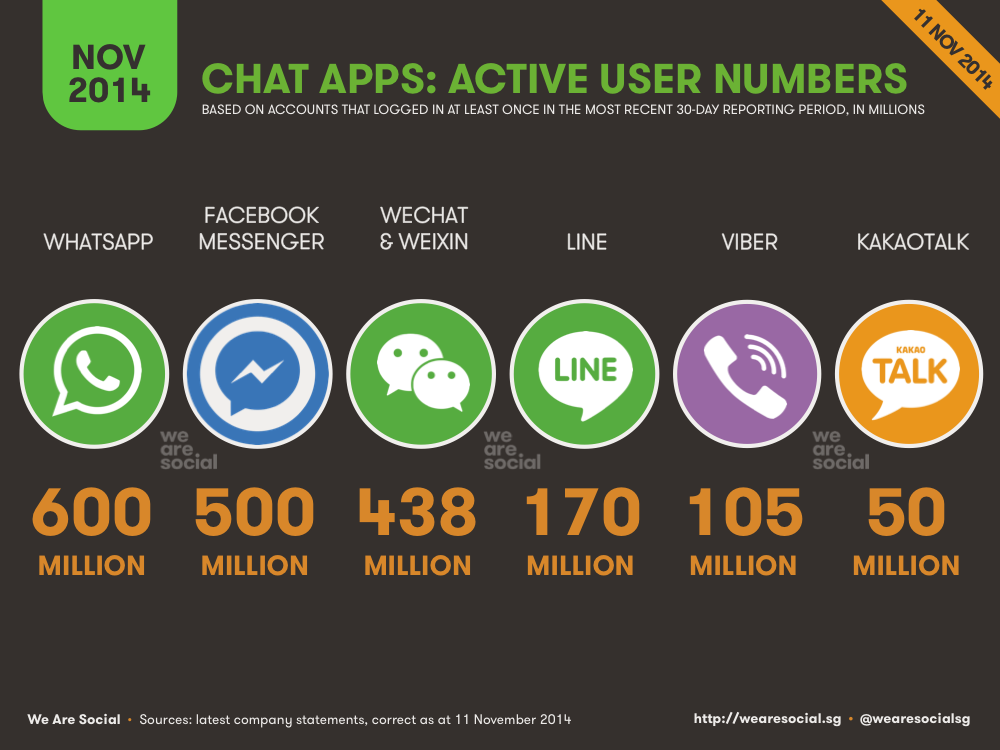 Sumber: WeAreSocial dan Imago. Gambar header: Celebrate via Shutterstock.
—
Kolom Pic of the Day (PoD) adalah kolom yang menghadirkan gambar pilihan yang dikutip dari situs Imago. Gambar berupa tabel, infografis atau yang lainnya ini akan berkisar seputar dunia digital. Diharapkan pilihan informasi ini bisa memberi manfaat, ide atau informasi berguna bagi pembaca TRL.