Mobile
Event belanja yang sudah jadi tradisi di Amerika Serikat, Black Friday 2014, selalu menyisakan cerita menarik. Hal yang kerap kita jumpai adalah serangkaian laporan penjualan sejumlah brand ternama.
Salah satu yang menjadi sorotan setelah event adalah perbandingan antara Android dan iOS yang tergambar dalam infografis berikut di bawah ini
Di dalam grafik Android vs iOS  sederhana ini ada enam indikator yang menjadi sorotan. Dan selama perhelatan Black Friday 2014, iOS tampak lebih superior ketimbang Android dengan memenangi empat dari enam indikator yang ada.
iOS unggul di indikator nilai pesanan rata-rata dengan besaran $121,86 per pesanan, berbanding $98,07 untuk pengguna Android.
Kemudian lalu lintas selama perhelatan Black Friday 2014 juga dominan perangkat iOS sebesar 34,2%. Unggul jauh dari Android yang hanya 15% dari total lalu lintas online.
Info Menarik: Yuk Belajar Huruf Bali dengan Game Learning Akasara Bali
Terakhir, yang merupakan indikator paling penting, iOS tercatat membukukan penjualan 21,9% dari total penjualan online, unggul sangat jauh hampir tiga kali lipat dibandingkan Android yang hanya 5,8%.
Tingginya angka penjualan perangkat iOS selama Black Friday 2014 di AS ini tergambar dari dominasi di kategori berikutnya, dimana konversi penjualan iOS tercatat sebesar 2,87% sementara Android hanya 2,14%.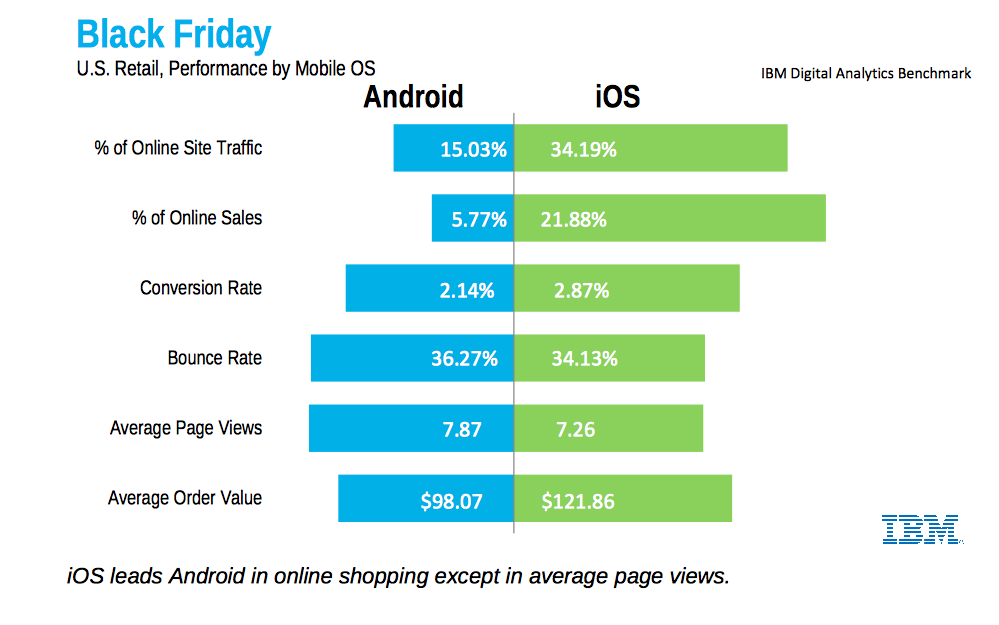 Sumber: IBM dan Imago. Gambar header: Celebrate via Shutterstock.
—
Kolom Pic of the Day (PoD) adalah kolom yang menghadirkan gambar pilihan yang dikutip dari situs Imago. Gambar berupa tabel, infografis atau yang lainnya ini akan berkisar seputar dunia digital. Diharapkan pilihan informasi ini bisa memberi manfaat, ide atau informasi berguna bagi pembaca TRL.