Esports Ecosystem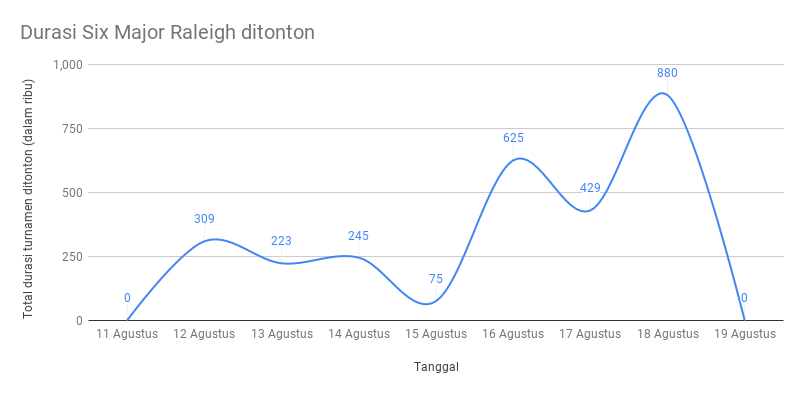 Durasi menonton Six Major Raleigh naik 22 persen sementara Six Invitational hanya 7 persen
Setiap tahun, ada empat turnamen "Major" untuk Rainbow Six. Turnamen terbesar adalah Six Invitational, yang bisa disamakan seperti The International untuk Dota 2 atau Piala Dunia untuk sepak bola. Salah satu turnamen tahunan besar lainnya adalah Six Major, yang tahun ini diadakan di Raleigh.
Dari segi viewership, Six Invitational memang masih menjadi turnamen dengan durasi menonton paling lama. Meskipun begitu, pertumbuhan durasi menonton Raleigh Major jauh lebih besar dari pertumbuhan viewership Six Invitational. Viewership Raleigh Major tumbuh 22 persen, sementara pertumbuhan viewership Invitational hanya mencapai 7 persen. Di channel Twitch resmi Six Major Raleigh, total durasi turnamen itu ditonton mencapai 2,8 juta jam. Sebagai perbandingan, tahun lalu, turnamen Major yang diadakan di Paris hanya memiliki total durasi 2,1 juta. Jumlah concurrent viewer (CCV) turnamen Major Raleigh tahun ini juga lebih tinggi dari tahun lalu. Tahun ini, rata-rata CCV adalah 37 ribu, naik dari 26 ribu pada tahun lalu.
Anda bisa melihat total viewership Six Major Raleigh pada grafik di bawah.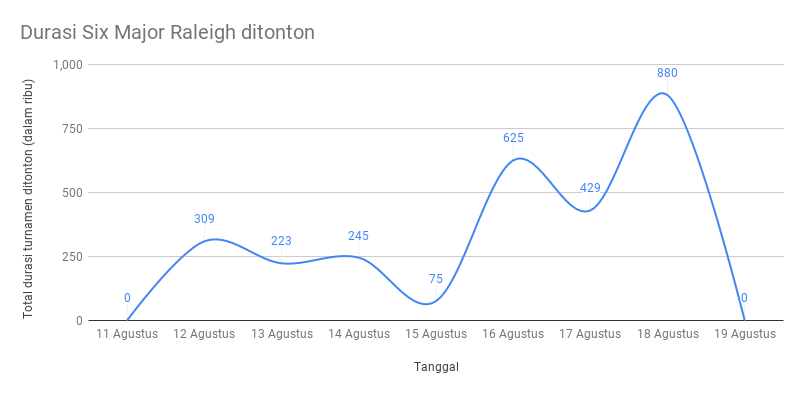 Ubisoft meluncurkan Rainbow Six pada 2015. Meskipun begitu, game tersebut baru mulai populer di kalangan penikmat konten gaming pada 2018. Ketika itu, total durasi viewership Rainbow Six di Twitch naik hingga lebih dari dua kali lipat. Secara total, pada 2018, Rainbow Six ditonton selama 87,56 juta jam, naik dari 40,79 juta jam pada tahun sebelumnya.
Menurut laporan The Esports Observer, peningkatan drastis itu berkat diadakannya turnamen esports Rainbow Six. Ini menunjukkan bahwa esports dapat membantu sebuah game untuk tetap relevan bagi audiens bahkan beberapa tahun setelah ia dirilis.
Sayangnya, tahun ini, pertumbuhan durasi menonton Rainbow Six di Twitch mulai mengalami perlambatan. Total durasi menonton Six Invitational yang diadakan pada 11-17 Februari lalu mencapai 6 juta jam, naik 7 persen dari 5,65 juta pada tahun sebelumnya. Meskipun begitu, jumlah penonton babak final dari R6 Pro League Season 9 lebih sedikit jika dibandingkan dengan babak final Season 7 yang diadakan pada tahun sebelumnya.
Fakta bahwa viewership turnamen Six Major Raleigh naik adalah kabar baik. Karena, Rainbow Six merupakan game yang jumlah penontonnya sangat tergantung pada turnamen esports. Naiknya viewership turnamen Major Raleigh menujukkan adanya potensi untuk menaikkan jumlah penonton Rainbow Six dengan mengadakan turnamen profesional lain. Dan jika Rainbow Six itu sukses di esports, maka hal itu juga akan memberikan dampak baik bagi semua pelaku yang terlibat, termasuk tim, penyelenggara turnamen, dan para sponsor.
Minggu lalu, Senior Director of Esports, Ubisoft, Che Chou menjelaskan alasan mereka untuk mengadakan turnamen Six Major di Raleigh. "Kami mempertimbangkan beberapa kota. Ketika kami mencari kota sebagai tempat diselenggarakan turnamen Major, salah satu hal yang kami pertimbangkan adalah kami ingin mencari tempat yang berbeda," kata Chou pada The Esports Observer. "Acara besar terakhir yang kami buat adalah US National Finals dan acara itu diadakan di Las Vegas. jadi, kami ingin mengadakan sesuatu di pesisir timur demi fans kami yang ada di sini."
Alasan lainnya, Chou menjelaskan, Raleigh sangat agresif dalam meyakinkan Ubisoft untuk mengadakan acara di kota tersebut. Mereka bahkan memberikan subsidi biaya penyelenggaraan kompetisi yang diadakan di Raleigh Convention Center. "Mereka adalah rekan yang hebat, dan saya rasa, di industri esports, kita mulai melihat tren dimana kota-kota ingin agar acara esports besar diadakan di kota mereka — agar kota mereka lekat dengan gaya hidup esports," katanya.
From Our Network