Esports Ecosystem
Pendaftaran akan ditutup tanggal 20 Januari 2020 mendatang, dengan jadwal pertandingan pada 22-24 Januari 2020 mendatang.
Hybrid Cup Series Play on PC Rainbow Six: Siege edisi pertama telah selesai digelar sebelumnya. Diselenggarakan 18-20 Desember 2019 lalu, Road to Hybrid Cup 1: R6S akhirnya dimenangkan oleh Team Scrypt setelah berhasil mengalahkan 1z Esports 2-0. Memasuki tahun 2020, gelaran berlanjut kepada Road to Hybrid Cup edisi kedua.
Seperti yang sudah dijelaskan sebelumnya, Hybrid Cup Series – Play on PC: R6S hadir dengan rentetan yang lebih panjang dibanding dengan Hybrid Cup Series – Play on PC lainnya. Januari 2020 ini menjadi edisi kedua Road to Hybrid Cup, dengan gelaran puncak yang diselenggarakan Maret 2020 mendatang.
Last minute of @TeamScrypt winning the Road to Hybrid Cup Series – Rainbow Six Siege. @AjieZata_A : Sa ae pitung. pic.twitter.com/ArO22Ia31i

— Hybrid.IDN (@Hybrid_IDN) December 23, 2019
"Dengan adanya turnamen ini, kami ingin komunitas R6IDN bisa lebih dikenal lagi oleh masyrakat luas. Hybrid ingin ikut serta memberikan sumbangsih nyata bagi kemajuan tren game R6 di Indonesia. Kami juga ingin mengajak para pembaca untuk menonton pertandingan pilihan yang akan ditayangkan secara live-streaming di official page Hybrid IDN serta channel Youtube komunitas R6IDN." Wiku Baskoro, Co-Founder Hybrid.co.id memberikan pandangannya pada artikel sebelumnya.
Untuk edisi kedua Road to Hybrid Cup R6S, fase registrasi sudah dibuka sejak tanggal 7 Januari 2020 dan akan terbuka sampai 20 Januari 2020 mendatang. Pendaftar akan dikenakan biaya registrasi sebesar Rp75.000 per tim, dengan peraturan tim peserta tidak berkenan mengambil double slot. Kesempatan terbuka hingga mencapai 64 tim, bagi Anda yang ingin mendaftar Anda bisa langsung menuju ke tautan berikut: bit.ly/roadtohybridcup2
Memperebutkan total hadiah sebesar Rp3.000.000, Road to Hybrid Cup 2: R6S akan mulai bertanding pada tanggal 22-24 Januari 2020 secara online. Nantinya pertandingan akan ditayangkan pada official page Hybrid IDN, mulai pukul 19:00 WIB.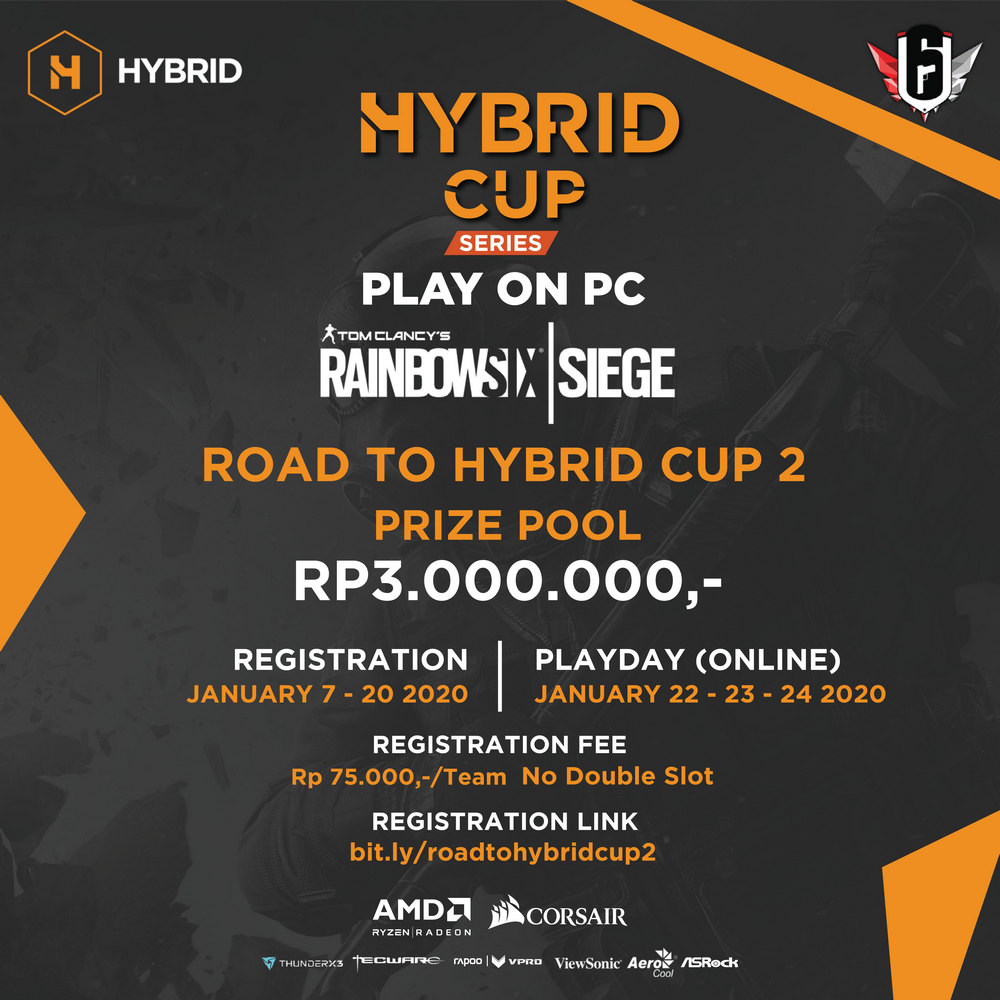 Dengan tanpa kehadiran Team Scrypt di Road to Hybrid Cup 2, persaingan tentu akan menjadi semakin sengit. Berbagai tim R6S yang sudah punya cukup nama di skena kompetitif Indonesia seperti 1z Esports, ataupun Limitless Gaming, tentunya akan lebih mempersiapkan diri untuk merebut slot menuju gelaran utama Hybrid Cup Series – Play on PC: R6S.
Hybrid Cup Series – Play on PC disponsori oleh AMD dan Corsair, dengan dukungan dari Aerocool, ThunderX3, Tecware, RapooVPRO, ViewSonic, dan ASRock.
Untuk informasi lebih lanjut mengenai Hybrid Cup dan program-program lain ke depannya, jangan lupa untuk memantau situs Hybrid.co.id dan follow akun media sosial Hybrid di Twitter, Facebook, Instagram, dan YouTube.
From Our Network