Defying All Odds: OB Esports x Neon's Singapore Major Tale and Team Profile
The Filipino squad of OB Esports x Neon made a historical run in Singapore Major 2021, who are their players and how did they make history?
Almost all competitive events know and love the idea of having dark horses on their participant list. These dark horses are full of surprises, secret tactics, and, more than anything, have almost nothing to lose. Win or lose, most of these dark horses never fail to deliver entertaining matches, ones that audiences will likely remember forever.
When and why this phenomenon happens remains a wild guess, but when it does, it usually defies all possible odds, with chances being as slim as ever. The same story was told in Dota 2's latest offline Major event: ONE Esports Singapore Major 2021.
The Filipino squad of OB Esports x Neon, formerly known simply as Neon Esports, did what most didn't expect at all. Sure, they didn't go home as champions of the event, but their journey and fight showed how intriguing and intense a Dota 2 match could be.
A Major Roster Problem
Before their matches even began, OB x Neon faced a major roster problem. Their supposed Hard Carry Player, Natsumi-, was "unfit to travel" with the rest of the team to Singapore, where the Major was held in. This alone was already a huge problem as a roster change right before an event is certainly not fun to have.
Nevertheless, OB x Neon secured a stand-in player to fill in their empty slot, their former Offlaner, Rappy. Rappy was a member of Neon Esports for almost two years and has played over 1000 matches together, so this move is indeed sensible.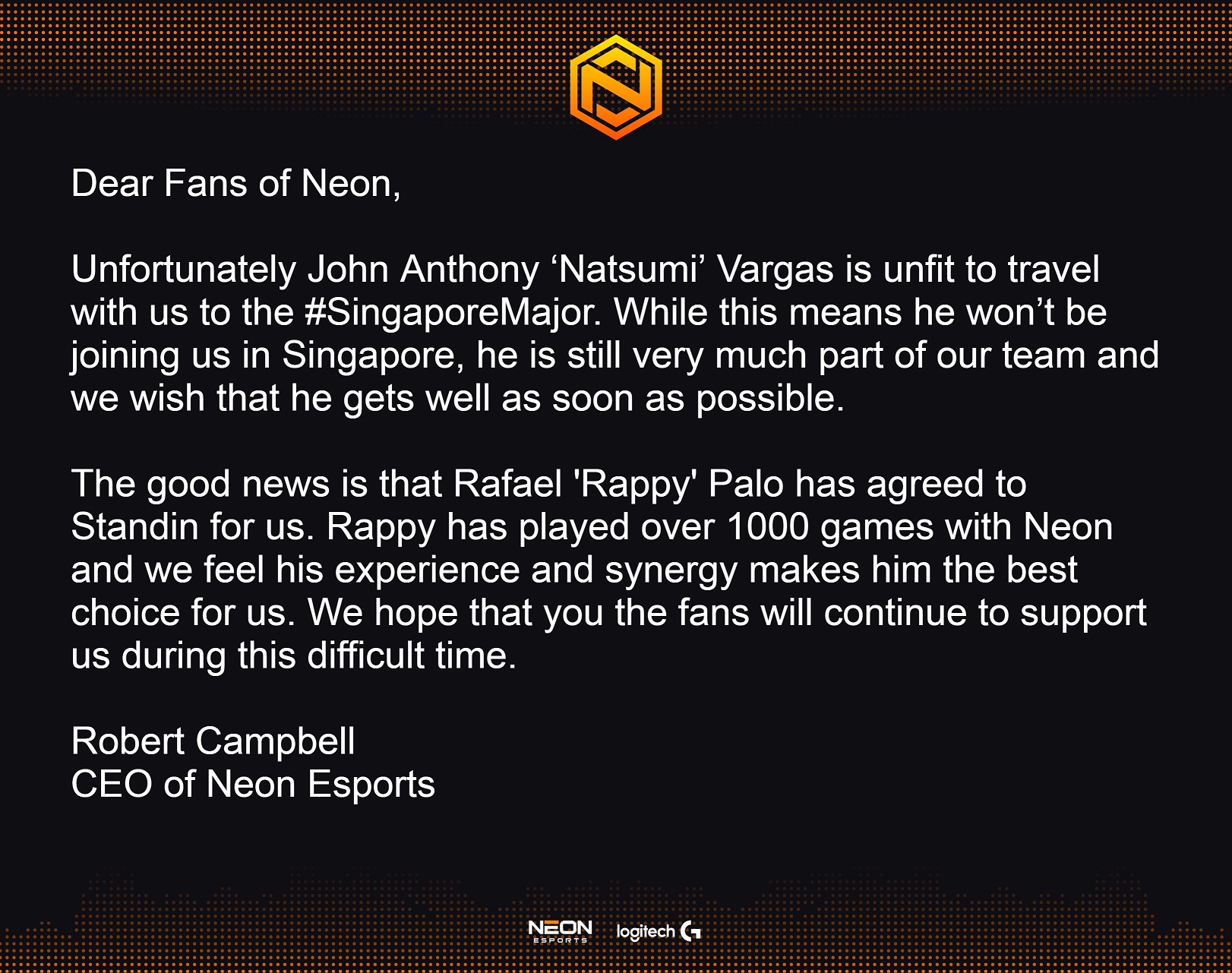 There's still an issue with the respective player roles, since Natsumi- is a Hard Carry player, while his substitute, Rappy, is an Offlaner. To address that issue, the team decided that their official Offlaner skem would take up the Carry role and Rappy proceeded to play as an Offlaner like he usually does. With things seemingly in the right place, the team flew to Singapore.
Entering the Singapore Major, OB x Esports were seeded into the Group Stage thanks to their second-place finish in Dota Pro Circuit 2021 Season 1. Together with Fnatic and T1, the three teams are Southeast Asia's only representatives in the event.
As the event commenced on March 27th, T1 had a fair share of their run in the Wild Card stage. Unfortunately, they failed to secure top-3 and had to pack their bags early, leaving only Fnatic and OB x Neon to represent the region.
Every Cloud Has a Silver Lining
Soon after, the Group Stage kicked off. OB x Neon was up against the world's best teams around. Particularly, the Chinese giants of PSG.LGD and Vici Gaming, along with the up-and-coming South American team, Thunder.Predator, were the strongest contenders of the Group Stage.
As many had predicted, OB x Neon performed shakily on their first matchday, losing 2-0 in three different series, and managed to only tie a single match against Team Aster. Their start looked daunting and things were about to get even worse for the Filipino squad, as if they hadn't faced enough challenges.
On March 30th, OB x Neon announced that their stand-in player, Rappy, was in close contact with someone who had COVID-19 prior to the event. Although Rappy tested negative in all four tests, the team decided to take the safe route and halt his activity with the rest of the team.
While performing poorly in the Group Stage, OB x Neon had to not only find a substitute for their initial substitute but also adapt to the new player, whoever it may be. With time ticking rapidly, the team scrambled to find a new substitute.
Skem was tasked by the team's manager to find a substitute as quickly as possible, given that they were only hours away from the next Group Stage match. Skem rang up the Singaporean player Deth, who he might have got in contact with during his time with Complexity Gaming.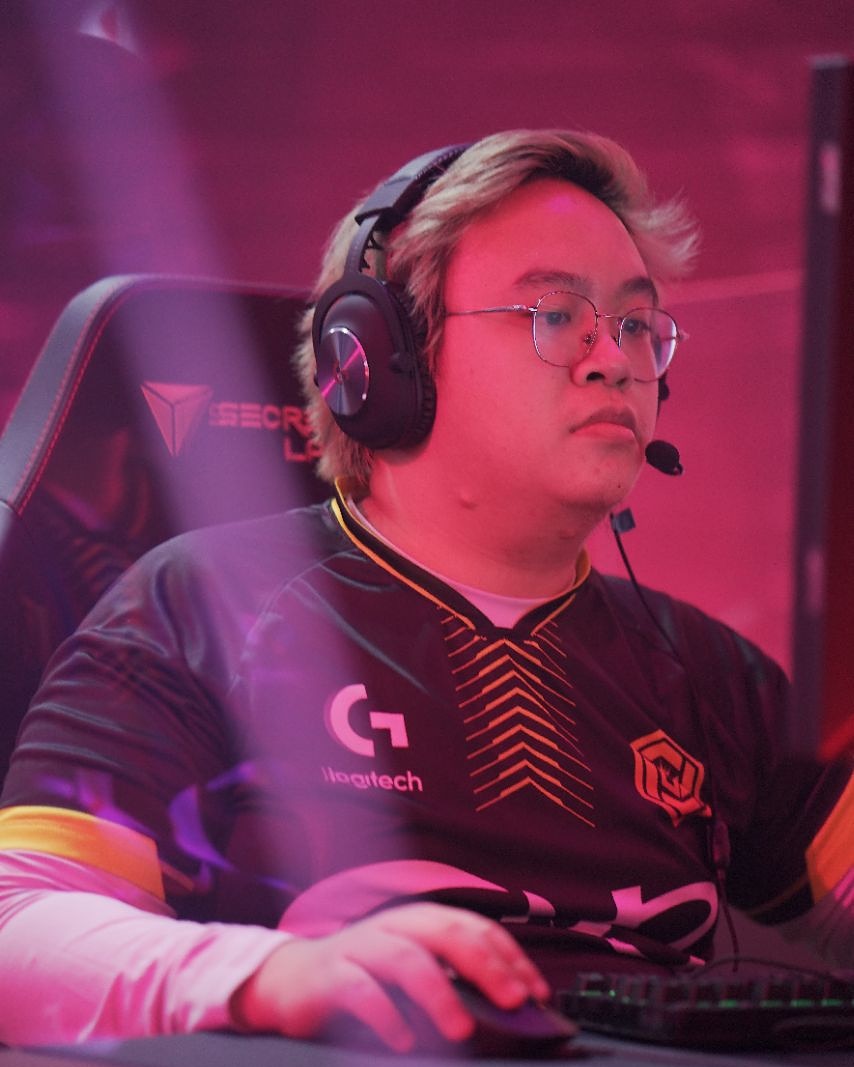 The story of how they tried to contact Deth was nothing but a clutch, as highlighted in an article by ONE Esports. "To be honest, it was all a blur to me. First I was asleep, so the team couldn't contact me. So skem reached out to my girlfriend, but my girlfriend was also asleep," said Deth. "Skem continued frantically calling my girlfriend up until she woke up, then she repeatedly called me until I woke up too."
Now that a substitute player is secured, what the team is left with is the problem of adapting to the new lineup -- not to mention their tight Group Stage progress. Surprisingly, the shiny new addition of Deth to OB x Neon's roster proved effective, if not better than their previous lineup.
On their second matchday, skem and his team were able to tie two different series: one against Thunder.Predator, and the other against Alliance. Moreover, they were able to deliver a huge upset against Team Liquid, who they absolutely stomped in the match that followed.
Thanks to their victory against Liquid, OB x Neon clinched a seventh-place finish in the Group Stage. They were only a position away from getting eliminated altogether from the Major event. What initially seemed like adversity, turned out to be a silver lining for OB x Neon.
"What an instant classic of a game!"
Skem and his boys managed to fit their way into the Lower Bracket of the Playoffs stage where they faced their Southeast Asian rival, Fnatic. As the two fought bravely to remain as Southeast Asia's last representative, it was the Filipino squad who had the upper hand. More importantly, OB x Neon's Position 2 player Yopaj soon received international spotlight given his outstanding performance.
OB x Neon's next opponent is the beast of Vici Gaming. The odds were totally against the Filipino team judging from how well Vici Gaming performed in the Group Stage. Noticeably, the two teams greatly competed for Puck, a hero that became one of the strongest Midlaners in the 7.28c patch.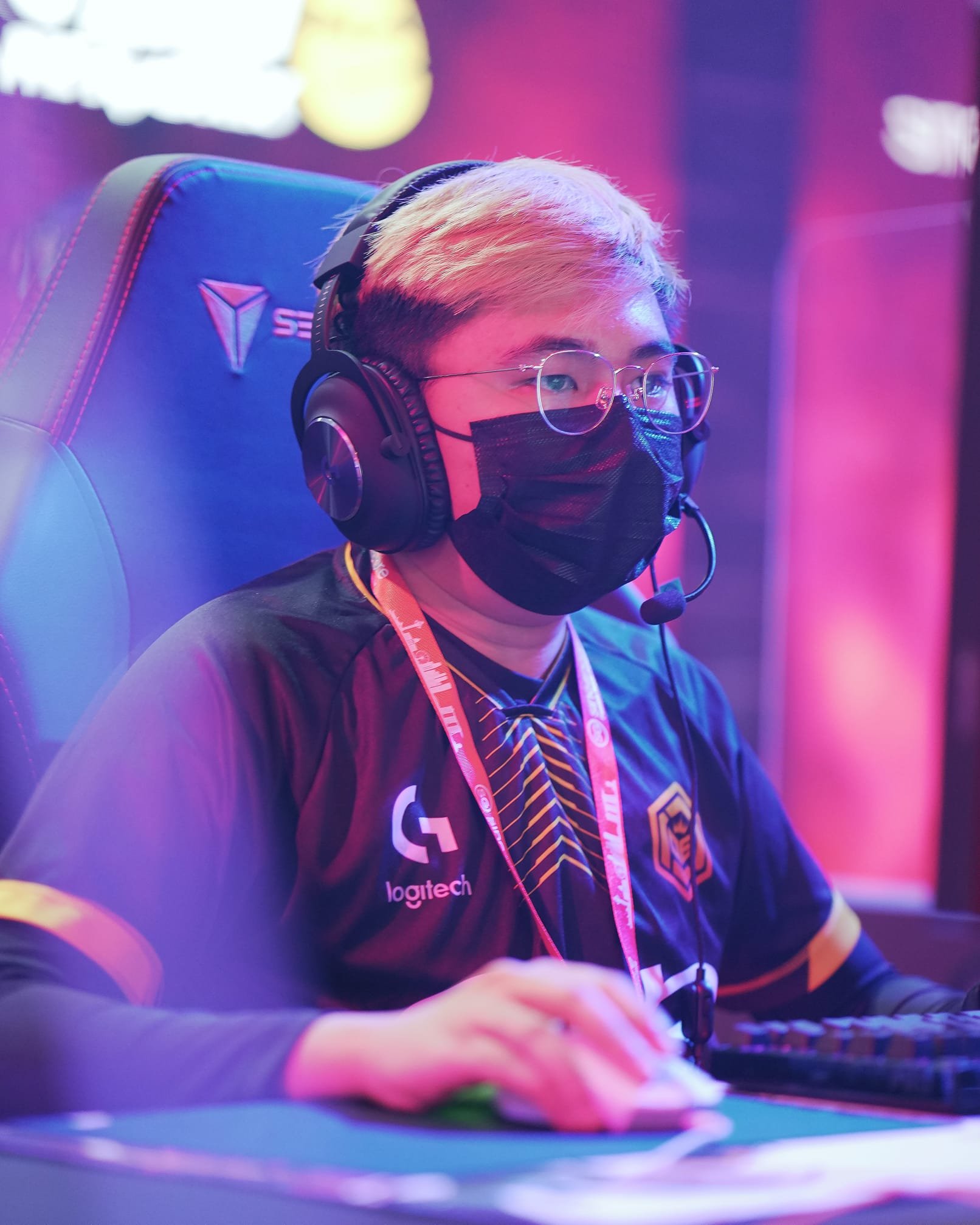 Vici secured Puck in game one, where the hero paved way for their first win. Thereafter, the hero fell to the hands of Yopaj and proved to be as deadly as ever. In the two games that followed, Yopaj and his squad rolled over the multi-major winners and quickly rose to popularity. With a top-6 finish under their belt, OB x Neon certainly was no joke.
Continuing their super thrilling Major run, OB x Neon was up against their "final boss" or more casually known as Team Secret. Team Secret is famous for their high-intensity matches, especially for their consistency throughout different games. If OB x Neon made it through, they stand a chance to make history by defeating Team Secret.
Game one, simply put, was Secret's free-to-roam playground. With a Bristleback and Keeper of the Light duet, Secret utterly crushed OB x Neon in the first game, despite Yopaj securing a Puck pick.
Game two, however, turned the stakes around. OB x Neon opted for an agile yet sustainable pick consisting of heroes such as Batrider, Leshrac, Gyrocopter, Tusk, and Oracle. This draft works by essentially sweeping the enemy team in a blitz skirmish as quickly as possible.
Batrider initiates a team fight with his Flaming Lasso, Leshrac chain-stuns with Split Earth, Tusk follows up with a Walrus Punch, all while Gyrocopter casually hits like a raid-boss. The sustainability acts as a backup/abort mission, thanks to Oracle's False Promise, Tusk's Snowball, and Leshrac's Guardian Greaves.
That said, in just under 27 minutes, OB x Neon took game two, flipping the tables around and upsetting many. Most thought that Secret, being the beast that they're known for, was going to 2-0 the Filipino squad, but OB x Neon stood strong.
The final determining game, as many had put it, was nothing but historical. It's too complex of a match to describe in words, and I strongly urge readers to witness the game instead. However, to sum it all up, it was easily Yopaj's career highlight, regardless of OB x Neon's penultimate loss.
The last final moments of the game showed how the tiniest of details could flip a game's outcome -- essentially the beauty of Dota 2. After a back-and-forth skirmish between the two teams, Secret came out as the winning team. As the caster Gabriel "Lyrical" Cruz tweeted, it was "an instant classic of a game!".
OB Esports x Neon's Brief Team Profile
OB x Neon went home as 5th-6th-place finishers of the tournament. Although they didn't win the Major event, it is clear that the Filipino powerhouse is to be respected in the tournaments to come. Seeing all these plays got me thinking, who are these guys anyway?
The Neon Esports organization has been around since 2017, making their first international stint by participating in The International 2017 Open Qualifier. Out of all the present players, it is PlayHard who had been with the team for the longest time, joining Neon's TI8 Open Qualifier roster.
It was only starting late 2019 when the team started getting noticed in the novice Southeast Asian scene. Amidst the 2020 pandemic, the team began to climb up in the professional scene, and arguably their best Southeast Asian performance was during DPC 2021 Season 1. That means their earlier Singapore Major run was the first time they made it to the international spotlight.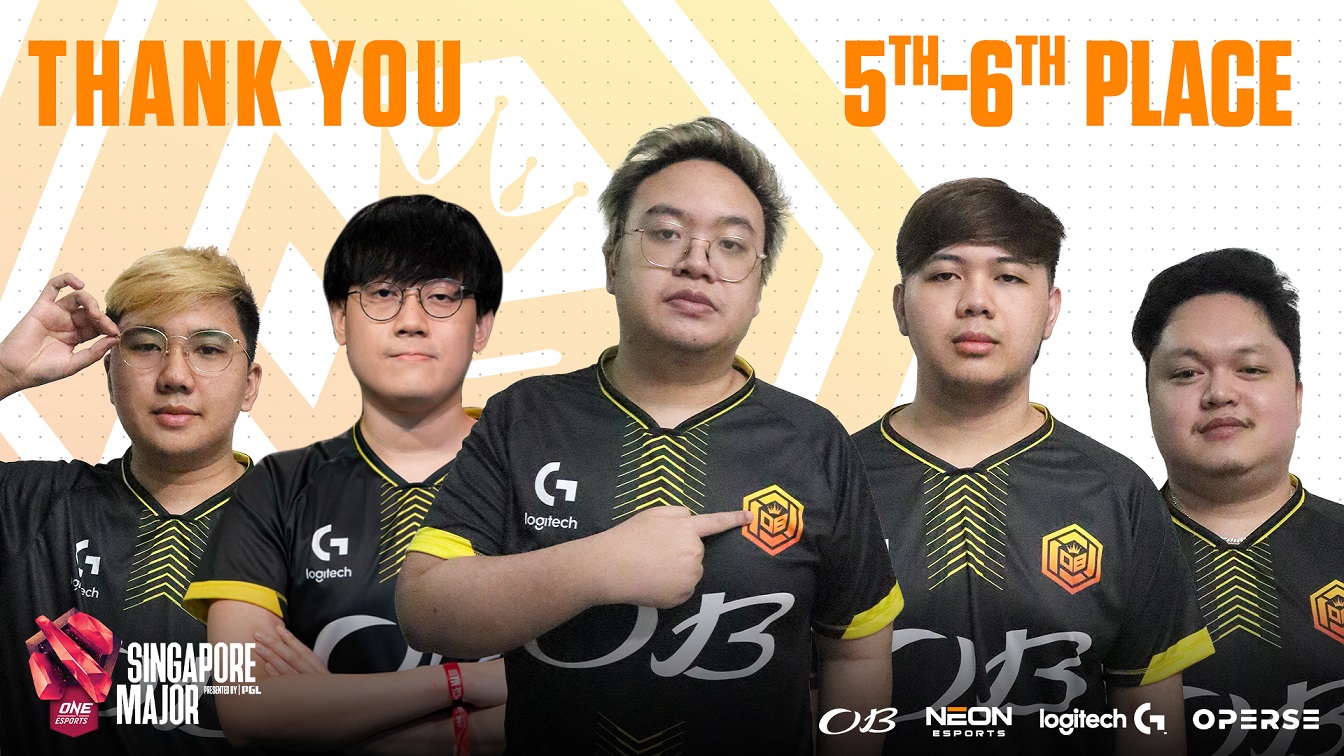 The players alone have been in the professional scene for quite a long time, except for Natsumi- and Yopaj. Skem, PlayHard, and Jaunuel had played in different local and international teams like Mineski, Arcanys Gaming, Sterling Global Dragons, Geek Fam, and many others. The three probably had played together multiple times in different phases of their career and different teams.
On the flip side, Natsumi- and Yopaj only started playing competitively in 2019. The 19-year-old boys kicked off their esports career when they were only 17. In fact, before joining OB x Neon, Natsumi- was part of the Filipino Dota 2 team Adroit who won first place in the 30th Southeast Asian Games.
Yopaj, conversely, had a rather laid-back career in his earliest competitive esports journey. The now-famous Midlaner had an underwhelming experience during his time in Execration and played under the Indonesian organization The Prime for a while back. In September 2019, he joined the ranks of OB x Neon and the rest became history.
As of the moment of writing, OB x Neon is currently participating in Season 2 of DPC 2021, this time with Natsumi- back on board. Thus far, Yopaj has picked Puck twice and won both games against BOOM Esports. In their match against TNC Predator, where Armel picked Puck in all three games, OB x Neon lost 1-2.
Only three weeks into the event, it is still unclear whether OB x Neon could deliver the same result in the next leg of professional Dota 2. What remains is a mystery for most, but what's certain is that the Filipino squad of OB x Neon should not be taken lightly.
Cover Image by Twitter @NeonEsportsPH and ONE Esports.