Esports Ecosystem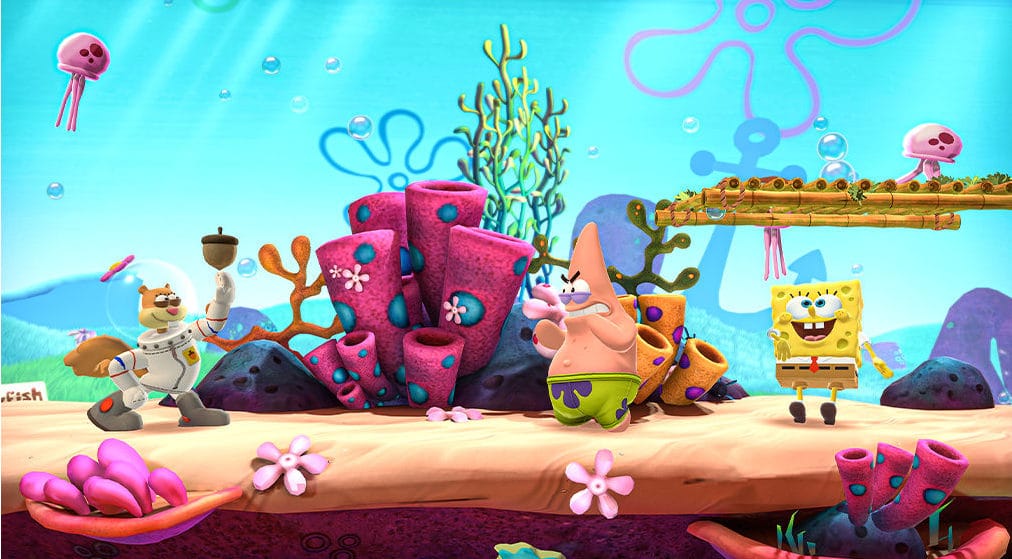 Rencananya, game ini akan dirilis pada musim gugur (September-Desember) tahun ini.
Siapa yang tidak kenal SpongeBob? Tokoh jenaka dengan nada tertawa yang khas ini pasti dikenali oleh semua orang. Dari bahan tontonan sampai bahan meme, SpongeBob merupakan tokoh ikonik saat ini. Namun apakah Anda tertarik untuk bermain sebagai Spongebob sebagai jagoan bertarung?
Baru saja ada pengumuman mengenai Nickelodeon All-Star Brawl yang akan dirilis di tahun ini. Nickelodeon All-Star Brawl merupakan fightinggame yang menghadirkan berbagai macam karakter dari Nickelodeon.
Melalui trailer yang dirilis oleh IGN, banyak judul-judul kartun animasi terkenal yang terlihat pada video tersebut, mulai dari SpongeBob SquarePants, Rugrats, Teenage Mutant Ninja Turtles (TMNT), Danny Phantom dan masih banyak lagi. Game ini akan menjadi nostalgia bagi mereka yang masa kecilnya diisi oleh berbagai kartun tersebut.

Melalui website resminya, ada lebih dari 20 lokasi pertarungan dengan tema unik dari kartun Nickelodeon, seperti lapangan ubur-ubur dari SpongeBob SquarePants, Technodrome dari Teenage Mutant Ninja Turtles, dan masih banyak lagi.
Nickelodeon All-Star Brawl dapat dimainkan bersama-sama sampai empat orang. Game ini bisa dimainkan bersama teman-teman melalui koneksi lokal maupun dimainkan kompetitif secara online.

Sama seperti Super Smash Bros, setiap karakter memiliki moveset unik yang sesuai dengan karakter mereka. Berikut ini adalah karakter-karakter yang ditampilkan di trailer-nya:
SpongeBob Squarepants (SpongeBob Squarepants)
Patrick Star (SpongeBob Squarepants)
Sandy Cheeks (SpongeBob Squarepants)
Leonardo (Teenage Mutant Ninja Turtles)
Michelangelo (Teenage Mutant Ninja Turtles)
Nigel Thornberry (The Wild Thornberrys)
Reptar (Rugrats)
Helga Pataki (Hey Arnold!)
Danny Phantom (Danny Phantom)
Zim (Invader Zim)
Lincoln Loud (The Loud House)
Lucy Loud (The Loud House)
Powdered Toast Man (Ren & Stimpy)
Oblina (Aaahh!!! Real Monsters)
Game ini akan menjadi game yang menarik, mengingat beberapa judul kartun Nickelodeon bukan merupakan kartun action. Pemain dapat melihat bagaimana uniknya moveset dari karakter-karakter tersebut, seperti Rugrats dan Hey Arnold!.
Namun ada beberapa judul terkenal Nickelodeon yang tidak tampak di trailer Nickelodeon All-Star Brawl, seperti Fairly Odd Parents, Avatar: The Last Airbender, The Adventures of Jimmy Neutron. Judul-judul tersebut merupakan judul yang pernah tayang di televisi Indonesia pada masanya.
Belum ada tanggal pasti mengenai rilisnya game ini namun sudah diumumkan bahwa game ini akan rilis sekitar bulan September sampai Desember 2021 dan dapat dimainkan di PlayStation 4, PlayStation 5, Xbox One, Xbox Series X|S dan Nintendo Switch.
From Our Network