Mobile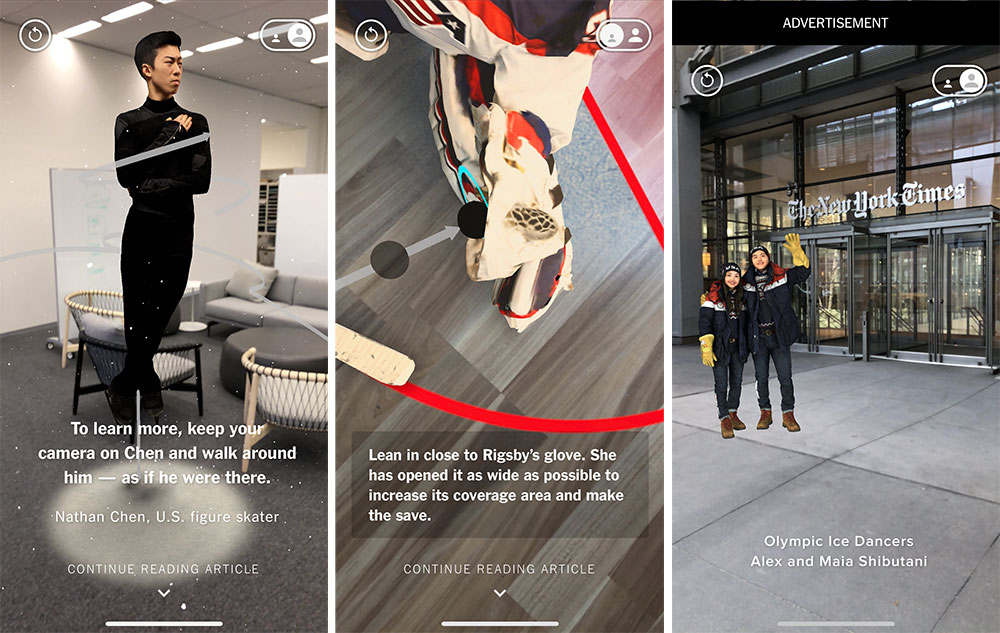 Artikel perdananya mengajak kita mengenal lebih dekat empat atlet yang bakal bertanding di Olimpiade Musim Dingin
Tepat tanggal 1 Februari kemarin, media publikasi kenamaan asal Amerika Serikat, The New York Times, mengumumkan bahwa mereka akan mengerahkan pengalaman panjang mereka di dunia jurnalistik ke medium baru, yakni augmented reality (AR). Belum ada satu minggu, upaya mereka sudah bisa kita nikmati lewat artikel AR perdananya.
Dalam artikel berjudul "Four of the World's Best Olympians, as You've Never Seen Them Before" tersebut, pembaca diajak mengenal lebih dekat empat atlet yang bakal menunjukkan tajinya masing-masing di Olimpiade Musim Dingin di Pyeongchang, Korea Selatan. Keempatnya adalah Nathan Chen (figure skater), J.R. Celski (speedskater), Alex Rigsby (kiper hockey), dan Anna Gasser (snowboarder).
Saat artikel dibuka dari aplikasi NYTimes di iPhone atau iPad, konten AR akan disajikan mengikuti alur artikel. Saat membahas si Nathan Chen misalnya, pembaca bisa mengamati pose sang atlet dari beragam sudut dengan mengarahkan kamera ponselnya, lalu informasi akan muncul mengikuti posisi pembaca. Kalau kata NYTimes sendiri, ini ibarat membekukan atlet kelas dunia di tengah-tengah aksinya masing-masing.
Artikel yang sama sebenarnya masih bisa dibuka di browser perangkat desktop, akan tetapi sesi eksplorasinya tidak bisa sebebas di perangkat iOS yang telah mendukung ARKit. Pengguna perangkat Android tak perlu khawatir, sebab NYTimes telah berjanji untuk segera merilis versi Android-nya yang ditenagai ARCore.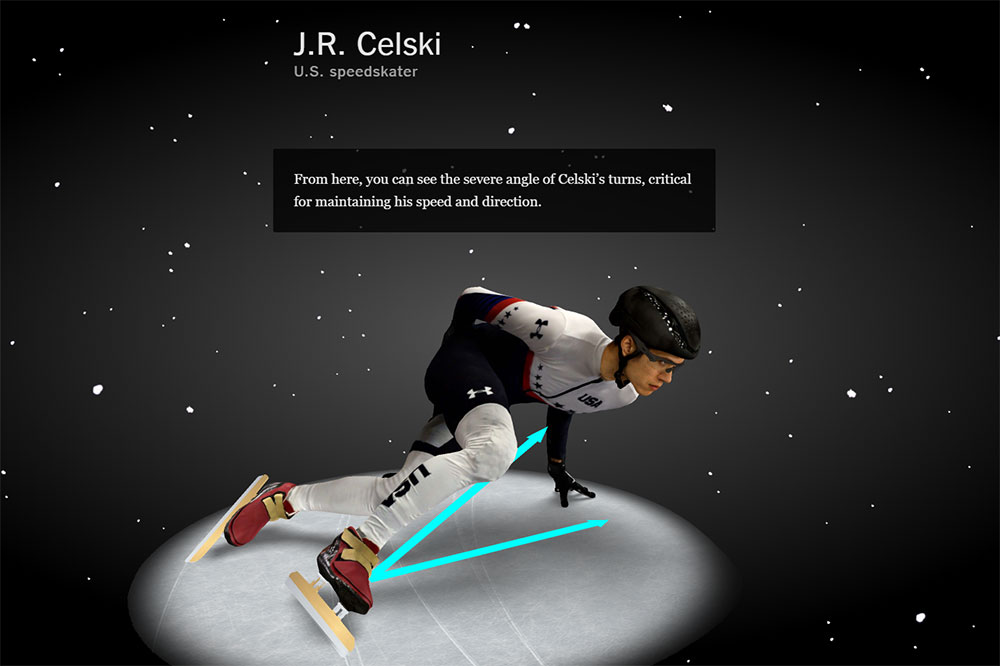 AR pada dasarnya diharapkan bisa membuka cara baru bagi konsumen untuk menikmati konten dari media publikasi secara lebih interaktif. Mungkin kita sudah bosan dengan hanya foto dan video saja, dan AR semestinya dapat menjadi alternatif dengan daya tarik yang lebih kuat.
Di saat yang sama, AR juga membuka kesempatan bagi media publikasi untuk menarik perhatian ekstra dari para pengiklan, atau dengan kata lain, membuka sumber pendapatan baru. Contohnya sudah bisa kita lihat di artikel AR perdana ini, di mana di bagian terakhirnya dihuni oleh sebuah iklan (juga dalam format AR) dari Ralph Lauren selaku penyedia pakaian resmi tim AS di event tersebut.
Sumber: Next Reality dan Business Wire.