Esports Ecosystem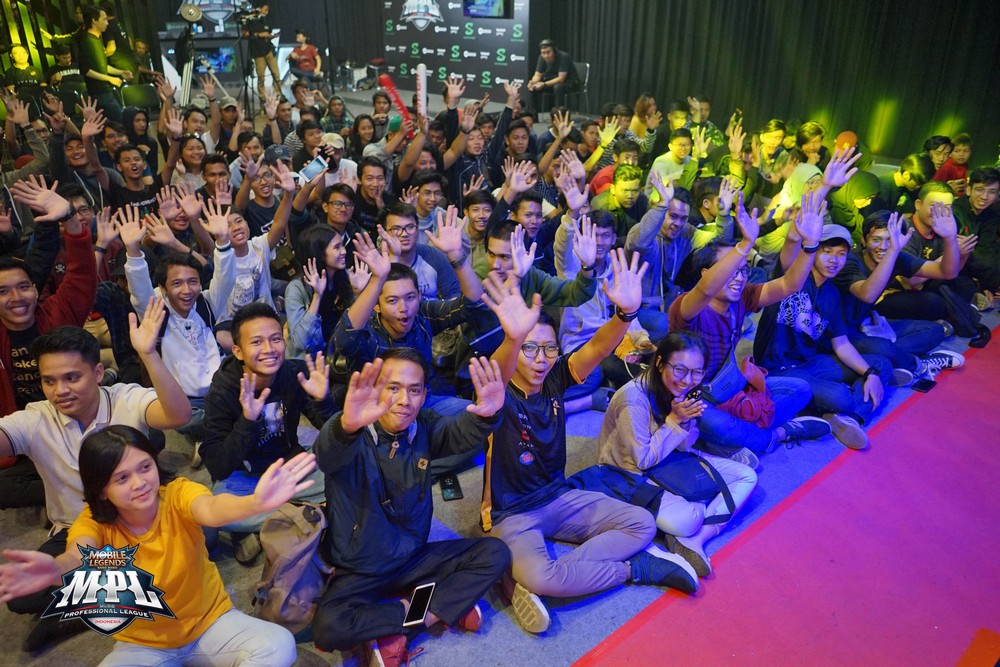 MPL Invitational berhasil menjadi turnamen esports terpopuler bulan Juni menurut rangkuman dari penyedia statistik jumlah penonton esports, Esports Charts.
Selama masa pandemi, satu yang tidak bisa dipungkiri adalah meningkatnya kebutuhan masyarakat akan konten hiburan. Ini terjadi karena kebanyakan masyarakat harus tetap berada di rumah sambil menerapkan perilaku Social Distancing. Maka dari itu, seperti dilaporkan IDC, jumlah penonton turnamen esports juga jadi meningkat 2 kali lipat selama situasi pandemi COVID-19 terjadi.
Peningkatan ini ternyata juga berdampak kepada salah satu kompetisi yang besar di skena lokal, Mobile Legends. Peningkatannya cukup drastis, bahkan sampai menyalip liga League of Legends kasta satu dunia, LCK. Data ini dirangkum oleh Esports Charts, yang berisikan turnamen paling populer di bulan Juni 2020.
Dari data yang dikumpulkan ditemukan bahwa MPL Invitational 4 Nation Cupbertengger di peringkat 1, dengan jumlah penonton terbanyak di saat bersamaan (Peak Viewers) sebanyak 705.508 orang. Sementara yang berada di peringkat 2 adalah LCK Summer, dengan Peak Viewers sebanyak 672.362 orang.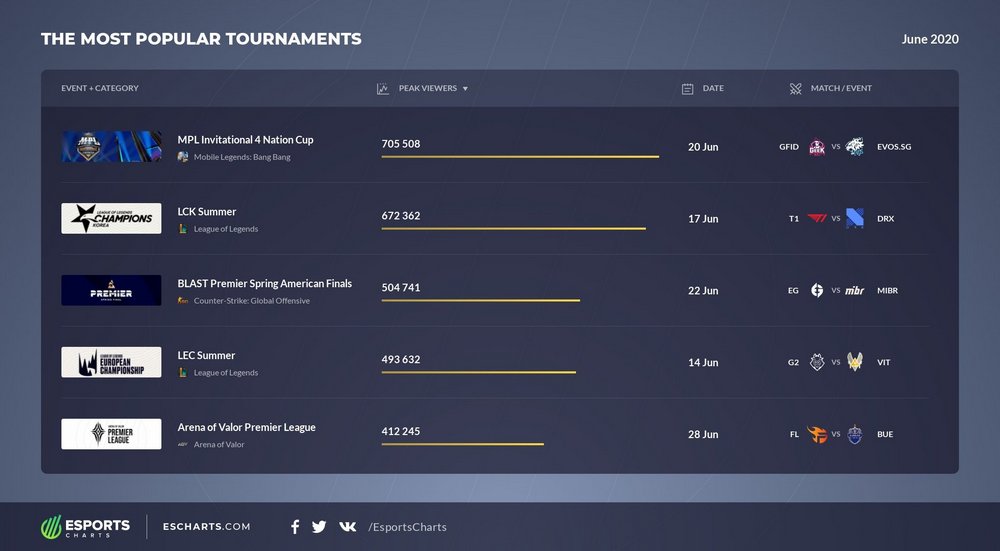 Ini menjadi menarik, karena pada satu sisi penonton MPL Invitational sendiri didominasi oleh penonton lokal Indonesia, sementara LCK disajikan untuk khalayak global dengan tayangan berbahasa Inggris. Lalu jika dibandingkan dari sisi fase pertandingan, LCK bahkan bisa dibilang punya posisi yang lebih penting.
Jumlah penonton terbanyak LCK Summer bulan Juni diambil dari pertandingan pembuka pada tanggal 17 Juni 2020, antara T1 melawan DRX. Sementara jumlah penonton terbanyak MPL Invitational malah datang dari pertandingan yang terbilang biasa saja. Yaitu pertandingan pada Week 1 Day 2 di tanggal 20 Juni 2020, yang mempertemukan antara EVOS.SG dengan GeekFam ID.
Potensi penonton esports Mobile Legends Indonesia juga sebenarnya bisa lebih besar lagi, karena El Clasico RRQ vs EVOS pada Playoff Day 1 berhasil menyentuh angka 1.032.379 orang penonton. Namun berhubung pertandingan tersebut berlangsung di bulan Juli, maka datanya tidak dimasukkan ke dalam rangkuman bulan Juni ini.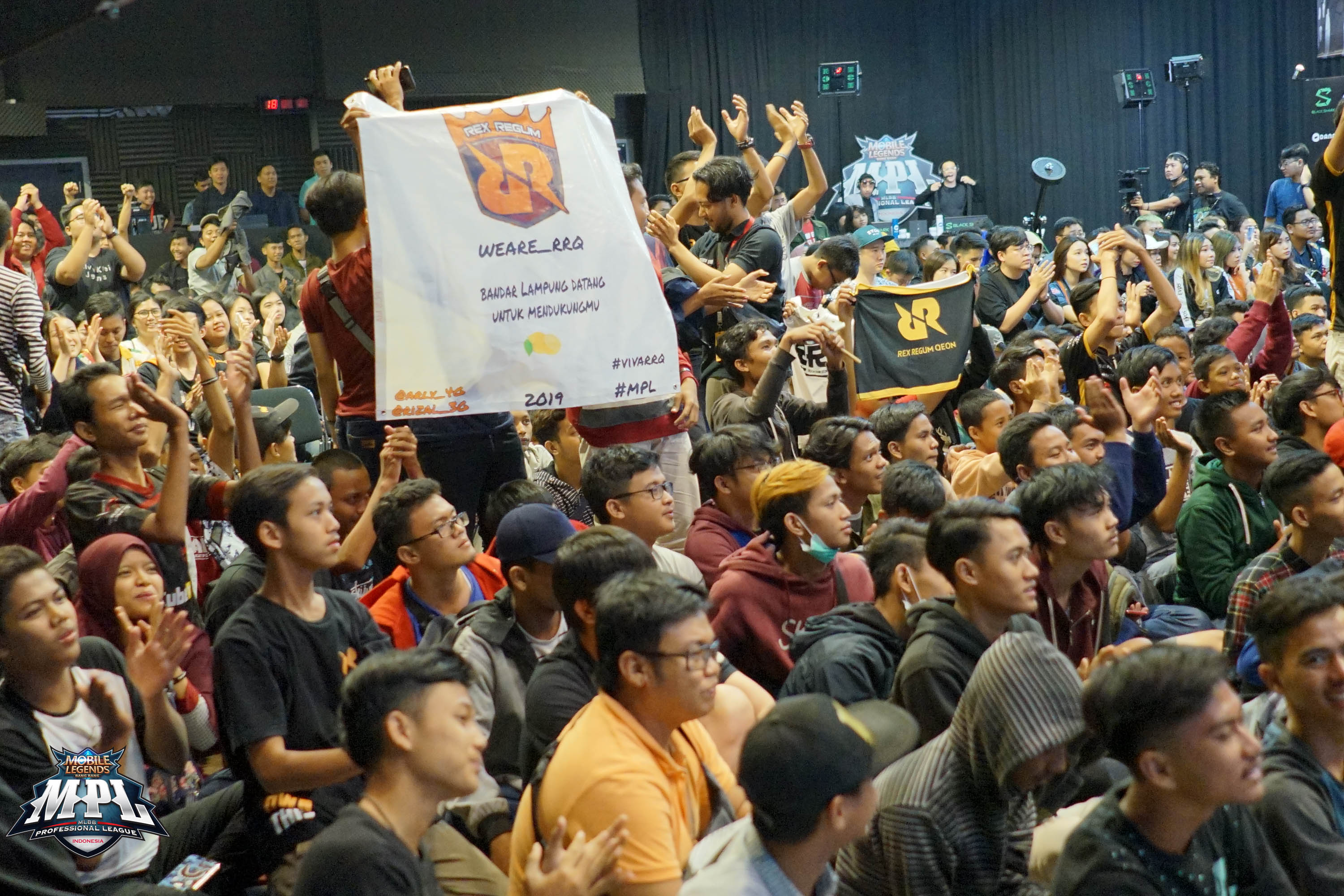 Selain dua turnamen tersebut berlanjut di peringkat 3 ada BLAST Premier Spring American Finals dengan Peak Viewers sebanyak 504.741 orang, LEC Summer dengan Peak Viewers sebanyak 493.632 orang, dan Arena of Valor Premier League dengan Peak Viewers sebanyak 412.245 orang.
Menariknya data bulan Juni ini menunjukkan bagaimana persaingan antara esports mobile game memiliki jumlah penonton turnamen yang begitu bersaing, bahkan dengan esports game PC kasta satu seperti League of Legends dan CS:GO.
Melihat ini, apakah esports game mobile benar-benar akan menjadi tren berikutnya dan melibas esports game PC? Atau keduanya akan berdiri bersandingan, dengan pasar mereka masing masing?