Esports Ecosystem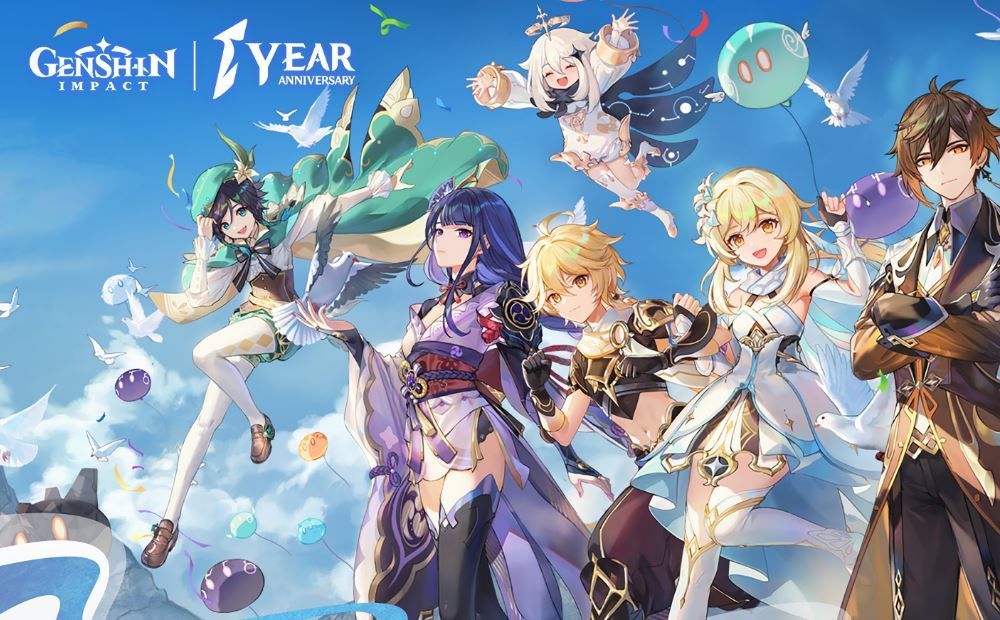 Tindakan ini sebagai tindakan lanjutan memerangi para leaker yang tidak bertanggung jawab.
Peperangan Genshin Impact melawan leaker memasuki babak baru. miHoYo, selaku developer Genshin Impact, baru saja menggugat Bilibili, sebuah platform video sharing di Tiongkok. Gugatan ini dilakukan demi mencari identitas 11 leaker berbeda. Sidang akan dilakukan pada 17 September mendatang.
Sekadar informasi, kedua perusahaan besar ini tidak memiliki masalah satu sama lain. Keduanya sering berkolaborasi dan memiliki hubungan yang baik. Gugatan ini merupakan bentuk kerjasama miHoYo dan Bilibili dalam memburu para leaker Genshin Impact.
Karena undang-undang privasi di Tiongkok, miHoYo tidak bisa meminta langsung data pribadi para pengguna Bilibili. Data tersebut hanya bisa dibuka melalui sebuah persidangan.Maka dari itu, metode penggugatan ini dilakukan.
Recently, we discovered the dissemination of leaked version 1.5. content. Such behavior not only disrupts our plans to develop and promote the new version, but also causes some Travelers to have misconceptions about the content of the new version.

— Genshin Impact (@GenshinImpact) March 17, 2021
Pada beberapa bulan lalu, Genshin Impact memang gencar membabat habis para leaker. Mereka bahkan sempat menyatakan bahwa tindakan pembocoran ini sangat menggangu rencana dan proses pengembangan game dan promosi versi baru. Hal tersebut juga bisa mengakibatkan kesalahpahaman pemain terhadap isi dari sebuah versi baru.
Para leaker yang dimaksud adalah orang-orang yang memiliki akses pada tahap beta testing. Mereka menyebarluaskan informasi tersebut melalui media sosial, salah satunya adalah melalui Bilibili, setelah mendapatkan informasi saat melakukan testing.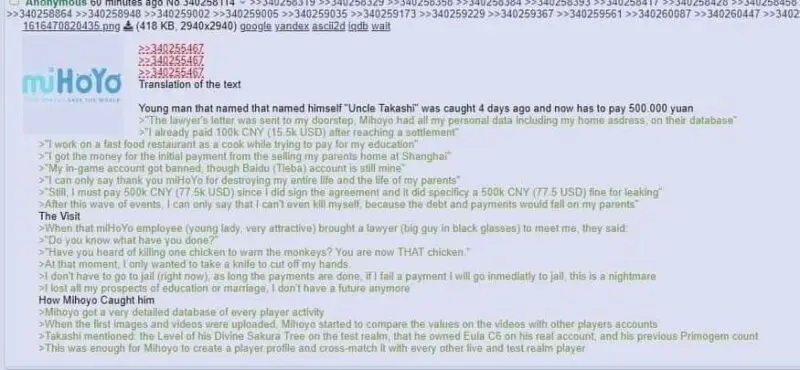 Pada bulan Juni lalu, salah satu leaker asal Tiongkok, yang dikenal dengan alias "Uncle Takashi", pernah digugat langsung oleh miHoYo karena membocorkan konten Genshin Impact. Ia dikenakan denda sebesar RMB500 ribu atau sekitar Rp1,1 miliar.
Leaker tersebut mengaku, bahwa ia mendapatkan surat gugatan langsung dari pengacara miHoYo melalui pos. Ia terpaksa menjual rumahnya, demi membayar denda tersebut. Pada akhirnya, miHoYo berbaik hati dengan memotong dendanya, sehingga leaker tersebut hanya diwajibkan untuk membayar RMB100 ribu saja.
Pada saat itu, miHoYo berhasil mencocokkan gambar yang tersebar dan mencocokkannya dengan data yang mereka miliki. Karena telah memegang identitas asli semua tester-nya, maka dengan mudahnya mereka menemukan leaker tersebut.
Genshin Impact tersedia secara gratis untuk PlayStation 4, PlayStation 5, Android, iOS, dan PC. Sedangkan versi Switch-nya sedang dalam tahap pengembangan.
From Our Network