Gaming News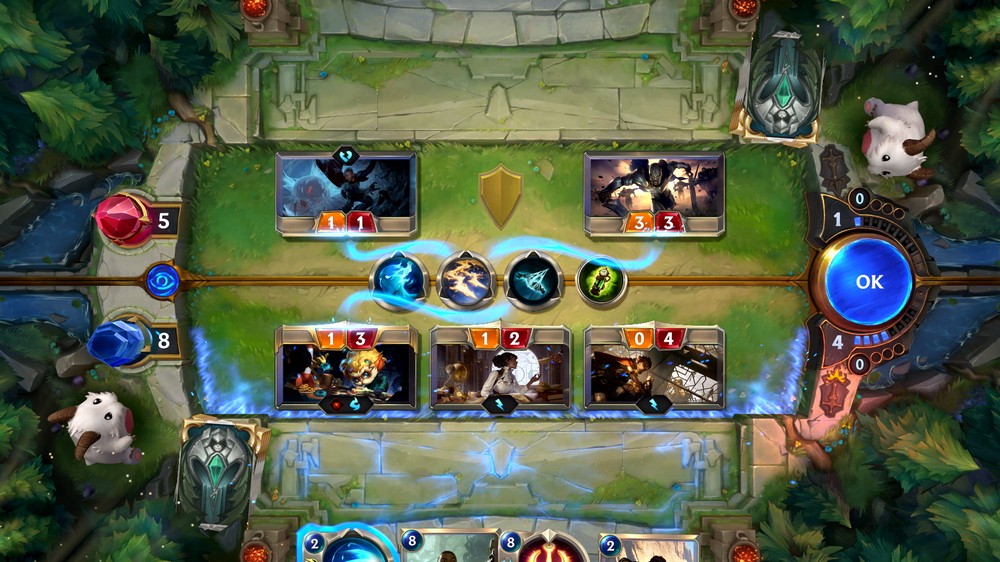 Legends of Runeterra resmi rilis untuk Mobile dan PC. Berbarengan dengan ini, ekspansi Rising Tides menghadirkan region Bilgewater ke dalam game.
Pada ulang tahun ke-10, Riot Games mengembangkan sayap, tidak hanya mengembangkan League of Legends saja. Lewat sebuah acara spesial, Riot mengumumkan semua proyek game yang mereka kembangkan, mulai cari League of Legends: Wild Rift, Teamfight Tactics versi mobile, proyek game fighting, game FPS Valorant, dan card game Legends of Runeterra.
Hari ini, kurang lebih tujuh bulan setelah pengumuman yang dilakukan, Riot Games akhirnya merilis salah satu dari daftar game terbaru yang sedang mereka kembangkan. Dia adalah Legends of Runeterra, collectible card game (CCG) besutan Riot Games.
Bersamaan dengan perilisan ini, Riot Games juga menghadirkan ekspansi pertama yang diberi nama Rising Tides. Ekspansi ini menambahkan region baru ke dalam permainan, Bilgewater, region yang menjadi rumah bagi Champion seperti Graves, Gangplank, Illaoi dan lain sebagainya.
Bilgewater merupakan wilayah kekuasaan sekelompok bajak laut yang tidak pernah melewatkan kesempatan untuk melakukan penjarahan dan monster di kedalaman yang suka melahap kapal tanpa peringatan. Pada Runeterra, masing-masing wilayah atau region punya ciri khas masing-masing. Region Demacia contohnya, dijuluki Magical Might, punya ciri khas berupa banyaknya kartu magic untuk membuat pasukan jadi lebih kuat.
Bilgewater punya julukan Risk and Reward. Seperti nilai hidup para bajak laut, Anda harus rela mengambil resiko besar untuk mendapatkan yang Anda inginkan. Rising Tides hadir dengan lebih dari 120 kartu dan 11 Champion dari semesta League of Legends, termasuk Miss Fortune, Fizz, dan Gangplank. Set kartu Rising Tides juga memperkenalkan enam mekanisme kartu baru, memberi opsi gameplay yang mendalam dan menarik untuk para pemain.
"Kami sangat senang dapat meluncurkan Legends of Runeterra secara resmi di seluruh dunia," ujar Executive Producer Jeff Jew. "Komitmen kami tetap kuat terhadap gameplay interaktif yang strategis, pembuatan deck yang kaya, serta momen kemenangan yang luar biasa, dan inilah saat yang tepat untuk masuk dan menjelajahi segala yang ada di Runeterra. Sampai bertemu di dalam game!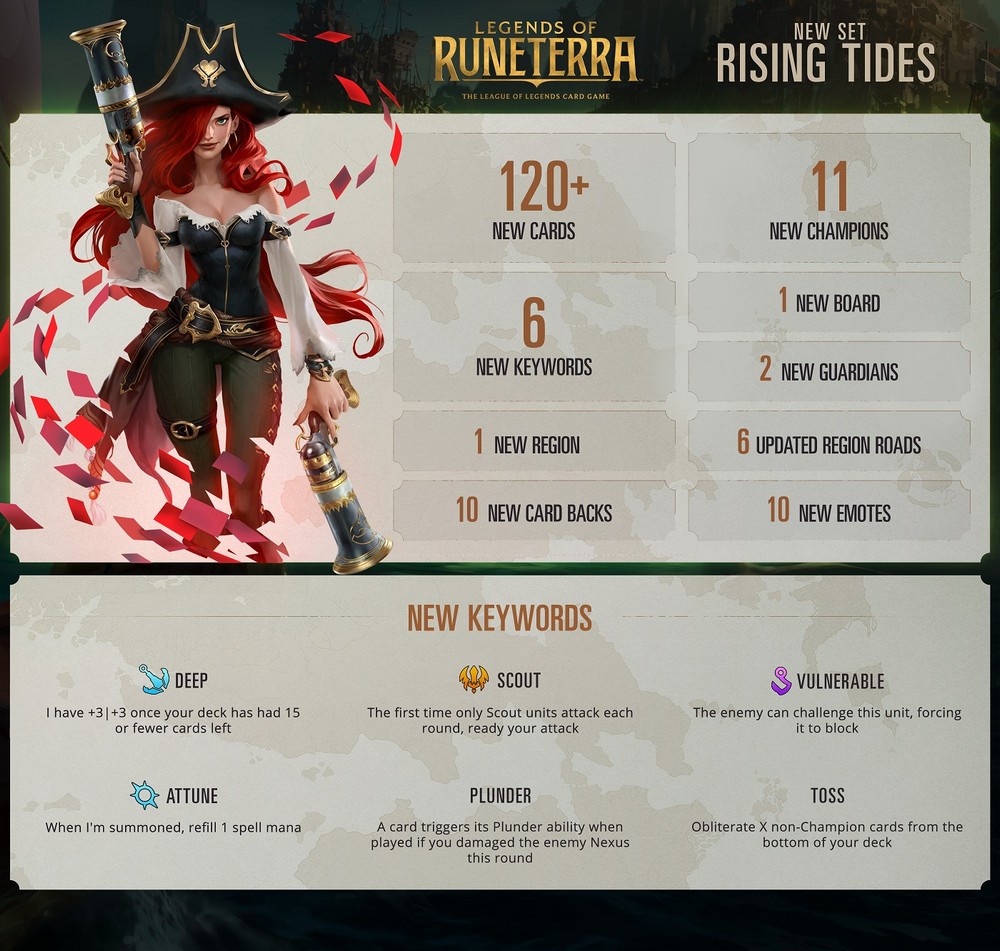 Sebelumnya Riot sempat berbagi pandangannya soal rencana dalam pengembangan komunitas Runeterra di Indonesia. Diwakili Jennifer Poulson selaku Head of Publishing and Product for Southeast Asia, Riot Games mengatakan bahwa komunitas tetap menjadi yang utama, namun untuk sementara waktu mereka hanya menyokong komunitas online terlebih dahulu.
Legends of Runeterra sudah dapat diunduh untuk mobile (Android dan iOS) dan untuk PC. Jika Anda masih penasaran dengan game yang satu ini, Anda dapat mengunjungi laman resmi Legends of Runeterra SEA.