Esports Ecosystem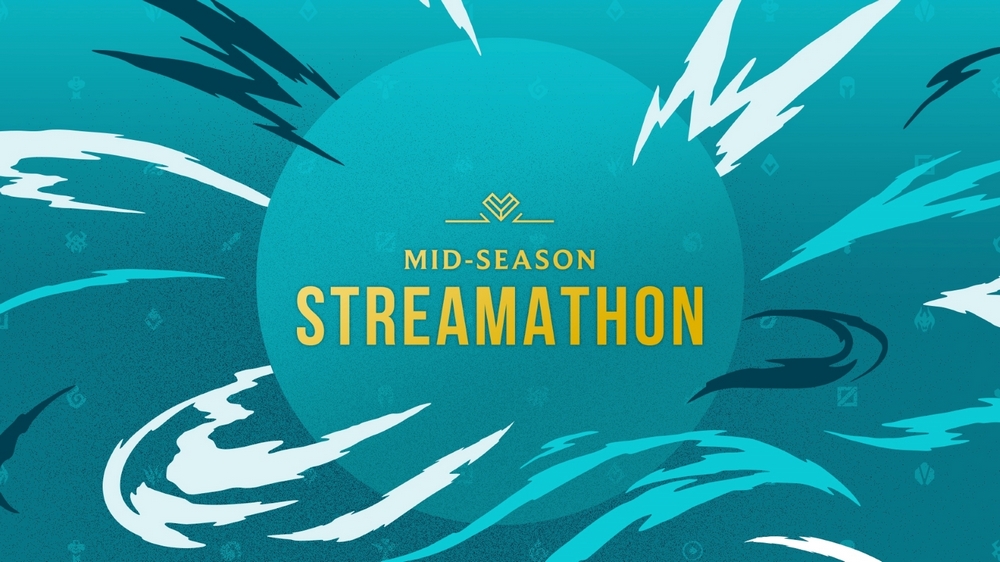 League of Legends Mid-Season Streamathon akan diselenggarakan mulai 27 Mei 2020 pukul 07:00 WIB pagi hingga 31 Mei 2020 pukul 11:00 WIB siang.
Memasuki pertengahan tahun, penggemar esports League of Legends biasanya sudah gegap gempita dengan kehadiran kompetisi internasional paruh-tahun, Mid-Season Invitational. Namun demikian, pandemi COVID-19 mengubah segalanya. Walau LoL Worlds 2020 dikabarkan akan tetap berjalan pada Oktober 2020 mendatang, namun Mid-Season Invitational 2020 yang seharusnya diadakan bulan Juli 2020 harus tetap dibatalkan.
Namun, Anda penggemar esports League of Legends tak usah khawatir, karena sebagai gantinya Riot menyiapkan sajian Mid-Season Streamathon untuk mengisi kekosongan. Seperti namanya, Mid-Season Streamathon menampilkan tayangan League of Legends selama 48 jam dengan jadwal non-stop.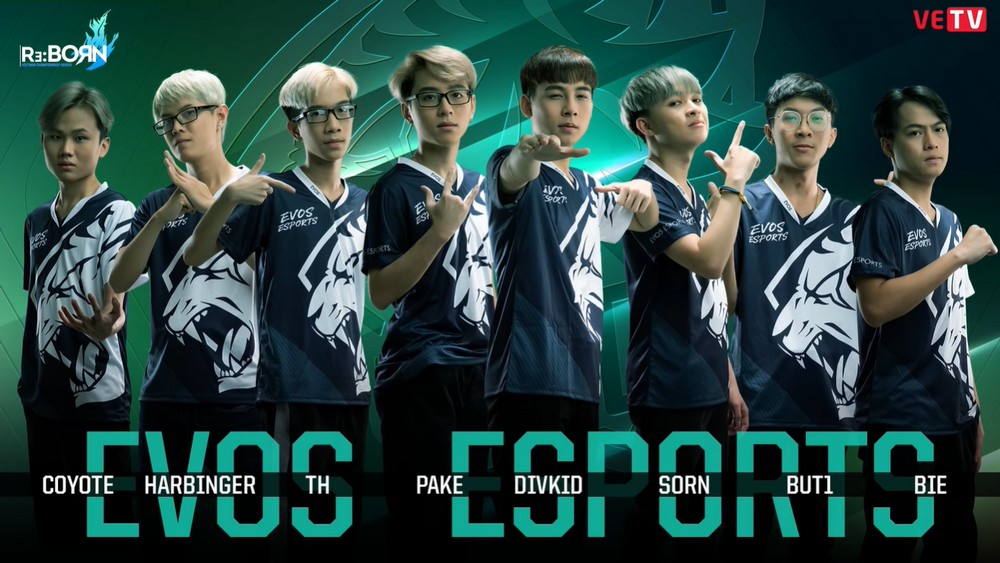 Selama jadwal tersebut, Anda bisa menikmati berbagai macam tayangan pertandingan League of Legends dari berbagai regional, termasuk sajian rivalitas dua regional terpanas di League of Legends antara LPL vs LCK.
Tidak hanya itu saja, bagi penikmat skena kompetitif League of Legends Asia Tenggara, Mid-Season Streamathon juga menyajikan pertandingan antara dua liga besar di wilayah Asia Pasific, yaitu pertandingan antara liga PCS (SEA-APAC) melawan liga VCS (Vietnam). Liga PCS diwakili oleh Talon Esports asal Hong Kong dan Machi Esports asal Taiwan, sementara liga VCS akan diwakili oleh EVOS Esports dan juga Team Flash.
Mid-Season Streamathon diselenggarakan mulai tanggal 27 hingga 31 Mei 2020, berikut jadwalnya.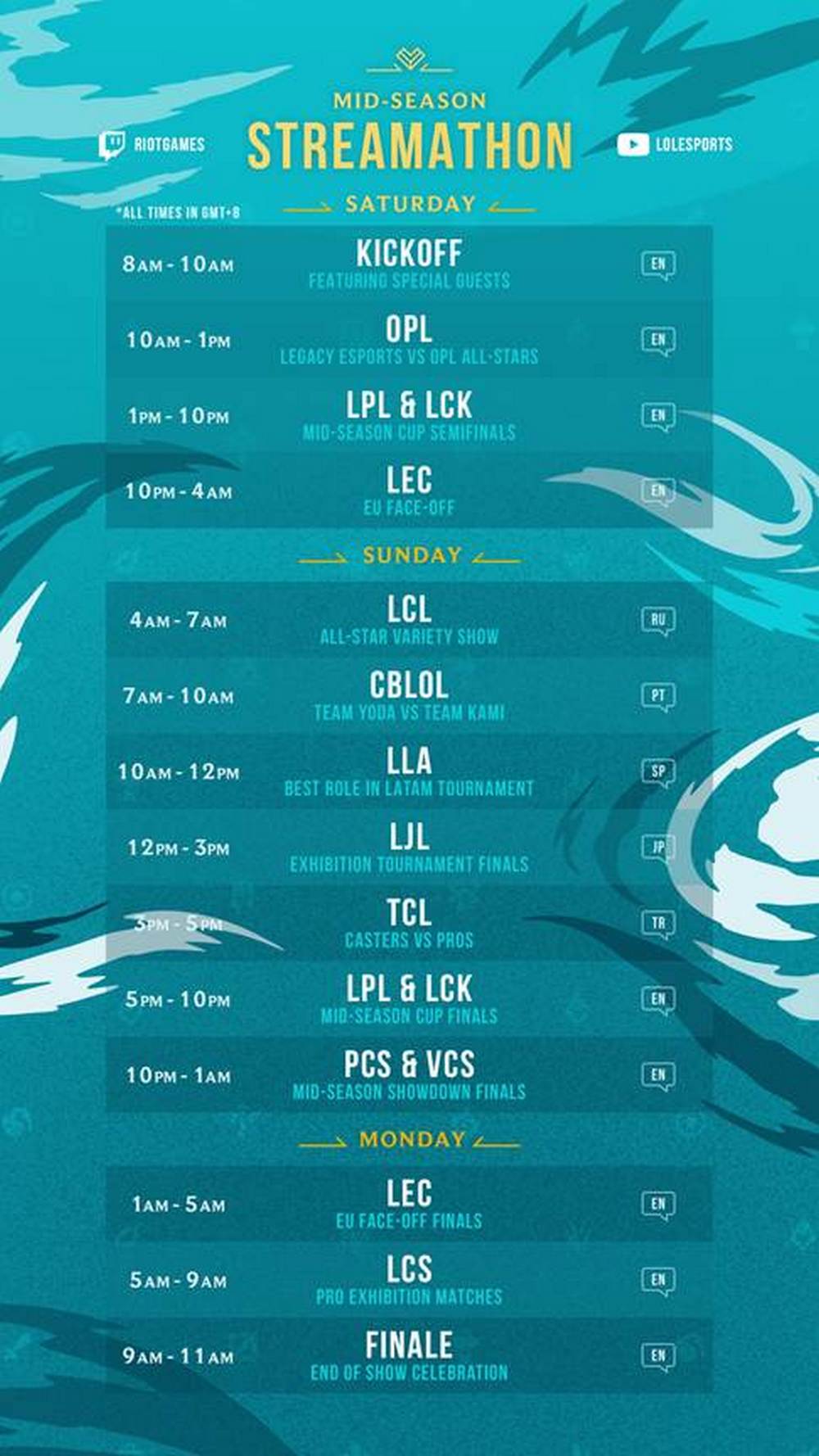 Gelaran Mid-Season Streamathon juga akan menjadi ajang galang dana untuk meringankan beban perjuangan melawan wabah pandemi COVID-19. Para penggemar bisa turut berpartisipasi, yang mana donasi tersebut nantinya akan didistribusikan oleh Riot Games Social Impact Fund kepada beberapa organisasi yaitu ImpactAssets COVID Response Fund dan GlobalGiving Coronavirus Relief Fund. Nantinya dana tersebut akan digunakan untuk membantu para pekerja medis yang bertarung di lini depan melawan pandemi yang sudah menjangkiti hampir 5 juta orang di seluruh dunia.
Ini bukan kali pertama Riot Games turut berpartisipasi dalam meringankan beban perjuangan melawan pandemi COVID-19. Sebelumnya, Riot Games juga sempat menyumbangkan 1,5 juta dolar AS kepada pemerintah kota Los Angeles untuk membantu meringankan beban perjuangan melawan pandemi COVID-19.
Semua pertandingan Mid-Season Streamathon nantinya dapat Anda saksikan pada laman resmi esports League of Legends yaitu watch.lolesports.com, mulai 27 Mei 2020 pukul 07:00 WIB hingga 31 Mei 2020 pukul 11:00 WIB.
Sudah siap untuk menyaksikan aksi permainan League of Legends terbaik dari berbagai regional?
From Our Network