Esports Ecosystem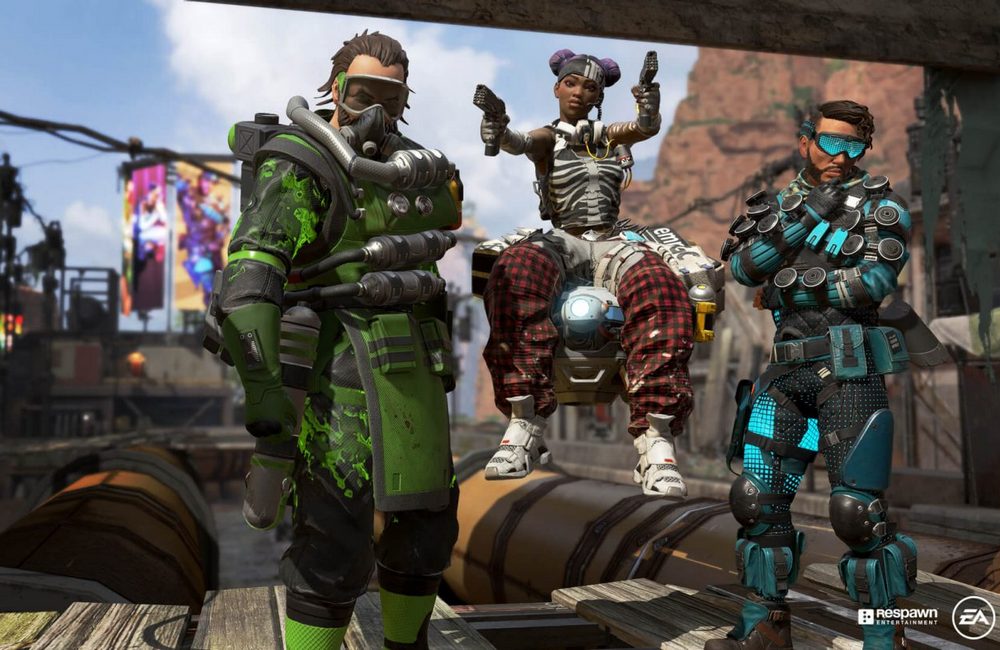 Akankah popularitas Apex Legends bisa bertahan lama dan benar-benar kalahkan Fortnite?
Belakangan game battle royale terbaru besutan EA, Apex Legends, menyebar seperti virus di internet. Game ini dengan cepatnya jadi pusat perhatian baru. Gameplay Apex Legends mungkin tidak bisa dibilang segitu istimewa, hanya saja ia menggabungkan yang terbaik dari berbagai game.
Banyak yang klaim game ini seperti gabungan dari gunplay tempo cepat nan seru dari Call of Duty, elemen battle royale dengan map super jumbo dari PUBG, elemen skill dan spesialisasi karakter dari Overwatch, dan tentunya mekanik pergerakan karakter yang bisa fleksibel ke berbagai tempat dari Titanfall.
Dalam sesaat, game ini langsung jadi fenomena. Dalam waktu 3 hari, Apex Legends berhasil mengumpulkan 10 juta pemain dalam satu waktu. Angka ini juga pernah didapatkan oleh Fortnite ataupun PUBG, namun kedua game tersebut butuh waktu lebih lama untuk mendapatkannya. PUBG butuh enam bulan, sementara Fortnite butuh dua pekan untuk bisa mencapai angka tersebut.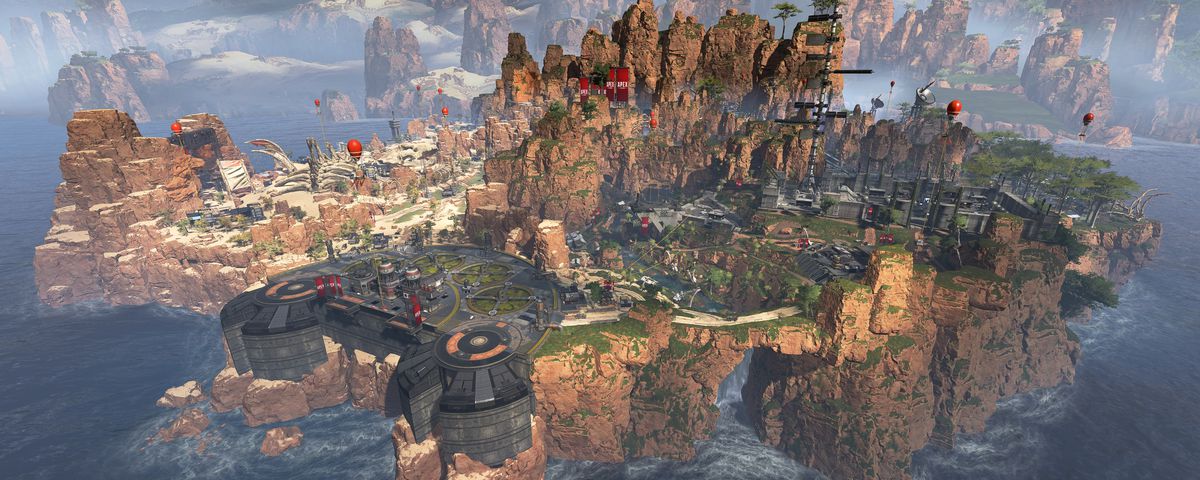 Jika kita melihat secara skeptis, kemenangan Apex Legends bisa jadi disebabkan karena genre Battle Royale yang memang sudah populer saat ini. Dahulu Fortnite dan PUBG bekerja keras memahat jalur, demi membuat genre ini bisa diterima dan dinikmati oleh banyak gamers. Jadi mungkin kesuksesan Apex bisa jadi karena EA yang start belakangan namun berhasil memanfaatkan berbagai riset mereka terhadap fenomena battle royale.
Apex Legends sampai saat ini masih jadi fenomena massa, ia berkali-kali mengalahkan Fortnite terutama dari segi jumlah penonton di platform stream game ternama Twitch. Namun pertanyaan sesungguhnya dari hal ini adalah, apakah popularitas Apex di Twitch ini sebuah kenyataan atau hanya ilusi belaka.
Sebagai latar belakang, mengutip data dari esports observer, konten Apex Legends sudah ditonton selama total 31.73  juta jam dalam satu pekan (4-10 Februari 2019). Sebagai perbandingan, pada rentang waktu yang sama konten Fortnite berada di posisi ketiga yang ditonton 13.21 juta jam, lalu ada League of Legends di posisi kedua yang ditonton selama total 20.50 jam dalam sepekan.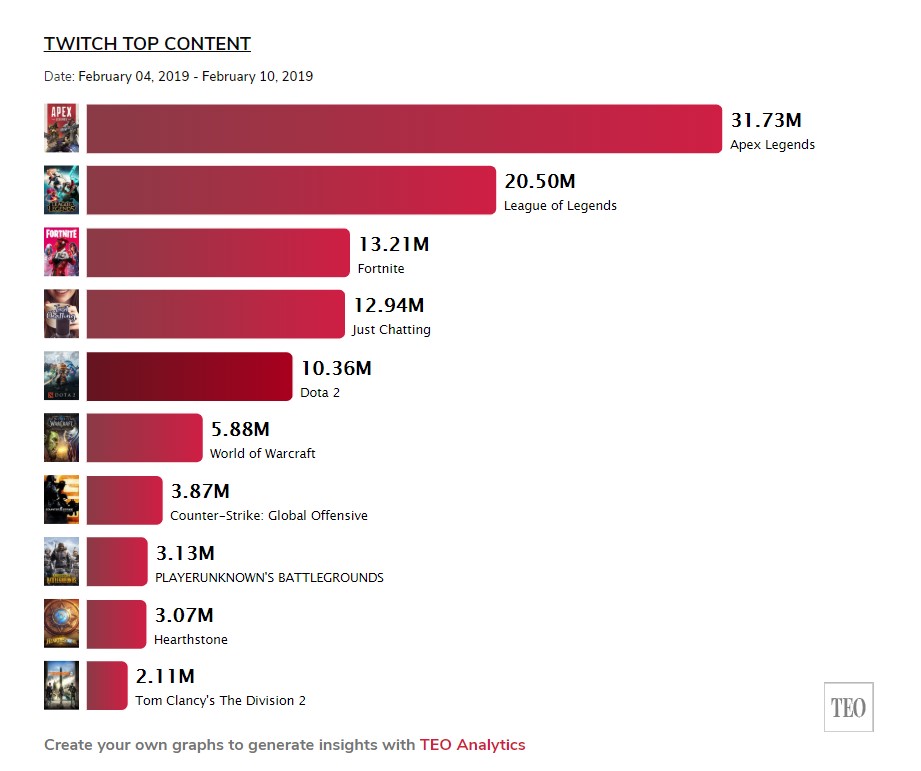 Lalu apa penyebab begitu populernya Apex Legends selain dari soal gameplay. Jawabannya ada beberapa faktor, pertama karena banyaknya tokoh berpengaruh memainkan game ini, kebosanan terhadap Fortnite, dan nama besar EA di belakang dari Apex Legends. Namun apakah popularitas ini bisa bertahan lama nantinya karena faktor faktor tersebut?
Sebelum Apex Legends, sudah ada Call of Duty Black Ops IV mode Blackout yang juga mencoba menjejakkan kaki di dunia genre battle royale. Seperti Apex Legends, game tersebut segera menjadi pusat perhatian dan sempat mengalahkan jumlah penonton Fortnite di Twitch untuk beberapa waktu namun tak berhasil bertahan lama.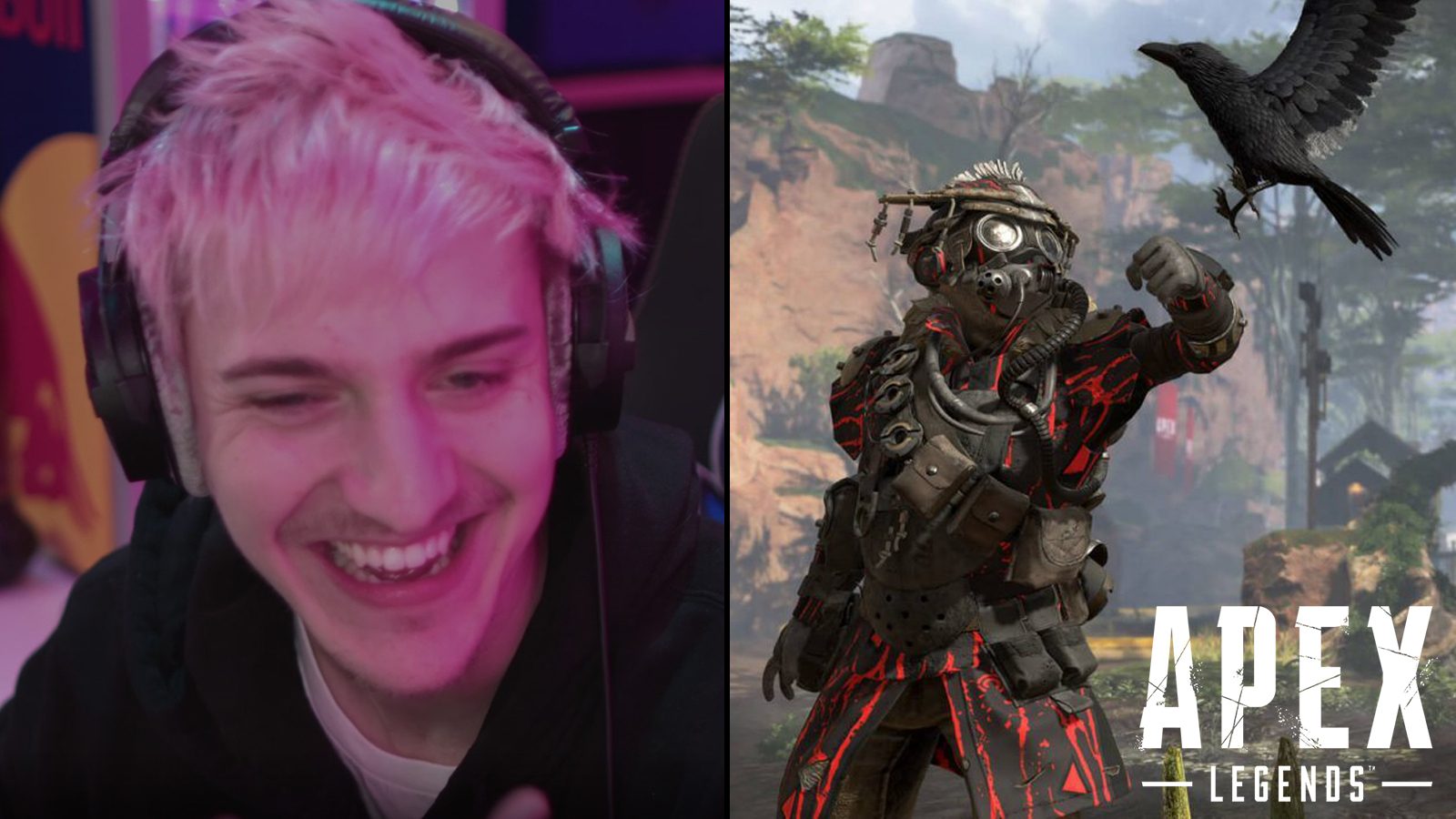 Hal ini disebabkan oleh kerjasama sang pengembang dengan streamer-streamer kondang di Twitch. Pada kasus Apex Legends, EA melakukan strategi yang kurang lebih mirip; meminta streamer kondang seperti Shroud, Dr.Disrespect, Summit1G, dan Ninja untuk mainkan Apex. Bedanya dulu para streamer tersebut membagi waktu antara streaming CoD dengan game utama mereka, sementara kini para streamer tersebut full-time bermain Apex; yang menyebabkan game ini bisa viral dengan cepat.
Apalagi ditambah dengan event Twitch Rivals, yang segera menyedot perhatian dari gamers seluruh dunia untuk melihat para streamer jago nan kondang bertemu di dalam satu kompetisi. Namun kembali lagi, apakah popularitas ini merupakan kenyataan yang bisa bertahan lama atau hanya tren sesaat?
Menurut opini saya, kini bola panas berada di tangan EA. Apex Legends berhasil memberi impresi pertama yang sangat kuat di kalangan gamers, bahkan membuat salah satu penulis Hybrid, yang bukan penggemar battle royale, jadi begadang main game ini sampai pagi. Langkah masuk akal selanjutnya dari EA adalah mempertahankan agar para pemain Apex Legends tetap terus bermain. Entah itu lewat konten-konten menarik, perubahan-perubahan dinamis, atau mungkin menyajikan tayangan esports dari game ini.