Esports Ecosystem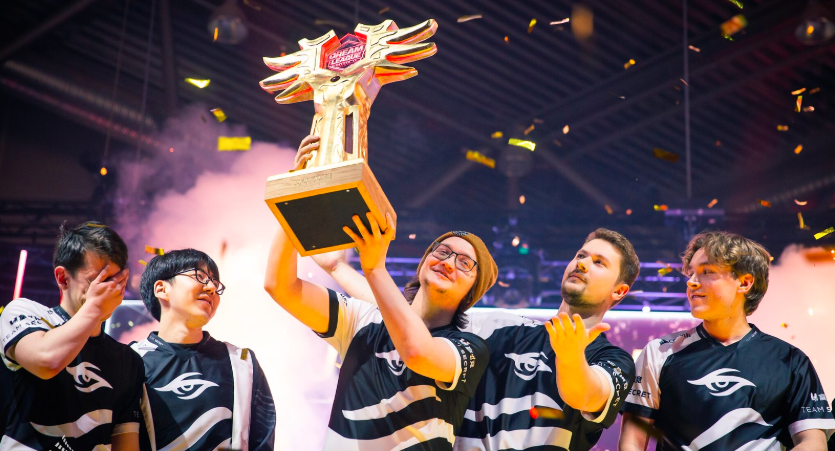 MATUMBAMAN dan Nisha ujung tombak paling berbahaya di patch kali ini
Pada hari terakhir DreamLeague Season 13: Leipzig Major, ada total delapan game penuh yang dimainkan pada babak final lower bracket (best of three) dan grand final (best of five). Tontonan yang panjang apabila Anda mengikuti live stream-nya dari awal. Team Secret keluar sebagai juara setelah menjalankan partai final yang sengit melawan Evil Geniuses.
Memang Evil Geniuses lebih tidak diuntungkan, karena mereka harus berhadapan dengan Vici Gaming di final lower bracket pada hari yang sama. Walaupun kelelahan setelah final lower bracket, Evil Geniuses memberikan perlawanan yang luar biasa ketika berhadapan dengan Team Secret.
Last pick Meepo untuk Michał "Nisha" Jankowski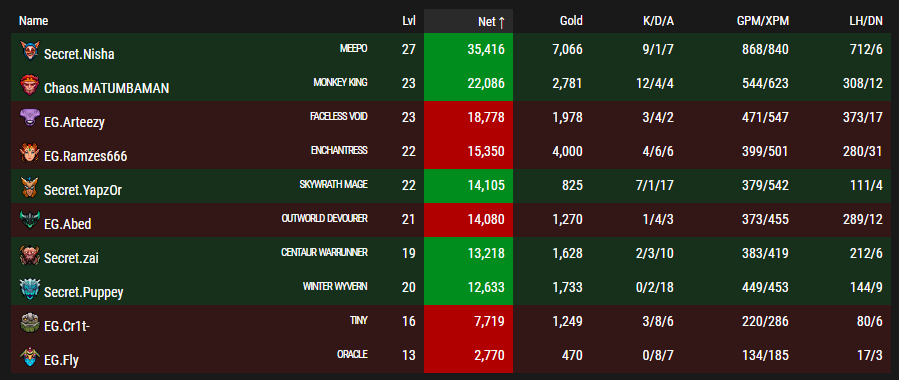 Evil Geniuses sepertinya terkejut ketika Meepo diambil oleh Team Secret pada game kedua dari partai grand final. Tidak akan ada yang mengira juga Nisha akan memainkan Meepo di mid lane. Tetapi hero-hero yang terkena ban atau diambil oleh kedua tim sangat menguntungkan bagi Meepo. Winter Wyvern yang menjadi counter paling berat dari Meepo sudah diamankan oleh Team Secret.
Disruptor dan Magnus juga sudah di-ban oleh kedua tim. Meepo berhadapan dengan Outworld Devourer di mid lane tidak mengalami masalah berarti. Walaupun Meepo kalah di mid lane, ia masih bisa berpindah ke jungle untuk melakukan farming. Berkali-kali Evil Geniuses berusaha untuk melakukan gank terhadap Meepo yang berada di jungle, tetapi upaya mereka selalu gagal. Bahkan Nisha mendapatkan Rampage di game tersebut.
Phantom Lancer tanpa counter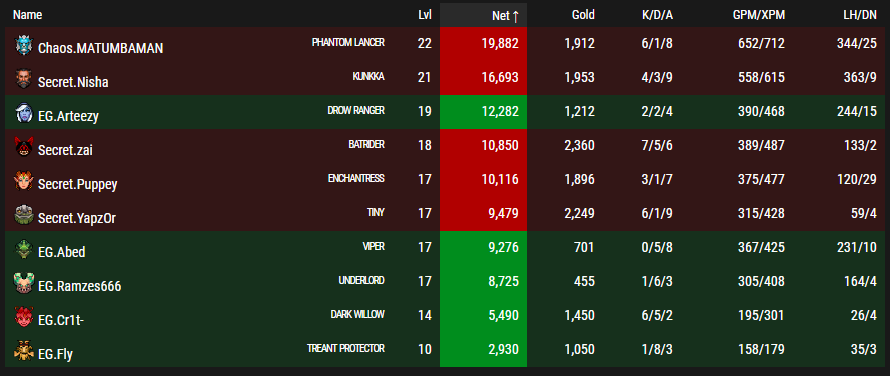 Pada game terakhir dari rangkaian best of five ini, Team Secret berhasil mengamankan Phantom Lancer pada pick kedua. Saya mengira, Phantom Lancer-nya akan mendapatkan counter yang keras karena terhitung cukup awal untuk diambil. Tetapi Evil Geniuses seperti tidak peduli terhadap Phantom Lancer. Mereka melakukan ban terhadap Ancient Apparition dan Arc Warden. Dengan begitu Kunkka diamankan oleh Team Secret pada pick ke-4. Bukan laning phase yang sulit juga bagi Phantom Lancer milik Lasse "MATUMBAMAN" Aukusti Urpalainen untuk melawan Underlord. Pasalnya, Phantom Lancer ditemani oleh Enchantress ketika laning phase. Dengan Impetus milik Enchantress, ia dapat mengusir Underlord dengan mudah.
Terus terang saya sendiri tidak mengira Evil Geniuses akan mengalahkan Vici Gaming. Melihat Evil Geniuses yang berakhir di posisi empat ketika MDL Chengdu Major, hal ini membuktikan Evil Geniuses semakin berkembang secara performa.
From Our Network