Esports Ecosystem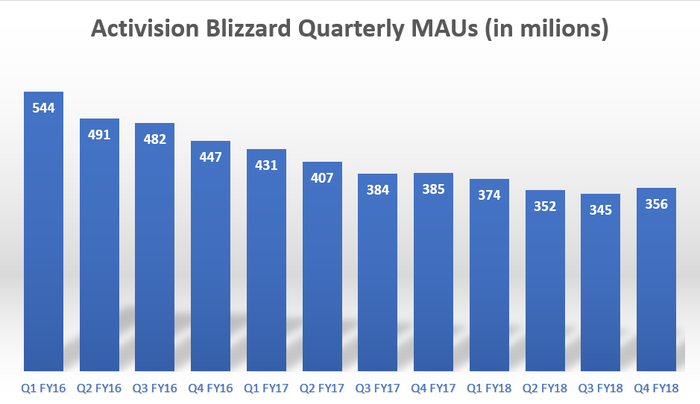 Activision Blizzard bakal terapkan sistem iklan yang King gunakan di game mereka
Activision Blizzard membeli King Digital Entertainment, developer Candy Crush, pada 2016 senilai US$5,9 miliar. Dalam waktu dua tahun, King menyumbangkan US$1,987 miliar pada total pendapatan Activision Blizzard. Angka tersebut tidak termasuk pemasukan iklan dari King.
Sebelum King diakuisisi oleh Activision Blizzard, mereka memang telah tertarik untuk menggunakan iklan untuk memonetisasi game buatan mereka, yang memang biasanya bisa dimainkan dengan gratis. Pada 2013, mereka mencoba untuk menampilkan iklan di dalam game. Namun, ketika itu, mereka memutuskan untuk menghilangkan iklan dan membiarkan pemain bermain tanpa gangguan iklan demi bisa bersaing dengan game lain. Sejak saat itu,    mereka telah mengembangkan platform iklan mereka.
Sekarang, King juga masih berusaha untuk meningkatkan pendapatan mereka dari iklan. Belakangan, mereka membuka berbagai lowongan pekerjaan terkait iklan. Ini menunjukkan betapa seriusnya mereka dalam menggarap iklan dalam game. Berbeda dengan iklan pada media tradisional seperti televisi yang terasa mengganggu, iklan pada game bisa disajikan sedemikian rupa sehingga ia justru membuat pemain bermain lebih lama.
King mencoba metode yang disebut rewarded video saat ini. Game buatan King memang biasanya bisa dimainkan gratis. Namun, terkadang, pemain harus menggunakan uang untuk membuka level selanjutnya pada game. Dengan metode rewarded video, pemain bisa menonton iklan video untuk membuka level tersebut. Ini menguntungkan kedua belah pihak. King diuntungkan karena mereka mendapatkan uang dari iklan. Pemain diuntungkan karena mereka bisa membuka level berikutnya atau mendapatkan hadiah lain dalam game dengan menonton iklan.
Potensi pendapatan King dari iklan besar. Beberapa tahun lalu, ketika pengguna aktif bulanan game-game buatan King diperkirakan mencapai lebih dari 400 juta orang, potensi pendapatan iklan King diperkirakan mencapai US$500 juta. Memang, saat ini, jumlah pengguna aktif bulanan game-game King telah menurun. Berdasarkan data yang The Motley Fool dapatkan dari Blizzard, pada 2018, pengguna aktif bulanan King mencapai 268 juta orang, turun dari 453 juta orang. Menariknya, pendapatan King pada 2018 justru naik 28 persen dari 2016. Alasannya, karena pemain yang tetap memainkan game-game buatan King justru menghabiskan uang lebih banyak di game-game tersebut. Hal ini terlihat dari fakta bahwa pendapatan per pemain yang didapatkan King naik 13 persen pada 2018.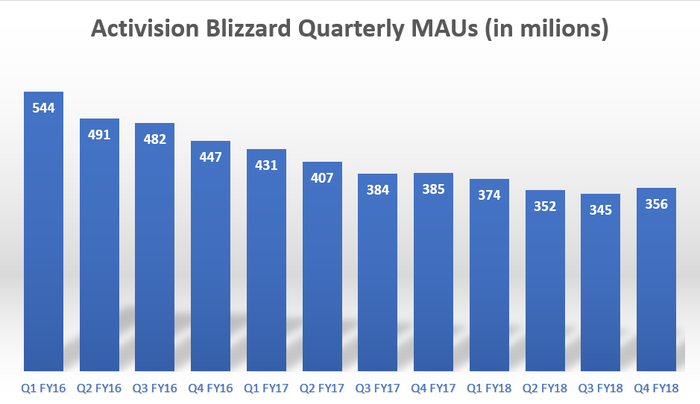 Apa yang dilakukan oleh King telah terbukti sukses. Activision Blizzard kini tertarik untuk mengimplementasikan metode serupa pada franchise game mereka yang lain. "Dengan pondasi untuk iklan yang telah ada, kami akan mengejar kesempatan baru di segmen bisnis kami yang lain, khususnya konten esports," kata CEO Activision Blizzard, Bobby Kotick dalam laporan keuangan terbaru, seperti dikutip dari The Motley Fool.
Esports memiliki potensi besar untuk monetisasi. Menurut Goldman Sachs, pada 2022, esports akan menjadi industri dengan nilai hampir US$3 miliar. Overwatch adalah salah satu game Activision Blizzard yang memiliki turnamen yang sukses. Turnamen ini didukung oleh merek ternama seperti Coca-Cola. Tahun depan, mereka juga akan memulai liga Call of Duty dengan sistem turnamen tertutup layaknya Overwatch League. Minggu lalu, dua tim esports telah membeli slot untuk dapat bertanding di liga tersebut. Sejauh ini, telah ada sembilan tim yang dipastikan akan bertanding dalam liga itu.
From Our Network