Esports Ecosystem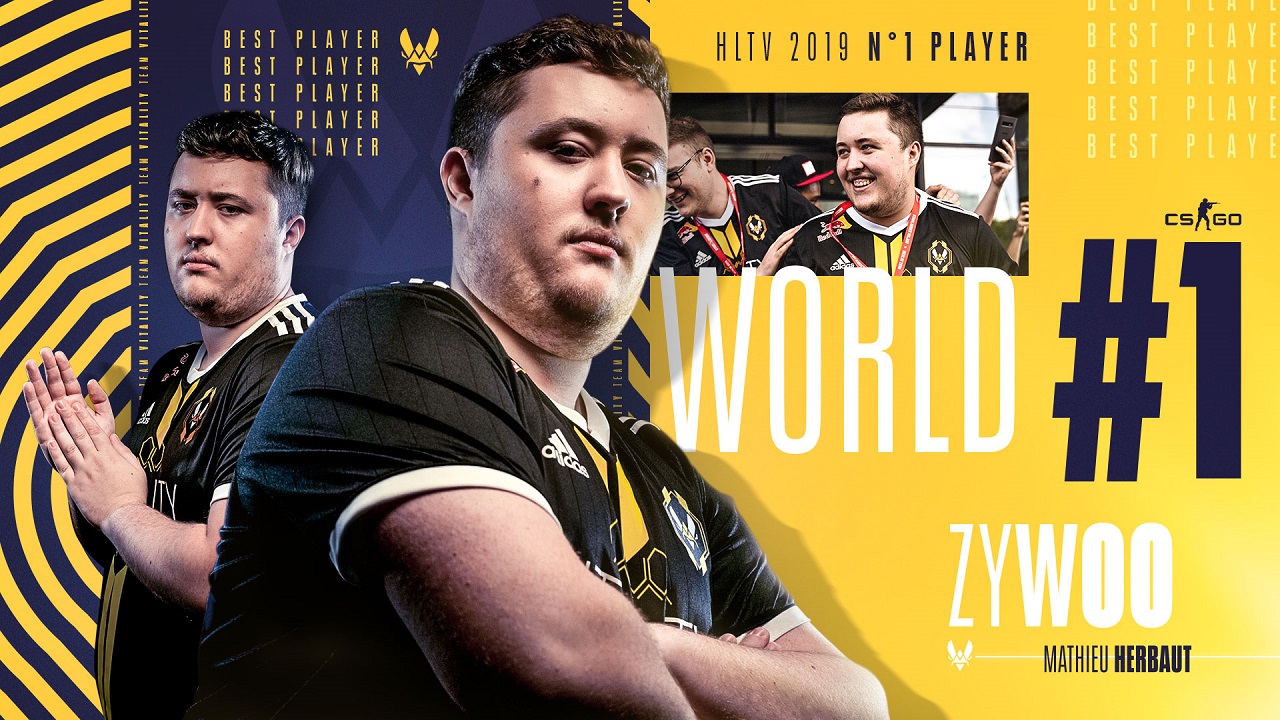 HLTV menggunakan statistik performa pemain untuk menetapkan daftar pemain terbaik
Mathiew "ZywOo" Herbaut dinobatkan sebagai pemain Counter-Strike: Global Offensive terbaik oleh HLTV, situs berita dan forum yang membahas tentang berita, turnamen, dan statistik esports. Di kalangan komunitas, topik tentang pemain yang pantas untuk mendapatkan gelar "pemain terbaik" adalah topik yang sering diperdebatkan. Namun, penghargaan dari HLTV dianggap bisa dipercaya karena mereka menggunakan statistik individual pemain.
"Saya masih muda dan ini adalah tahun pertama saya bermain di level teratas," kata ZywOo pada HLTV. "Tahun 2019 adalah tahun yang sangat baik, tapi saya rasa, ada banyak hal yang masih harus saya pelajari. Saya merasa, saya masih bisa menjadi lebih baik lagi, mengingat dukungan besar yang Vitality berikan untuk tim dan saya sendiri."
ZywOo masih berumur 19 tahun, menjadikannya sebagai pemain termuda yang pernah mendapatkan gelar pemain terbaik. Namun, namanya memang sudah dikenal sebelum dia menjadi pemain profesional. Salah satunya karena performanya yang sangat baik ketika dia diundang untuk ikut serta dalam FACEIT Pro League pada 2017. Dia baru menjadi pemain profesional pada Oktober 2018 saat dia diajak untuk bergabung dengan Team Vitality, menurut laporan Dot Esports.
"Saya dihubungi oleh beberapa tim internasional, seperti Misfits dan HellRaisers, tapi kesempatan terbesar bagi saya adalah Vitality. Saya langsung menerima tawaran mereka," ujar ZywOo.
.@zywoo takes the No.1 spot in our ranking of the top 20 players of 2019, after a remarkable year that is consigned to the history bookshttps://t.co/gyv3p6dtUB

Powered by @Xtrfy and @Loot_Betpic.twitter.com/NfLg0BzaPK

— HLTV.org (@HLTVorg) January 20, 2020
Sepanjang tahun 2019, ZywOo membantu Vitality untuk memenangkan tiga turnamen, salah satunya ECS (Esports Championship Series). Sepanjang tahun, dia juga mendapatkan lima penghargaan MVP dari HLTV, termasuk dalam turnamen ESL One Cologne dan DreamHack Masters Malmö, meskipun Vitality kalah di babak final dalam dua turnamen tersebut.
"Saya tidak punya target pribadi pada 2019. Saya menemukan banyak hal baru tahun lalu, mengikuti berbagai turnamen dan berpergian… Semua itu masih sangat baru untuk saya. Satu-satunya keinginan saya adalah memperkaya pengalaman, agar saya bisa bermain dengan sempurna, dan bisa terus menjadi lebih baik," aku ZywOo.
Dalam daftar pemain terbaik HLTV, posisi kedua diisi oleh Aleksandr "s1mple" Kostyliev, yang merupakan pemain terbaik pada 2018, diikuti oleh Nicolai "device" Reedtz, yang selama tiga tahun terakhir, selalu masuk dalam daftar lima pemain terbaik. Selama ini, hanya ada dua pemain CS:GO yang berhasil mempertahankan gelar pemain terbaik dalam dua tahun berturut-turut, yaitu Christopher "GeT_RiGhT" Alesund yang menjadi MVP pada 2013 dan 2014 serta Marcelo "coldzera" David yang mendapatkan gelar pemain terbaik pada 2016 dan 2017.
Sumber header: Twitter