Esports Ecosystem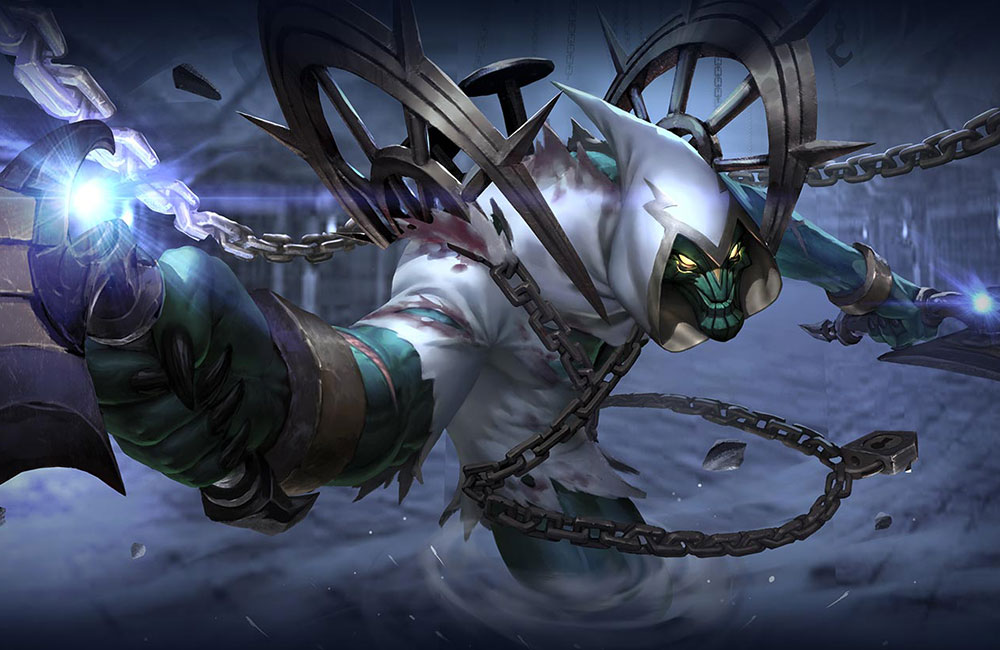 Zill harus mendapat farm yang cukup agar bisa mengoyak-ngoyak formasi musuh
Zill merupakan hero bertipe mage assassin yang mempunyai magic damage amat besar. Ia merupakan perwujudan elemen angin yang menguasai langit.
Bersenjata pedang sabit yang mematikan dan skill ultimate-nya 'tornado', ia tak hanya mampu mengerahkan badai yang berbahaya, tapi juga dapat mengubah angin menjadi bilah yang tajam yang mampu mengoyak bahkan pertahanan hero tank yang tangguh sekalipun.
Untuk memaksimalkan Zill di classic ataupun ranked match, berikut guide Zill Arena of Valor, build item Zill,  dan tips menggunakan Zill AOV.
1. Skill Pasif Zill AOV – Dustdevil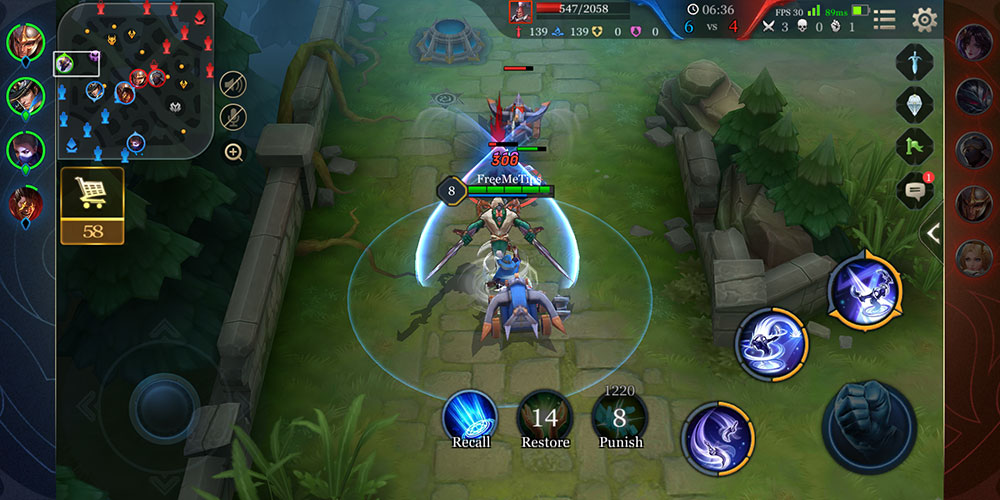 Skill Zill menempelkan marks of the wind (tanda) pada sasaran saat menimbulkan damage. Saat 3 stack terkumpul, movement speed musuh berkurang sebesar persen selama 0,25 detik. Tanda tersebut akan bertahan selama 5 detik.
Tips: Saat attack normal Zill menimbulkan damage pada sasaran yang memiliki 3 tanda, cooldown skill 2 Zill Wind Shift di-reset seketika dan musuh akan menerima tambahan 150 magic damage. Kemudian attack normal Zill menimbulkan tambahan 40 magic damage.
2. Skill 1 Zill AOV – Wind Blade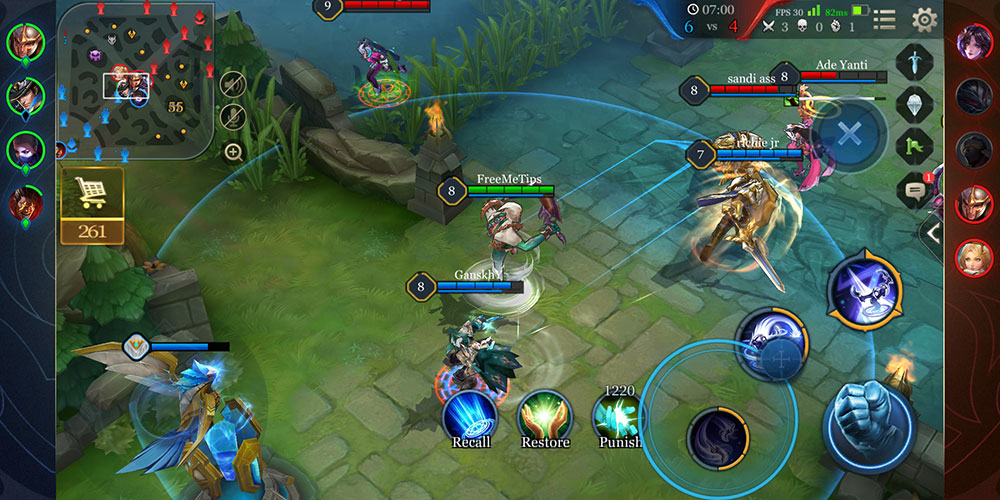 Cooldown: 8 detik
Biaya mana: 65
Zill melemparkan sabitnya ke depan, menimbulkan 200 magic damage pada semua musuh di jalurnya dan mengurangi movement speed mereka sebesar 50 persen selama 1,5 detik. Sabit tersebut lalu terbang kembali ke arah Zill dan menimbulkan 300 magic damage pada semua musuh di jalurnya.
Tips: Dengan skill ini memungkinkan Zill menyerang dalam jarak jauh, tapi pastikan bahwa dua serangan yang ditimbulkan Wind Blade tepat mengenai musuh.
3. Skill 2 Zill AOV – Wind Shift
Cooldown: 12 detik
Biaya mana: 70
Zill berpindah ke lokasi sasaran dan menimbulkan 260 magic damage pada musuh sekitar.
Tips: Zill memiliki mobilitas yang tinggi dan skill Wind Shift inilah yang membuat Zill sangat lincah. Anda bisa menggunakan skill ini untuk mempercepat proses farming dan kembali dengan cepat ke pertempuran untuk nge-gank musuh.
4. Skill Ultimate Zill AOV –  Tornado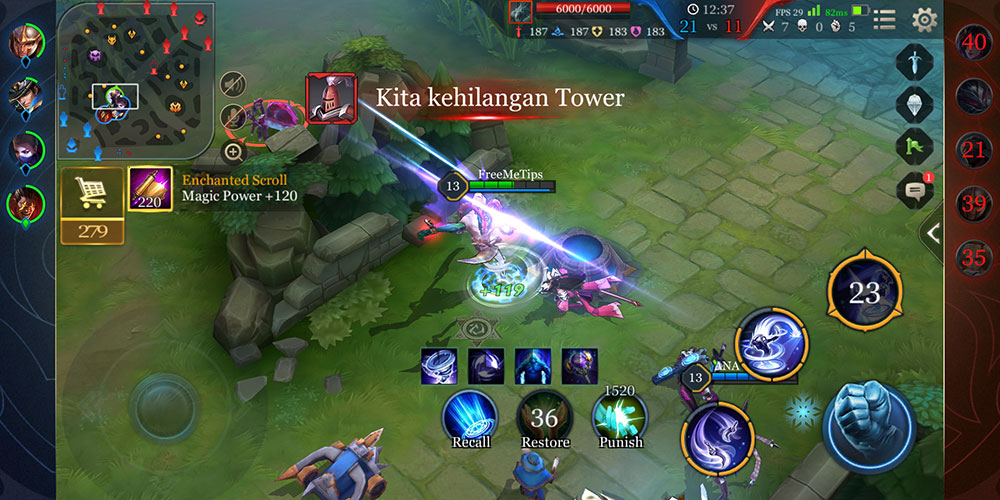 Cooldown: 50 detik
Biaya mana: 120
Zill berubah menjadi angin topan selama 1,5 detik dan menyerang musuh sekitar 5 kali, menimbulkan 300 magic damage per hit. Setelah sasaran terkena hit, hit berikutnya hanya menimbulkan 40 persen damage. Zill tak bisa ditarget atau diserang saat berada dalam bentuk angin.
Tips: Zill mampu menghindari damage skill saat menggunakan skill ultimate Tornado, jadi manfaatkan segala situasi yang menguntungkan ini. Targetkan hero dengan HP rendah, terkhusus hero tipe mage ataupun archer.
5. Arcana, Build Item, Talent Zill AOV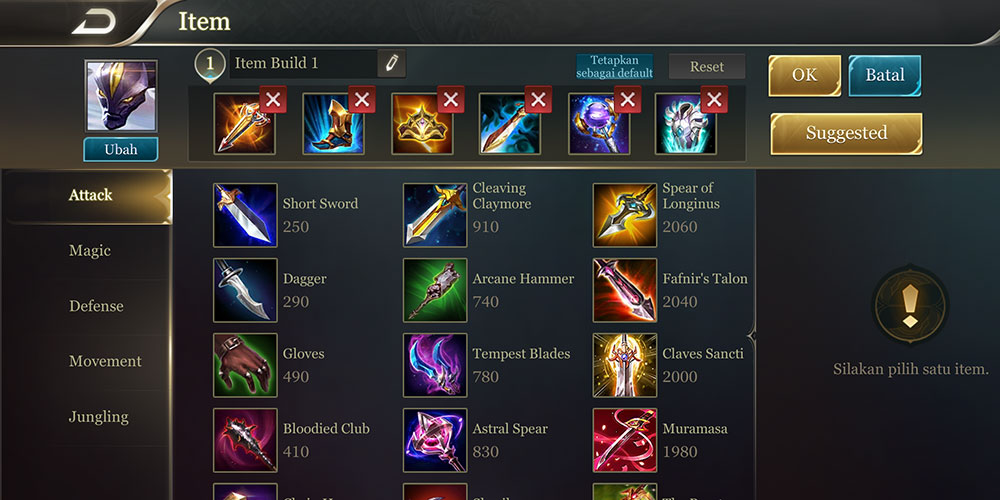 Untuk Arcana level 3 Zill bisa menggunakan Sage untuk meningkatkan magic power. Kemudian Protect untuk meningkatkan max HP, HP, dan movement speed. Serta, Stain untuk meningkatkan attack speed dan magic pierce. Berikut build item Zill AOV:
Loki's Curse (Jungling)
Gilded Greaver (Movement)
Hecate's Diadem (Magic)
Apocalypse (Magic)
Rhea's Blessing (Magic)
Ancestral Glory (Defense)
Sedangkan talent yang digunakan tentu saja Punish, untuk membantu Zill jungling dengan cepat.
6. Tips Menggunakan Zill AOV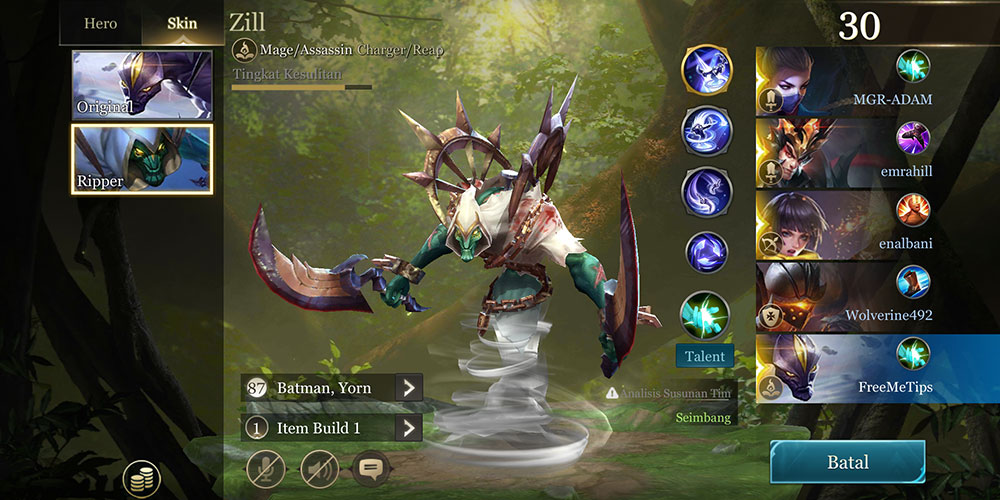 Zill memang punya magic damage yang besar Zill, serangannya sakit dan bisa menghancurkan formasi musuh seperti badai. Meski begitu, HP yang dimiliki Zill tergolong kecil. Jadi, kita harus hati-hati kapan harus masuk dan keluar saat team fight. Pastikan langsung menargetkan hero carry musuh.
Di early game, fokuslah meningkatkan level lebih awal. Kemudian cicil damage musuh dengan kombinasi skill 1, skill 2, attack normal, dan skill 2 lagi. Kemudian, saat team fight Anda bisa gunakan kombinasi skill 1, skill 2, attack normal, skill ultimate, dan attack normal lagi untuk menghabisi musuh.
From Our Network