Esports Ecosystem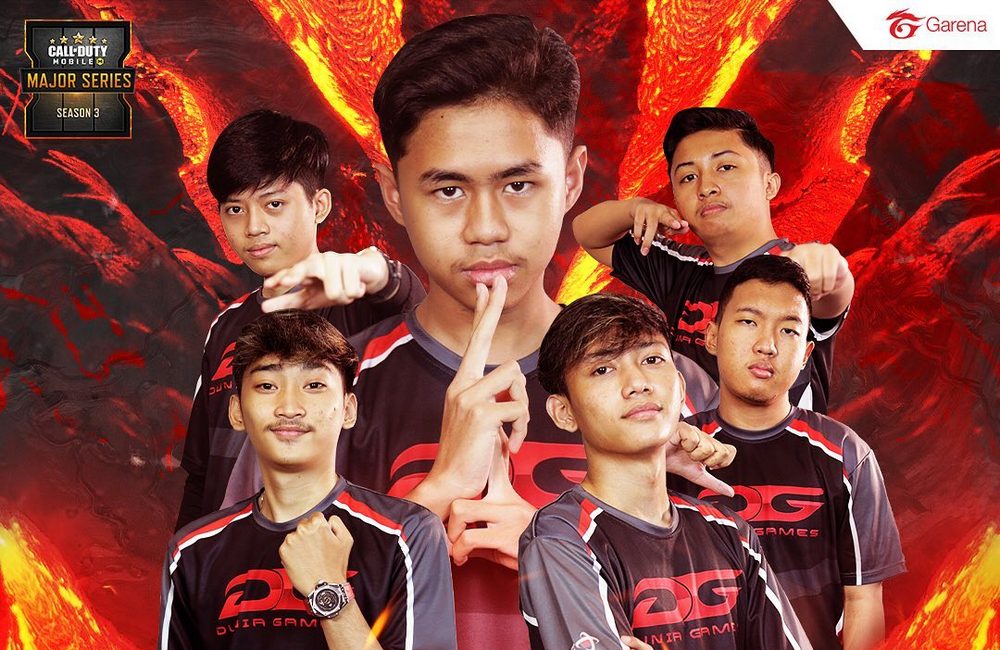 DG Esports berhasil jadi juara CODM Major Series Season 3 setelah memenangkan seri best-of-5 dengan skor 3-1 melawan Bonafide.
Tanggal 12 hingga 13 September 2020 kemarin menjadi puncak laga kompetisi Call of Duty Mobile tertinggi di Indonesia, yaitu COD Mobile Major Series Season 3. COD Major Series sendiri sudah terselenggara sejak dari bulan Juli 2020 kemarin. Turnamen dimulai dari babak kualifikasi solo, dilanjut kualifikasi tim pada 17-23 Agustus 2020, ronde eliminasi pada 26-29 Agustus 2020, dan babak Playoff Major Series Season 3 pada 31 Agustus – 3 September 2020.
Dari Juli hingga September, kualifikasi akhirnya menyaring 6 tim untuk bertanding di Major Series Season 3. Enam tim tersebut adalah 4U Team, Team NXL, Kayze, Bonafide Esports, RIMO Sadewa, dan Louvre Esports. Enam tim tersebut bertanding dengan 2 tim undangan yaitu Bigetron Duty dan DG Esports.
Bertanding dalam format bracket Double Elimination, semua tim berjuang untuk dapat lolos ke babak final dalam seri best-of 3. Hari pertama menjadi seleksi awal untuk turnamen ini, dan berhasil menumbangkan Bigetron Duty, 4U Team, dan Team NXL. Pada hari kedua, Upper Bracket menyisakan DG Esports dan Bonafide Esports. Bertanding pada map Standoff untuk Serach and Destroy, dan Nuketown untuk Hardpoint, DG Esports dengan mulus dengan skor 6-2 di game pertama, dan 150-89 di game kedua. Berkat kemenangan tersebut DG Esports mengamankan babak Grand Final.
Sementara dari babak Lower Bracket, RIMO Sadewa melesat cepat, pukul rata lawan-lawannya satu per satu. Mereka menang 2-0 lawan Louvre Esports dan Kayze, masing-masing di ronde 2 dan 3 Lower Bracket. Sampai akhirnya mereka bertemu dengan Bonafide, yang baru saja tersungkur dari Upper Bracket setelah kalah lawan DG Esports.
Pertandingan best-of 5 antara RIMO Sadewa vs Bonafide berjalan begitu sengit. Bonafide membuka kemenangan dalam pertandingan Search and Destroy di map Firing Range, lalu RIMO Sadewa membalas di pertandingan Hardpoint di map Summit. Kedua tim terus berbalas kemenangan sampai masuk game ke-5, Hardpoint di map Standoff. Pada pertandingan terakhir, RIMO Sadewa malah seperti hilang asa. RIMO Sadewa pun gugur setelah kalah telak 28-150, Bonafide menang, dan mendapat kesempatan membalas kekalahan mereka sebelumnya.
Babak Grand Final dihadapi oleh dengan percaya diri oleh DG Esports. Mereka bisa menang dua game sekaligus, Search and Destroy di map Raid dengan skor 6-2, dan Hardpoint di map Summit dengan skor 150 – 132. Namun demikian, Bonafide sempat menyusul pada pertandingan Domination di map Nuketown, menang 150-147, dan amankan game ketiga.
Game 4 kembali mempertandingkan Search and Destroy di map Summit. DG Esports membuka pertandingan dengan sangat meyakinkan, memenangkan 3 ronde sekaligus. Namun Bonafide sempat melawan dan dapat 2 ronde, sehinggai first-half selesai dengan skor 3-2.
DG Esports yang kini berperan sebagai Defender, justru bermain ekstra-agresif, yang membuat Bonafide yang merupakan Attacker jadi tak siap. Bonafide jadi cuma mencuri satu skor saja, sementara DG Esports berhasil memporak-porandakan keadaan. Ronde demi ronde dimenangkan, sampai akhirnya DG Esports memenangkan game 4 dengan skor 6-3, dan menjadi juara COD Mobile Major Series Season 3.
Catatan viewership Grand Final CODM Major Series Season 3
Hari pertandingan Call of Duty Mobile series sendiri bertabrakan dengan dengan dua turnamen besar lainnya, yaitu PMPL ID 2020 Season 2, dan MPL ID 2020 Season 6. Mungkin karena itu, jumlah tayangan dilihat CODM Major Series Season 3 jadi kalah saing cukup jauh. Apalagi juga mengingat, dua liga tersebut sudah tayang secara konsisten selama beberapa tahun belakangan. Dengan ini,berikut catatan viewership Grand Final COD Mobile Major Series Season 3.
Grand Final Day 1 (12 September 2020)
Total durasi siaran – 5 jam 42 menit 24 detik
Total tayangan dilihat – 95.711 views
Grand Final Day 2 (13 September 2020) 
Total durasi siaran – 4 jam 30 menit 45 detik
Total tayangan dilihat – 93.562 views
*data diambil dari channel YouTube Garena Call of Duty Mobile indonesia pada tanggal 14 September 2020
—
Selamat untuk DG Esports atas kemenangannya di Call of Duty Mobile Major Series Season 3. Dapatkah tim tersebut mempertahankan keunggulannya di Major Series Season depan?
From Our Network