Game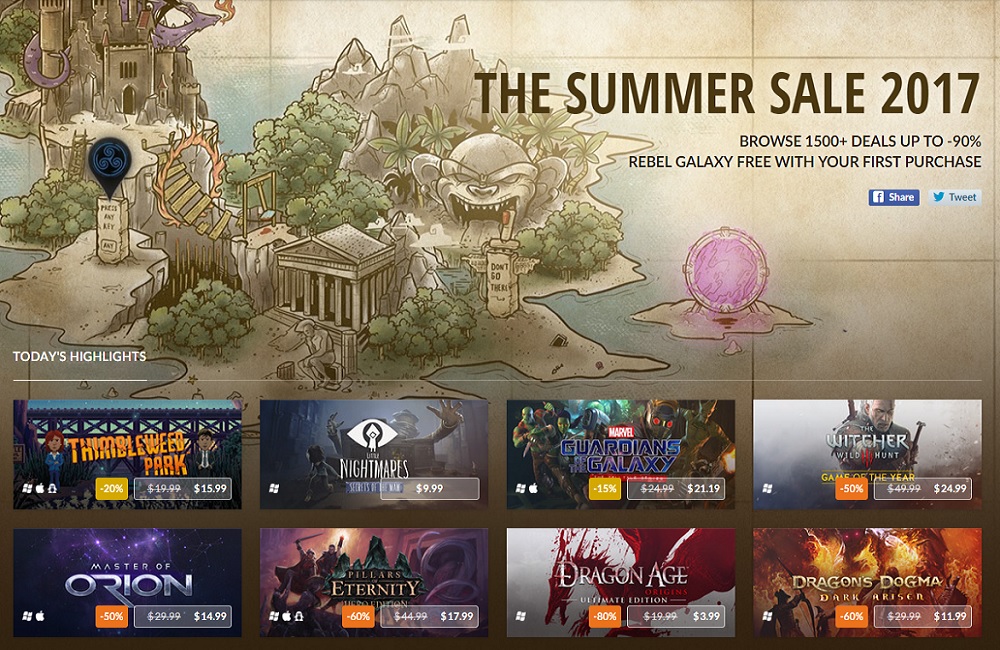 Diskon diterapkan pada 1.500 judul game lebih.
Steam Summer Sale sudah bisa dipastikan akan kembali hadir. Dari bocoran terakhir, progam itu dimulai di minggu ketiga bulan Juni hingga awal bulan Juli. Namun dari pada menunggu, GOG punya alternatif yang tidak kalah menjanjian. Penawaran-penawaran di platform distribusi ini sangat menarik karena permainan-permainan yang Anda beli di sana bebas dari DRM.
Kemarin, GOG Limited kembali melangsungkan GOG Summer Sale. Layanan yang awalnya fokus menjual game-game klasik itu menyajikan proram potongan harga hingga 90 persen untuk 1.500 judul lebih. Tentu saja Good Old Games kini tak hanya menjual permainan-permainan lawas. Sebaliknya, silakan buka halaman utama GOG, dan Anda akan segera disodorkan game-game seperti Little Nightmares, Master of Orion hingga The Witcher 3: Wild Hunt.
Seperti biasa, GOG Summer Sale dibagi dalam beberapa kategori. Di bagian atas ada Today's Highlights, berisi promo terbaik di hari itu. Saat artikel ini ditulis, The Witcher 3 edisi Game of the Year hanya dijual US$ 25 (dari US$ 50), Pillars of Eternity Hero Edition (sudah termasuk expansion pack) dibanderol US$ 18, lalu Master of Orion juga mendapatkan diskon 50 persen dan dijual cuma US$ 15.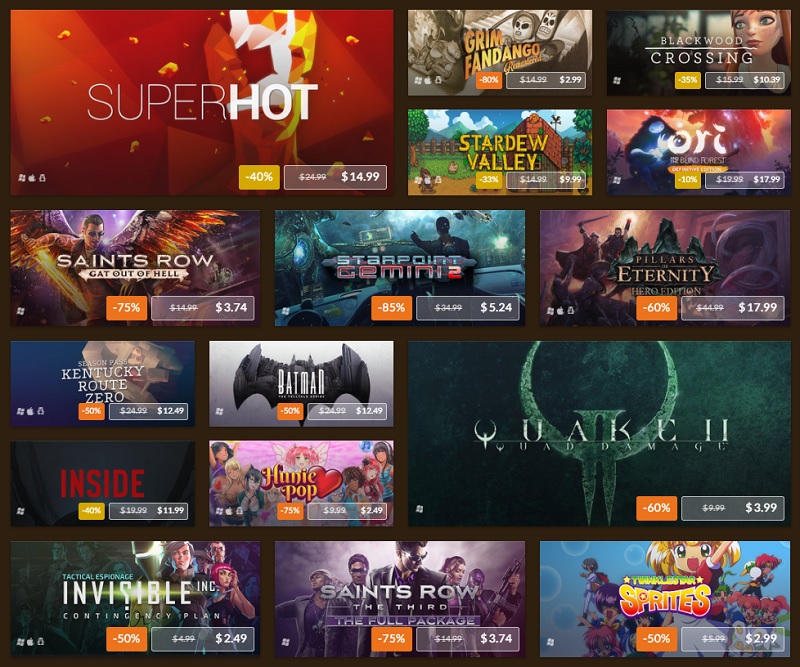 Hampir bersamaan dengan dimulainya GOG Summer Sale, permainan Dragon's Dogma: Dark Arisen buat pertama kalinya hadir di GOG, dan Anda bisa membelinya seharga cuma US$ 12.
Di bagian bawah, Anda disugukan Today's Recommended Collections dan All Collections. Masing-masing kolom menawarkan kategori berbeda; ada RPG, action, petualangan, strategi, horor, hingga puzzle. Beberapa game juga masuk ke ketegori unik seperti 'thinking' (misalnya X-Com, Shadow Tactics dan Age of Wonders 3) serta 'pilihan favorit Destructoid' (di antaranya Ori and the Blind Forest: Definitive Edition, Firewatch hingga The Witness).
Harga terbaik bisa Anda dapatkan dengan scroll lebih jauh ke bawah hingga menemukan Daily Deals. Di sana, Anda akan menemukan harga paling murah: Mirror's Edge US$ 4, Grim Dawn US$ 12,5, Torment: Tides of Numenera US$ 31,5. Anda sudah punya The Witcher 3 tapi belum memainkan dua expansion pack-nya? Expansion pass hanya dijual US$ 12,5.
Menariknya lagi, via GOG Anda juga bisa melakukan pre-order permainan baru garapan Ninja Theory, yakni Hellblade: Senua's Sacrifice. Game ini sangat unik karena dikembangkan dengan gaya blockbuster tapi didistribusikan ala independen. Ninja Theory sendiri adalah studio asal Inggris pencipta Heavenly Sword, Enslaved: Odyssey to the West, dan DmC: Devil May Cry.