Esports Ecosystem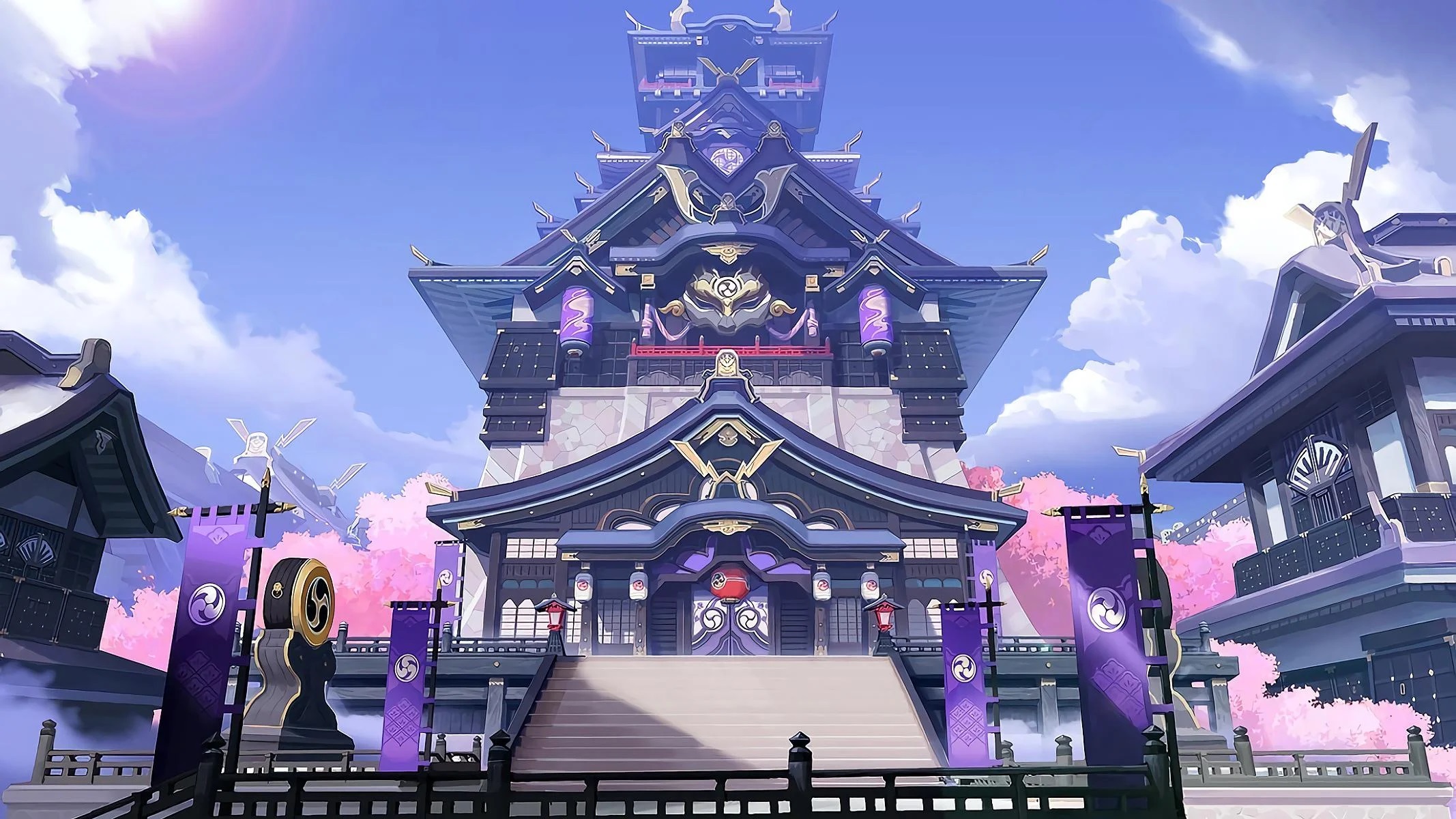 Update 2.0 merupakan update terbesar Genshin Impact sejak game ini pertama kali dirilis.
Pada tanggal 9 Juli 2021, MiHoYo selaku developer game Genshin Impact membeberkan isi dari update versi 2.0 melalui live-stream di Twitch. Melalui presentasi yang berdurasi satu jam tersebut, MiHoYo resmi menyatakan bahwa update selanjutnya, pemain akan memasuki region baru, yaitu Inazuma.
Region dan Cerita
Desain Inazuma terinspirasi dari Negara Jepang pada zaman Edo. Inazuma sebenarnya sudah pernah disinggung pada awal game dirilis, namun baru terealisasi setelah usia Genshin Impact menginjak usia 10 bulan. Tidak seperti 2 kota sebelumnya, Inazuma didesain sebagai wilayah kepulauan, yang dikelilingi oleh lautan.
Selain wilayah baru, pemain juga dapat melanjutkan cerita utama. Dikisahkan bahwa Inazuma tengah mengalami pemberontakan melawan Archon mereka, yakni dewa yang memimpin suatu wilayah. Pemberontakan tersebut dikarenakan dekrit Archon untuk menyita semua Vision di Inazuma. Belum jelas apa alasan dari dekrit tersebut, namun pemain dapat mengetahuinya setelah update 2.0.
Developer juga menjelaskan secara detail proses pembuatan update 2.0, mulai dari mekanik pertarungan, topografi wilayah, musik sampai makna dan kisah di balik lingkungan Inazuma.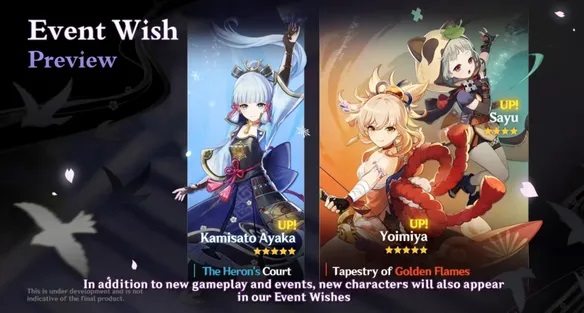 Karakter
Tidak seperti update-update sebelumnya, kali ini developer langsung menampilkan banyak karakter baru sekaligus. Untuk memulai update, ada 3 karakter baru yang akan bisa didapatkan, yaitu Kamisato Ayaka, Yoimiya dan Sayu.
Kamisato Ayaka disebutkan akan menjadi salah satu tokoh kunci di cerita utama. Ia merupakan putri dari 3 klan utama di Inazuma yaitu klan Kamisato. Popularitas Ayaka sebagai karakter sudah ada sejak Genshin Impact masih dalam tahap beta testing. Kamisato Ayaka akan dirilis sebagai karakter bintang 5 dengan senjata sword dan elemen Cryo.
Karakter bintang 5 lain yang dirilis adalah Yoimiya. Ia diceritakan sebagai seorang pemilik pabrik kembang api. Ia merupakan seorang archer dengan elemen Pyro. Dan karakter baru terakhir adalah Sayu, yakni karakter bintang 4 bersenjata claymore dengan elemen Anemo.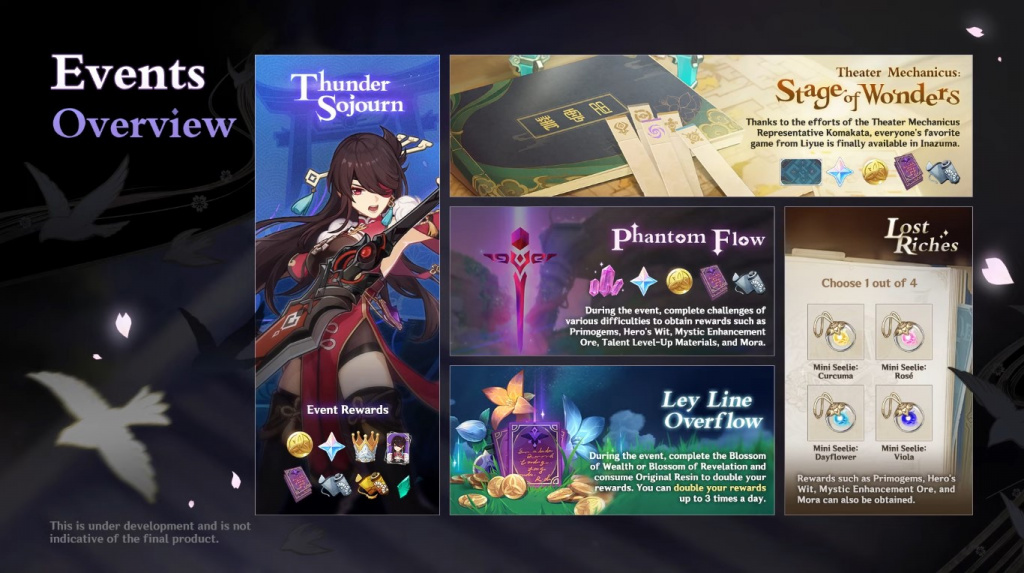 Gameplay dan Event
Beberapa event akan kembali lagi ke Genshin Impact. Event seperti Theater Mechanicus, Lost Riches dan Leyline Overflow dapat diakses lagi oleh pemain yang mungkin belum pernah mencobanya. Pada salah satu event, ada juga karakter gratis yakni Beidou.
Serenity Teapot juga akan mendapat tambahan yang menarik. Pemain sekarang dapat menanam tanaman yang dapat dipanen setelah waktu yang ditentukan. Bibit yang dipakai juga tergantung dari bibit apa yang pemain kumpulkan dari Teyvat.
Greetings, dear Travelers,

The cross-save function between account for #PlayStation and #miHoYo Account is coming to you in Version 2.0.

View the full notice here >>>https://t.co/6uUyLooAGG#GenshinImpactpic.twitter.com/aOz5IudoT5

— Genshin Impact (@GenshinImpact) July 9, 2021
Fitur
Ada beberapa fitur baru yang akan diterapkan setelah update 2.0. Salah satu fitur baru yang sangat ditunggu-tunggu oleh pemain adalah cross save antara PlayStation dan PC/Mobile. Setelah sekian lama, akhirnya pemain PS dapat melanjutkan progress mereka di platform lain.
Bagi pemain Genshin Impact, pasti tahu sulitnya mencari artefak yang bagus. Karena itu fitur penukaran artefak yang ditawarkan developer mungkin bisa menjadi solusinya. Dengan menukarkan sejumlah artefak, pemain akan mendapatkan Artefak yang dipilih sebagai gantinya.
Bagi pemain yang suka dengan gacha, MiHoYo juga memberikan sistem baru untuk gacha senjata. Dengan fitur ini, pemain akan diberikan kepastian saat menginginkan senjata tertentu. Detailnya dapat dilihat di situs resmi Genshin Impact.
From Our Network