Esports Ecosystem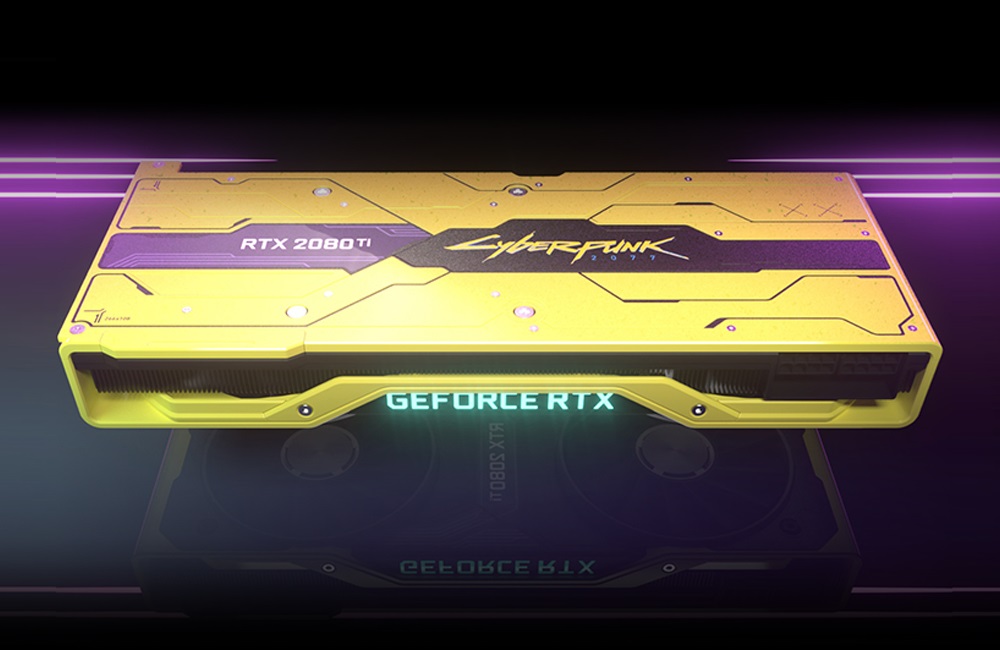 Nvidia hanya memproduksi 200 buah GPU edisi spesial ini, tetapi mereka tidak dijual.
Bukan hal baru bagi developer game dan vendor hardware untuk berkolaborasi dalam menciptakan produk edisi terbatas. Produsen console berkali-kali melakukannya: Sony lewat PlayStation 4 versi God of War, Marvel's Spider-Man dan Death Stranding. Sementara itu, Microsoft punya Xbox One X bertema Gears 5, controller Xbox berpermukaan rumput edisi FIFA hingga gamepad anti-minyak PlayerUnknown's Battlegrounds.
Di segmen PC sendiri, edisi terbatas lebih sering ditemukan pada gaming gear dan aksesori ketimbang hardware. Nvidia ialah satu dari sedikit nama yang menyediakan komponen bertema spesial. Di tahun 2017 menjelang perilisan Star Wars: Battlefront II, perusahaan teknologi grafis itu meluncurkan GPU Titan Xp dengan desain ala Jedi dan Imperial. Dan setelah sempat di-tease sebelumnya, Nvidia resmi menyingkap kartu grafis GeForce edisi Cyberpunk 2077.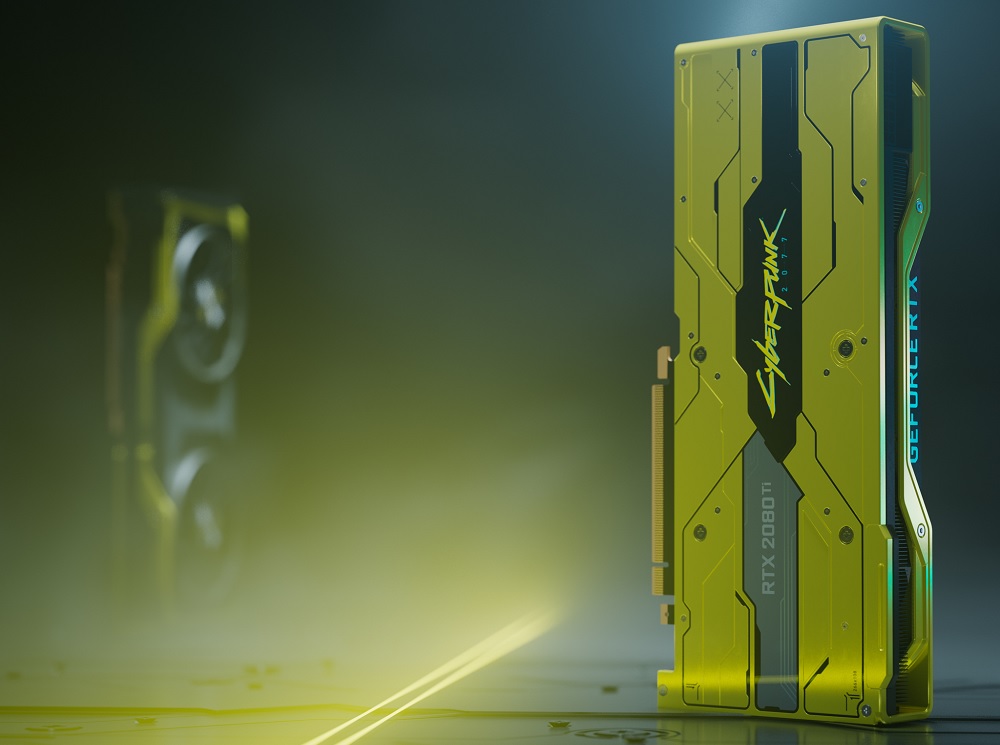 Tema game Cyberpunk 2077 diterapkan pada unit RTX 2080 Ti. Nvidia mengganti warna hitam dan abu-abu metalik di Founders Edition dengan kuning-hitam, lalu membubuhkan logo permainan di sisi atas. Nvidia juga mengubah cahaya LED hijau di tulisan GeForce RTX menjadi biru muda. Selain garis-garis dan decal futuristis, wujud kartu grafis secara keseluruhan tidak berbeda jauh versi Founder. GPU tetap memanfaatkan sepasang kipas untuk menjinakkan panas.
GeForce RTX 2080 Ti memang bukan hardware murah, tapi bahkan seandainya uang bukan masalah bagi Anda, GPU edisi Cyberpunk 2077 ini tidak dijual. Untuk memilikinya, Anda harus mengikuti program undian/sweepstakes – dengan me-retweet video yang di-posting Nvidia di Twitter kemudian men-tag seorang kawan yang 'juga bersemangat menanti Cyberpunk 2077 seperti Anda'. Jika beruntung, Anda berdua masing-masing akan mendapatkan GPU istimewa tersebut.
Introducing the GeForce RTX 2080 Ti Cyberpunk 2077 Edition.

We made 77 for our community.

Want one? Here's how:
1. RT this video.
2. Tag a gamer who is as excited as you about Cyberpunk 2077 in the replies with #RTXOn
3. If selected, you BOTH win these limited edition GPUs! pic.twitter.com/IG2BZZCZ6H

— NVIDIA GeForce (@NVIDIAGeForce) February 17, 2020

Nvidia hanya memproduksi 200 buah GeForce RTX 2080 Ti Cyberpunk 2077 Edition, dan 77 unit disiapkan buat dibagikan ke komunitas gamer PC. Program sweepstakes akan berlangsung hingga tanggal 28 Februari 2020. Mungkin satu hal yang mengecewakan adalah, Nvidia memberi nama yang panjang dan kurang atraktif bagi GPU edisi terbatas ini. Padahal, sangat keren (dan lebih mudah diingat) jika mereka memanggilnya GeForce RTX 2077.
Awalnya dijadwalkan untuk dirilis di bulan April besok, peluncuran Cyberpunk 2077 diundur ke September 2020 karena CD Projekt Red membutuhkan lebih banyak waktu buat memoles dan melakukan sejumlah pengujian. Saat ini developer tengah mencurahkan perhatian mereka untuk menyempurnakan konten single-player. Mode multiplayer rencananya baru akan tiba secepat-cepatnya di tahun 2022.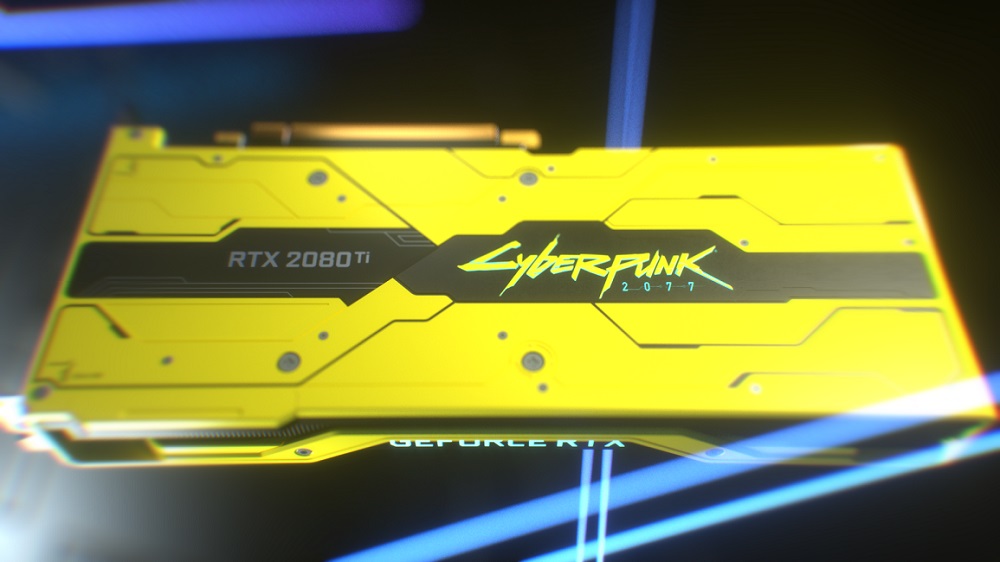 Selain Windows PC, Cyberpunk 2077 juga akan tersedia di Xbox One dan PlayStation 4. Sejauh ini CD Projekt Red belum mengonfirmasi keberadaan dari versi PS5 serta Xbox Series X-nya, namun kita tahu mereka didukung fitur backward compatibility, jadi ada kemungkinan game tetap bisa dijalankan di dua console next-gen tersebut.
Via PC Gamer.
From Our Network