Esports Ecosystem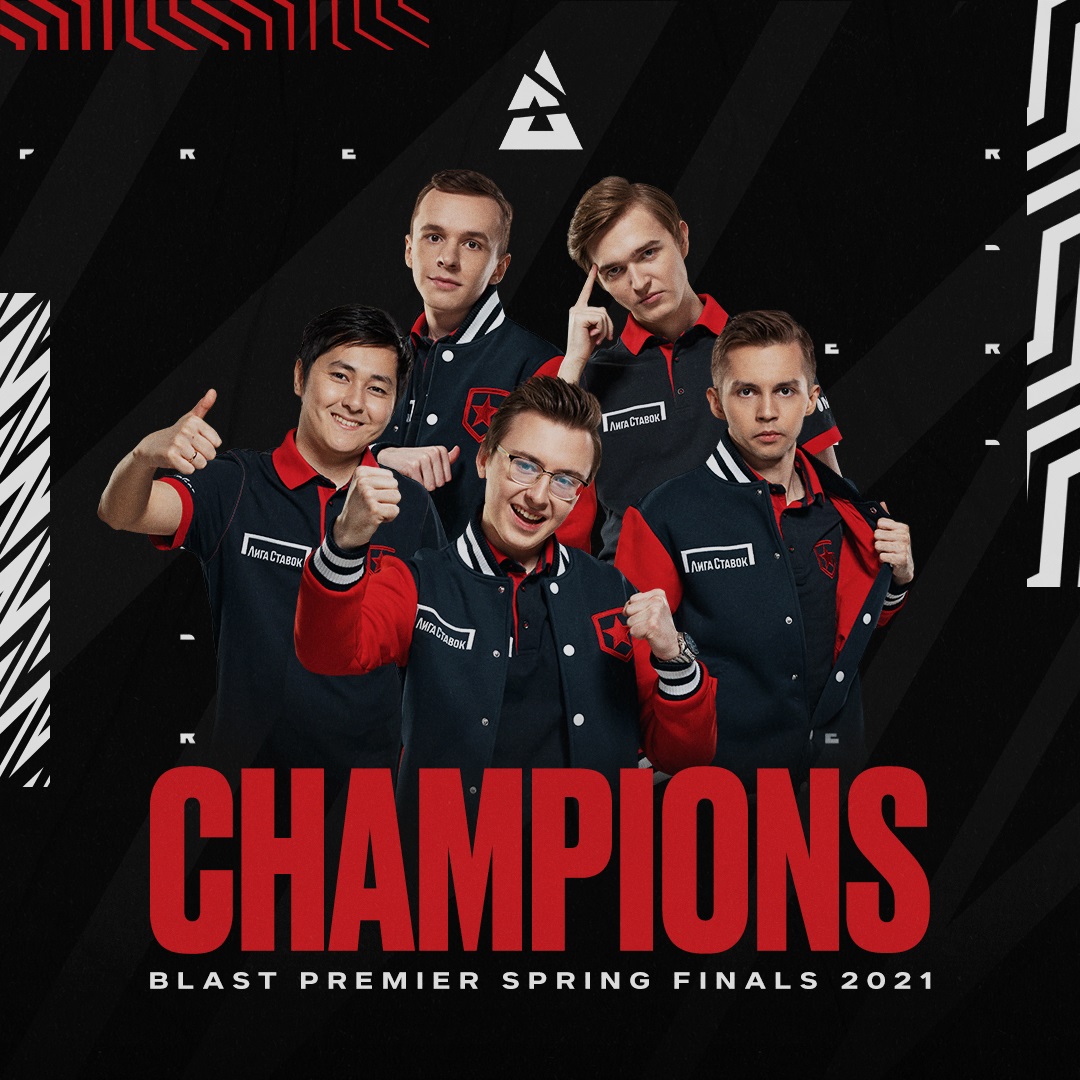 Tahun 2021 menjadi tahun dominasi Gambit dengan 3 Kejuaraan dan men
Kemenangan Gambit atas Natus Vincere (Na'Vi) menjadi bukti dominasi mereka di tahun ini. Tim asal Rusia ini mampu mengalahkan rival mereka, Na'Vi dengan skor 2-0. Sang juara pun mendapatkan hadiah sebesar US$225 ribu atau sekitar Rp3 miliar dan juga 4000 poin. Dengan kemenangan ini, Gambit lolos untuk bertanding di BLAST Premier: World Final 2021 menyusul Heroic, yang akan diselenggarakan pada akhir tahun ini.
BLAST PREMIER SPRING CHAMPIONS! 🏆

We power through the #BLASTPremier Grand Final and claim the 6th trophy of the year & secure World Final spot.

Thank you for your immense support ❤️ pic.twitter.com/VthFEbJEsF

— Gambit Esports (@GambitEsports) June 20, 2021
Sebelum bertarung di grand final, Gambit dan Na'Vi pernah bertemu pada babak upper bracket final. Gambit datang setelah mengalahkan Evil Geniuses dan Complexity tanpa pernah kalah sekalipun. Sedangkan Na'Vi datang setelah berhasil mengungguli FaZe Clan dan BIG. Di babak upper bracket final, Gambit melaju ke babak grand final terlebih dahulu setelah mengalahkan Na'Vi dengan skor 2-1. Selama turnamen berlangsung, hanya Na'Vi saja yang pernah mengalahkan Gambit pada game kedua di map Ancient.
Pada babak grand final, Na'Vi memilih bermain di Dust II untuk game pertama. Sedangkan Gambit memilih Mirage untuk game kedua. Inferno adalah map terakhir yang tidak dibuang atau diambil oleh kedua tim untuk dimainkan pada game ketiga.
Pencapaian Gambit pada tahun ini sangat tinggi. Pasalnya mereka telah memenangkan tiga turnamen besar dalam beberapa bulan terakhir. Mereka mendapatkan peringkat pertama di Intel Extreme Masters Season XV = World Championship, Intel Extreme Masters Season XVI – Summer, dan yang terkini adalah BLAST Premier: Spring Finals 2021. Namun Gambit pernah dikalahkan Heroic di grand final ESL Pro League Season 13 dengan skor tipis 3-2, yang mengantarkan Heroic menjadi tim pertama yang lolos menuju BLAST Premier: World Final 2021.
Took us 170 days to achieve this milestone 🤘#GambitCSGOpic.twitter.com/L44OpOukbP

— Gambit Esports (@GambitEsports) June 21, 2021
Tidak ada yang dapat menyangkal dominasi Gambit di tahun ini. Hal ini terbukti dari 3 piala dan poin yang telah mereka kumpulkan, yakni sebanyak 12.500 BLAST Premier Points. Total poin yang dikumpulkan Gambit berjumlah hampir tiga kali lipat lebih banyak dibandingkan dengan tim di posisi kedua, yaitu G2, dengan perolehan 4725 poin dan Na'Vi di posisi ketiga dengan poin 4000 poin. Gambit pun juga menjadi tim pertama yang mengumpulkan hadiah mencapai US$1 juta di tahun 2021.
From Our Network