Esports Ecosystem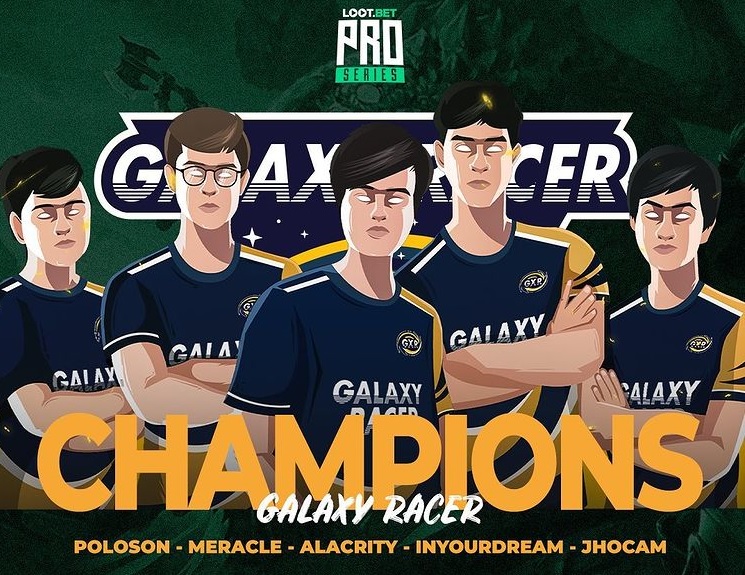 Performa Galaxy Racer semakin meningkat setelah merekrut 2 pemain asal Indonesia yakni Jhocam dan InYourdreaM.
Galaxy Racer akhirnya memenangkan trophy bergengsi Dota 2 pertamanya. Tim asal Malaysia tersebut menjuarai BTS Pro Series Season 7: Southeast Asia. Galaxy Racer berhasil melakukan comeback gemilang di partai grand final setelah sebelumnya tertinggal 2-0 atas Fnatic. InYourdreaM dan kawan-kawan mengakhiri permainan dengan skor akhir 3-2 untuk Galaxy Racer.

View this post on Instagram
BTS Pro Series Season 7: Southeast Asia sendiri merupakan turnamen musim ketujuh yang diadakan oleh Beyond the Summit. Turnamen ini digelar sejak 2 hingga 15 Agustus 2021 kemarin. Sebanyak 8 tim Dota 2 terbaik di Asia Tenggara mengikuti turnamen ini. BTS Pro Series Season 7: Southeast Asia memperebutkan total hadiah sebesar US$50.000 atau sekitar Rp720 juta.
BTS Pro Series Season 7: Southeast Asia dapat dikatakan sebagai ajang pemanasan bagi tim Dota 2 Asia Tenggara sebelum mengikuti The International 10 yang akan dilaksanakan pada bulan Oktober 2021 mendatang. Pasalnya, 2 tim Asia Tenggara yang berhasil lolos ke TI10 yakni T1 dan Fnatic mengikuti turnamen ini. Sedangkan 6 tim lainnya yakni Motivate.Trust Gaming, Team SMG, Galaxy Racer, Army Geniuses, Execration, dan OB Esports x Neon merupakan tim papan atas Dota 2 di Asia Tenggara.
Sayangnya, penampilan 2 tim TI 10 tersebut kurang memuaskan dalam BTS Pro Series Season 7: Southeast Asia. T1 dan Fnatic hanya mampu menempati posisi 3 dan 4 klasemen akhir di bawah Execration dan Galaxy Racer. Pada babak playoff Fnatic berusaha memperbaiki penampilan mereka hingga akhirnya berhasil lolos ke partai grand final bertemu dengan Galaxy Racer. Meskipun sudah unggul 2 game lebih dahulu, Fnatic tidak mampu menyelesaikan kemenangannya setelah di 3 game lanjutannya dimenangkan oleh tim Galaxy Racer.
Kemenangan Galaxy Racer di BTS Pro Series Season 7: Southeast Asia ini tidak lepas dari 2 pemain baru asal Indonesia yakni InYourdreaM dan Jhocam. Performa naik turun yang dialami Galaxy Racer akhirnya terbayarkan setelah merekrut keduannya pada pertengahan tahun 2021. Sebelumnya Galaxy Racer hanya mampu berada di papan tengah turnamen DPC 2021 SEA Lower Division musim ini.
Kita lihat saja apakah performa gemilang Galaxy Racer akan terus berlanjut setelah hadirnya 2 pemain asal Indonesia. Bisakah nantinya 2 pemain Indonesia tersebut membawa Galaxy Racer menuju pentas The International seperti yang dilakukan 2 pemain Indonesia yakni Xepher dan Whitemon bersama T1?
From Our Network